Gone are the days when Africa was perceived to be the forgotten continent. In the modern era, most of the developments shaping the rest of the world are also in Africa. The co-working ecosystem is one such innovation. In the recent past, there have been an upsurge of coworking spaces in Africa.
On average, these establishments have increased their membership by about 50% over the past 5 years. Egypt, South Africa, Nigeria, Kenya, and Morocco are some of the African countries with a large and rapidly increasing number of co-working spaces. This article will highlight some of the top setups in the region.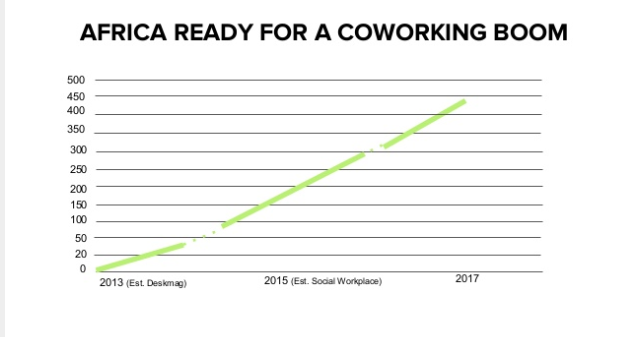 What Are Co-working Spaces?
It is a setup that allows professionals from different companies to work from the same space. The renters can either be individual professionals or a team of workers from either a startup or well-established firm. These setups are founded on the principles of convenience and cost-effectiveness.
Advantages of Co-working spaces
Cost-effectiveness. They eliminate the hefty expenditures that entrepreneurs have to incur to set up a fully furnished office. Additionally, one does not have to pay large maintenance bills since most of the amenities are communal. Additionally, it allows one to pay daily, weekly, or monthly.
Beneficial networks. An establishment hosts individuals from different fields of expertise. As such, one can collaborate with other professionals to complete projects or learn additional skills that will result in the growth of his or her enterprise.
Enhance wellbeing. The informal setting in a typical co-working space allows workers to execute their duties without the mental stiffiness associated with a traditional office. In fact, several studies have shown that close to 90% of the people in a typical communal working environment are happier than they were in a conventional office.
Services Offered in a Co-working Space
Co-working spaces may offer unique packages to the occupants. However, an ordinary establishment provides basic amenities such as a chair and a desk, access to the kitchen and the relevant appliances, access to the conference room, reliable Internet, common reception area, as well as a shared copier, scanner, and printer.
Additionally, the space's management can offer additional services either to all its tenants or those subscribed to a pricier package. As such, it is important to evaluate all the offerings of a co-working space before signing the lease. Some extra considerations include:
Availability of an office. Some spaces offer the setup of a desk and chair as well as an enclosed office.
Placement of your company's logo. Depending on the space's management or paid package, you can get a slot for your enterprise's signage on the building's foyer.
Operating hours. Be sure to enquire about the opening and closing hours of the co-working space to avoid inconveniences if you intend to start operating very early in the morning or till late into the night.
Security. Everyone wants to work in a secure environment. Before signing the lease papers, find out about the enacted security measures and exceptions.
Top Co-working Spaces in Africa
While there is a long list of such establishments in the region, this article will highlight some of the popular ones. This includes:
Nairobi Garage (Kenya)
Nairobi Garage is one of the pioneer co-working spaces in Kenya. It has establishments in the affluent neighborhoods of Westlands and Kilimani. Its working solutions include open plan setups as well as enclosed offices. The tenants also have accent to an event space and a meeting room. One can either choose the fixed, flexible, or daily payment packages. The management also organizes workshops, investor introductions, online community portal, and PR support. It is open on weekdays from 8 am to 5.30 pm.
Location: M2 Mirage Towers Westlands, 8th floor Pinetree Plaza Kaburu Drive Ngong Road
Cost: kes 2000 daily or kes 20,000 monthly (hot desk), kes 25,000 monthly (dedicated desk)
Contacts: westlands@nairobigarage.com / ngongroad@nairobigarage.com
33B Workspace (Nigeria)
Its targeted occupants include freelancers and SMEs within Lagos. It offers fairly priced and fully equipped workspaces. The amenities include a conference room, virtual office, and private offices. It is usually open between Monday to Friday from 7 am to 6 pm.
Location: 33B Adebayo Doherty Road Lekki Phase 1, Lagos
Cost: 120,000 naira monthly
Contacts: info@33b.com.ng
Cape Town Office (South Africa)
Cape Town Office has been in existence since 2011 and is one of the top-ranking co-working spaces globally. Its amenities include 24/7 access to the establishment, conference rooms that have smart TVs, monthly networking events, and an online member base with over 300 active participants. One can acquire a dedicated desk, private office, or flexible seating within an open working area for a particular number of hours in a month. Each package has specific features.
Location: 62 Roeland Street, 2nd & 3rd floor, Gardens, 8001, Cape Town
Cost: lowest package starts at R1600 monthly excluding VAT
Contacts: lizelle@capetownoffice.com
Conclusion
Similar to the other regions in the world, Africa has seen an overwhelming increase of co-working spaces. Such platforms attract a wide range of freelancers, startups, and well-established firms. If you are looking to rent a space in such an environment, be sure to find out about their offerings in order to identify one that suits your personal and professional needs.
Other Co-working Spaces in Africa