Africa was the very first continent to experience an internet shutdown ordered by a government, in Egypt in 2011. Since then, cases of internet shutdowns are on the rise throughout the African continent. In the past four years 22 African countries have witnessed internet shutdowns by its governments. What is the impact of these shutdowns on the economies in Africa and our livelihoods? What would this mean for you and what are the risks?
Digital economy in Africa
The digital econonomy is one of the key contributors to Gross Domestic Product (GDP). Many studies have shown its positive impact on income, job creation, businesses, health, education etc.
Affordable and available internet is a must for (sub-Saharan) Africa to participate in the digital economy.International

ICT Policy for East and Southern Africa (CIPESA), an organisation that promotes effective and inclusive ICT policy in Africa, notes that up to 22 African governments have ordered network disruptions in the last four years and since the start of 2019.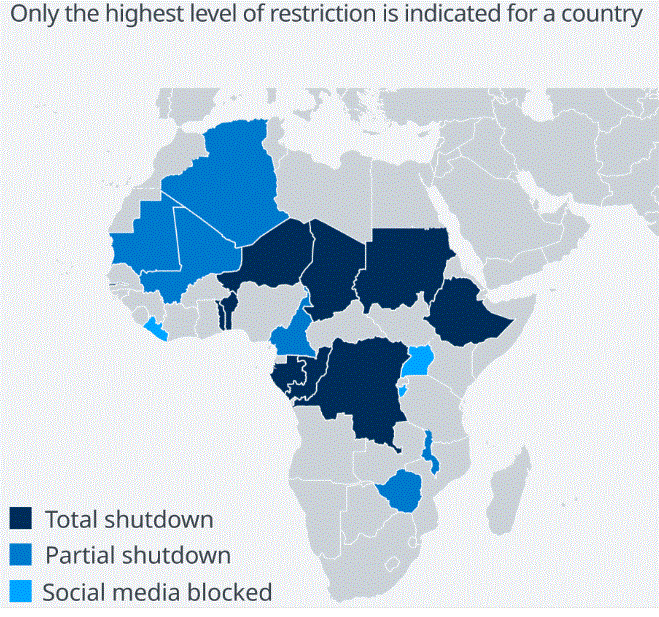 Africa became the first continent to experience an internet shutdown, in Egypt in 2011. Some of the countries that also experienced internet shutdowns are Zimbabwe, Sudan, Chad, Ethiopia, Cameroon, and the Democratic Republic of Congo. Shutdowns generally take place during general election or public protests. Do these shutdowns negatively impact economies in Africa and citizens' livelihoods?
Digital economy
Africa's digital economy is rising due to several factors such as affordability of smart devices, improved data connectivity, and falling data prices. The contribution of digital economy to GDP is on average 5%, which is greater than in many countries in Europe and Asia.
Mobile money services are significantly raising financial inclusion while easing the cost of doing business and catalysing the digital economy in SSA [Sub Saharan Africa]. The number of registered mobile money accounts in the region stood at 280 million as of March 2017 while 16 African countries had more mobile money accounts than bank accounts
Benefits of Africa's digital economy
According to CIPESA, apart from digital economy's contribution to GDP, the sector adds the following values to the continent:
Plays a crucial role in overcoming bureaucracies, logistical headaches, poor road networks
Reduces transaction and organisation costs
Increases ease and efficiency of information search
Speeds up the circulation of money within the economy
[…] ICT productivity impacts resulting from the ICT sector in SSA are estimated to have been worth US$ 62 billion in 2016 (or 4.3% of GDP).
Mobile
A report by GSMA calculates that the mobile ecosystem will add more than $150 billion in value to Sub-Saharan Africa's economy by 2022. This is the same as almost 8 per cent of the regional GDP. Last year, mobile technologies and services accounted for more then 7% GDP across Sub-Saharan Africa. This is around $110 billion of economic value added.
Internet
McKinsey estimates that by 2025, Africa's iGDP (which measures the Internet's contribution to overall GDP) should grow to at least 5 to 6 percent. This matches that of leading economies such as Sweden, Taiwan, and the United Kingdom. However, if the Internet achieves the same kind of scale and impact as the spread of mobile phones in Africa, iGDP could account for as much as 10 percent, or $300 billion, of total GDP while producing a leap forward in economic and social development.
According to McKinsey, the internet's greatest impact in Africa is likely to be concentrated in six sectors:
Financial services. The Internet will reduce transaction costs and bring financial services to people who may live far from the nearest bank branch or ATM. With digital technology, more than 60 percent of Africans could have access to banking services by 2025, with more than 90 percent using mobile wallets for daily transactions and remittances.
Education. Many schools that currently lack sufficient textbooks could soon access the world's best educational content on affordable tablets or e‑books; teachers, too, will benefit from more effective training. The technology-related productivity gains in education could reach $30 billion to almost $70 billion—enabling governments to achieve more with their education budgets and providing millions of students with the foundation for a better future.
Health. Today, Africa has only 1.1 doctors and 2.7 nurses per 1,000 people, and many people travel long distances for care. But the Internet is enabling greater use of remote diagnosis, treatment, and education. Technology-related benefits in health care could range from $84 billion to $188 billion by 2025—and the broader social and economic impact of improved health outcomes will be far greater.
Retail. E‑commerce will open up a new shopping experience for Africa's growing middle class. By 2025, it could account for 10 percent of retail sales in the continent's largest economies, which will translate into some $75 billion in annual revenue.
Agriculture. Farmers can access expertise and information on everything from weather, crop selection, and pest control to management and finance. It can also improve access to markets, generating better prices for produce.
Government. The Internet is a powerful tool to improve transparency, streamline service delivery, and automate revenue collection, delivering productivity gains of $10 billion to $25 billion.
ICTs in Informal sector
Africa's informal sector is largely supported by mobile voice communications, mobile money and apps like WhatsApp and Facebook.
According to the World Bank, most people living below the poverty line in Kenya rely on their phones for work such as selling clothes or food, or offering professional services like hairdressing and use their phones for replying to casual job offers.
Facebook groups for job opportunities have become very popular especially among the youth. Since many people in the informal sector do not have bank accounts, mobile money has become the number one banking option in the sector. Some use the internet or mobile apps to access micro loans.
Costs of shutdowns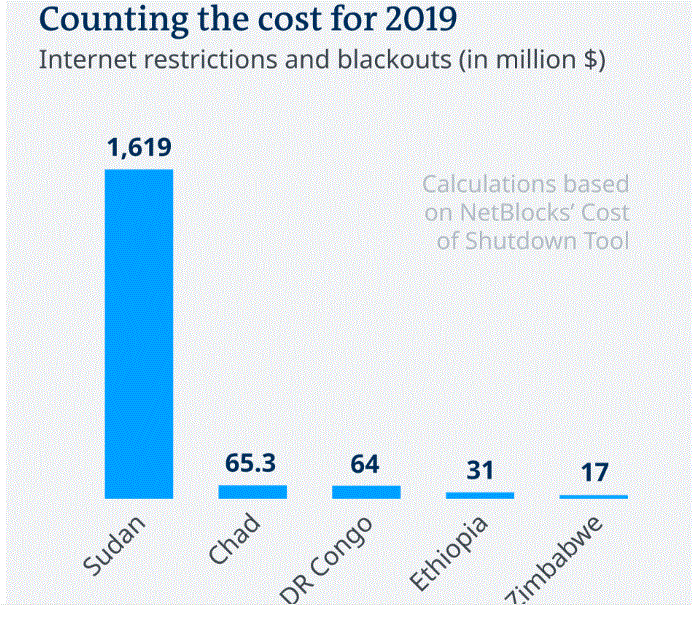 It is estimated that Africa lost US$ 237 million to internet shutdowns between 2015 and 2017. The cumulative economic impact of internet shutdowns in 2019 puts a conservative estimate of US$ 267.2.
Tomiwa Ilori, LLD Candidate, Centre for Human Rights, University of Pretoria, writes:
[…] Africa has a youth population of 226 million which is the highest in the world which also make up 60% of the unemployment figure on the continent. What this means is that Africa need to utilize all legitimate avenues and resources at innovating and growing to properly maximize and cater for its growing youth population. An internet shutdown does not only reduce such avenues but shuts the youths away from opportunities.
Young people in Africa are increasingly using the internet to access freelancing platforms as an alternative source of employment.
I'm unable to bid for projects. I actually work with the company academic knowledge, where they place projects you go through and you bid online. Now with this Internet blackout, it's impossible for me to do it, says Ndi Renatus, a freelance writer in Cameroon.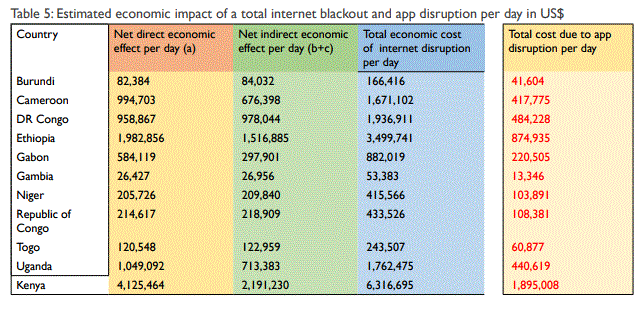 The 94-days shutdown the English speaking region of Cameroon resulted in loss of contracts, money, business closures and firing of employees.
When things like this happen and they just ban the internet which is the source of my livelihood. I just feel like maybe I made the wrong decision. Maybe I should just leave the country like my friends and never return again, says Churchill Mambe, a Cameroonian IT entrepreneur.
In Zimbabwe, where the economy is heavily dependent on cashless transaction systems such as mobile money platforms as eco-cash, Mukuru, cell phone banking, and internet transfers, an internet shutdown has had massive economic consequences.
Internet shutdowns can even be more costly in developing countries because they are less likely to have other good communication systems, such as a functioning postal service or a good network of landlines.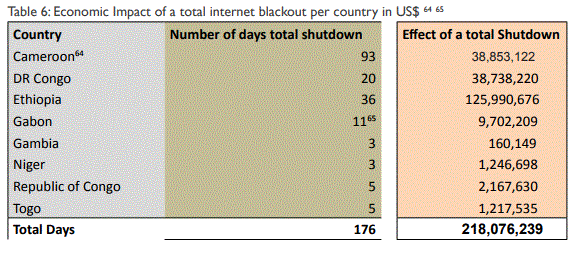 Conclusion
There are positive signs, however, from African courts. In July 2019, mobile operators in Sudan were taken to court by Sudanese lawyer Abdelazim al-Hassan after MTN Sudan complied with the transitional military government's orders to shut down the internet. He won the case and internet was restored.
In January 2019, Zimbabwe's High Court ruled that the country's state security minister didn't have the authority to shut down the internet.
The UN General Assembly recognises ICTs as a key contributor to achieving the 2030 Development Agenda. It is therefore vital that governments keep the internet alive without censoring or even completely shutting it down.