In February 2014, Facebook acquired WhatsApp in a deal that was worth $19 billion. Back then, WhatsApp was a fast-growing messaging app that charged users $1 per year. After the acquisition, Facebook removed the charges and today, the application is used by more than 2 billion people. Five years after the acquisition, Facebook has not been able to monetize the app.
As a result, late last year, rumors went around that the company was considering starting its own cryptocurrency with the goal of monetizing Whatsapp and its other messaging product. In May this year, the company unveiled its cryptocurrency, which it expects to go live in the coming year. The currency, which will be known as Libra, will be backed by 27 other global firms like Visa, Mastercard, and Booking Holdings. This article will explain everything you need to know about Libra and its likely impact on Africa.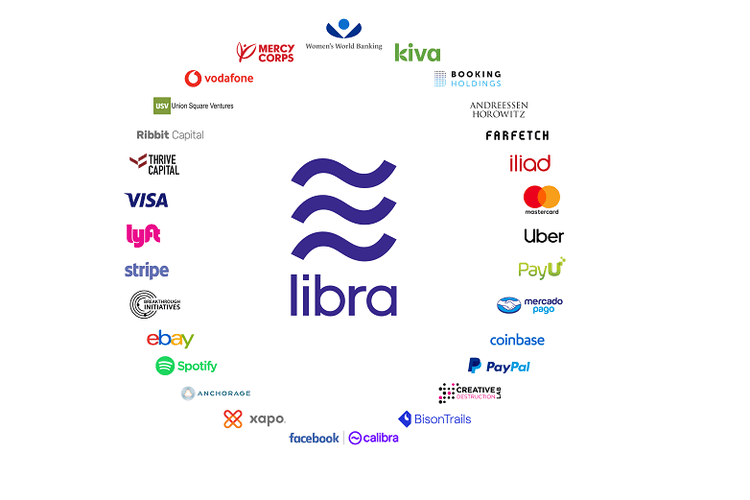 What is Libra?
Libra is a digital currency that will provide financial services to billions of people from around the world. It will do this by reducing the costs these people use to send money. It will also help them to do international transactions without worrying about the exchange rates. Libra will be a digital currency that will be backed by a basket of reserve assets like the US dollar, euro, and the Japanese yen. It will be built on a secure, scalable, and reliable blockchain.
Further, Libra will be overseen by an independent Libra Association, that will have stakeholders from various sectors. The currency will be created using the Libra blockchain. The blockchain will be built with three key requirements in mind. These are the ability to scale to billions of accounts, highly secure, and flexible. The blockchain will be designed using the new Move programming language. It will use a Byzantine Fault Tolerant (BFT) consensus approach, and adopt to widely adopted blockchain data structures.
There are a number of differences between Libra and the conventional cryptocurrencies like Bitcoin and Monero. First, as a stablecoin, Libra will not be mined. To develop a Bitcoin, miners from around the world use computers to mine the currency. Second, Libra will be backed by a series of physical assets like the US dollar and euro. Third, there will be no limit on the number of coins that can be developed. For Bitcoin, the maximum number of coins that can be mined are 21 million. Finally, with Bitcoin, anyone has add transactions to the ledger while with Libra, only authorized members can add transactions to the ledger.
What Challenges Lie Ahead?
In the announcement, Facebook announced that it expects the currency to go live in the coming year. Before this happens, the company will need to navigate through a number of challenges. These challenges are:
Privacy concerns
Facebook does not have a good reputation about data safety. Furthermore, this is a company that was fined $5bn over Cambridge Analytica personal data scandal. As a result, many users, particularly those in the developed countries might have a challenge using a currency that is being offered by the company.
Regulators
Regulators from around the world started raising questions about the currency as soon as the currency was formed. In a statement last month, Chair of the US Federal Reserve Jerome Powell said the following about the currency:
While the project's sponsors hold out the possibility of public benefits, including improved financial access for consumers, Libra raises many serious concerns regarding privacy, money laundering, consumer protection and financial stability. These are concerns that should be thoroughly and publicly addressed before proceeding.
Political Will
For the currency to be successful, it will need political will. However, this political will is not there, because there is a consensus by politicians in both divides on the need to regulate the big technology companies. In a statement, Maxine Waters, who chairs the Financial Services Committee said the following:
If products and services like these are left improperly regulated and without sufficient oversight, they could pose systemic risks that endanger U.S. and global financial stability. These vulnerabilities could be exploited and obscured by bad actors, as other cryptocurrencies, exchanges, and wallets have been in the past.
What Libra Could Mean for Africa
In the white paper released by Facebook, the company explained that the new currency would help unbanked people in the emerging and developing markets like in Africa. If the currency becomes a reality, and if it is adopted in Africa, it could have a number of implications.
Lower Costs of Remittances and Speed
According to the World Bank, remittances to African countries is expected to hit $39.6 billion in 2019. This is up from $37.8 billion in 2017. Some of the most popular modes of remitting cash to the continent are Transferwise, World Remit, Western Union, MoneyGram, PayPal, Skrill and bank transfers.
These methods have two main drawbacks. First, the cost of transferring money to the continent is relatively high. Second, the transactions are not instant. For PayPal, it takes about three days to withdraw to a Kenyan bank account. For Transferwise, it takes between 30 minutes and several hours for the recipient to receive the funds. Therefore, Libra will help lower the costs and increase the speed of remittances.
Intra-Africa Trade
Intra-Africa trade is relatively small because of the many hindrances that are there. Multiple currencies are some of these hindrances because each country has its own currency. Therefore, traders must exchange the currencies at the border, which causes delays. A single currency that is acceptable across the continent can help increase trade volume. This is especially important now that African countries are inching closer to a Pan-African trade deal.
Local Currency at Last
Zimbabwe, which used to be an African powerhouse, is widely known as a country without a trusted national currency. The country has also reintroduced the Zimbabwe dollar, which was abandoned in 2009 because of hyperinflation. Few Zimbabweans have faith in the new currency called Real-Time Gross Settlement Dollars (RTGS). An acceptable currency like Libra could be lifesaving for the Zimbabwean economy because its people will be able to use a currency that is accepted around the world.
Monetary Policy
While Libra has some good things for the African continent, it has monetary policy implications. For example, if the currency becomes widely used, it could replace local currencies. This would weaken the important power that local central banks have. One of these powers is on inflation. Central banks manage inflation by adjusting the monetary policy of their countries. Therefore, if African countries adopt Libra, there could be an issue on how the central banks make monetary decisions.
Money Laundering
Money laundering is a major issue on the African continent. Theft of public resources by government officials is a major issue. With a semi-autonomous currency like Libra, there is a likelihood that this theft will be more pronounced.
Conclusion
The idea of Libra is still in its infancy and there are questions about whether the currency will see the light of the day. Even some of the companies in the Facebook's consortium are having second thoughts about the currency. If it works, it could change the world by becoming the first stable and globally-recognized cryptocurrency. We recommend that you continue paying close attention to the developments in the currency so that you won't miss the action.