Venture Capital for Africa (VC4A) connects African startup entrepreneurs with the knowledge, support programs, mentors and investors they require to succeed. VC4A started at the annual congress of the African Venture Capital Association in Dakar, Senegal 2007.
Entrepreneurs on VC4A can list their startup, find partners & raise capital. Connect with an international pool of experts who offer advice free of charge. Track your fundraising progress & connect with 5000 investors. No hidden fees!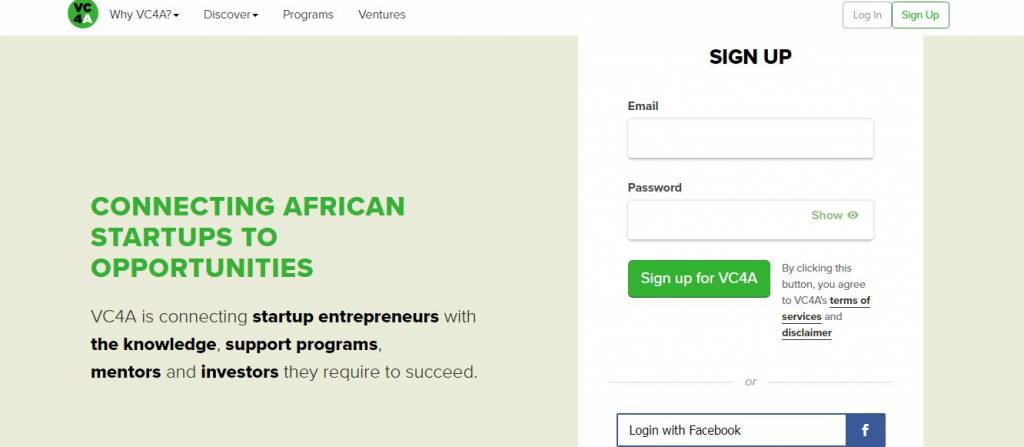 What VC4Africa offers
Entrepreneurs have access to the VC4A Startup Academy, mentorship opportunities and the ability to raise capital.
Program partners engage members with their entrepreneurship programs, competitions and services.
Investors are able to discover great companies, research opportunities and follow up with founders directly.
Mentors are able to browse through mentorship requests and connect with founders to support their journey.

Fundraising
If you have a venture profile registered on VC4A, you have the ability to raise capital. Registering a venture profile takes four simple steps. There are noo hidden fees or costs involved.
How it works
Prepare your venture
Register your intention
Engage potential investors to raise capital

Close the deal
VC4A Academy
The academy is the leading online resource for startup founders. You can access the latest industry insights, start-up tools and learn from 78 experts active in the African startup ecosystem.
How it works
The first course is called, "Start your business", and walks you through the founding stage of your startup.
Course two is "Grow your business", and covers what is needed after your startup finds its feet and is ready to scale up.
Course three is "Finance your business", where you will learn how to attract venture funding. In each of these chapters you will find a buffet of modules that will allow you to select specific areas to dive into.
And course four is called "Your legal business", aimed at founders who want to learn more about the legal implications of setting up their business and getting their operations funded.
At the end of the courses, you will get a personalized VC4A Startup Academy certificate.
Mentorship
The objective of the mentorship program is to assist promising entrepreneurs build great companies. We do this by matching seasoned mentors with promising entrepreneurs.
African entrepreneurs with a registered venture profile on VC4A have the ability to submit a request for mentorship support. Once these requests are screened and posted it's up to one of the VC4A mentors to step forward and to see what can be done to assist.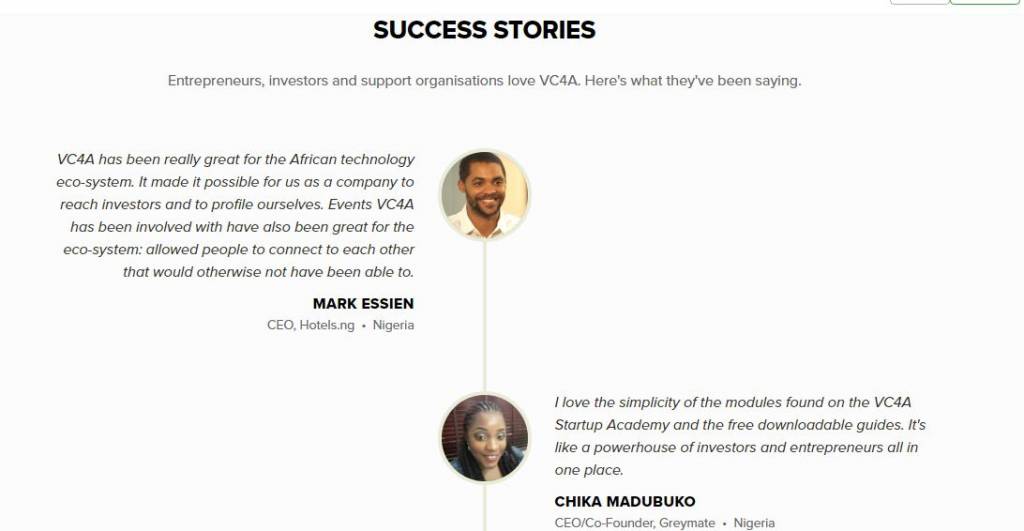 VC4Africa Programs
On VC4A's website, you are able to explore open and upcoming VC4Africa programs and events for aspiring entrepreneurs, venture founders and developers.
Conclusion
African startups and entrepreneurial Africans face numerous challenges such as capital, knowledge and visibility. VC4A focus on mentorship, academy and funding has led to many success stories in countries such as Ghana, South Africa, Tanzania, Zambia, Kenya, Nigeria, Uganda, Egypt, Somalia and Cameroon.
Further reading