Bitcoin adoption is slowly gaining momentum in Africa. Therefore, this article will show you how small businesses in Africa can use Bitcoin.
Bitcoin for Small Business in Africa
Paying International Suppliers
Small businesses in Africa import stock from countries like China and Japan at cheaper prices. Some of the imports from these countries include machinery, vehicles, clothing and electronics.
Most of the developed countries where African source these items have adopted Bitcoin payments. Small businesses in Africa can make payments for imports using Bitcoin. Compared to conventional payment methods, cryptocurrency payments are cheaper. It costs around 1% or no fees at all when transacting in cryptocurrencies. It is because cryptos do not require banks to verify the transactions. Most of the conventional payment companies charge based on the amount being transacted. It means the transaction costs will be higher if you intend to transact more.
The other benefit of using Bitcoin to pay suppliers is that crypto payments are fast. Bank and other transfers take between 3 to 7 business days when transacting overseas. However, Bitcoin payments are instant thereby eliminating the delays in the delivery of imports. In addition, many African countries like Nigeria have limits on the amount one can send overseas.
Also, many African countries have unstable currencies compared to international currencies like the dollar. The cost of trading tends to increase if the currency in use is unstable. And since Bitcoin is more stable compared to many African currencies, it can be used to pay international suppliers.
Storing Value
Many African countries experience high inflation rates and their currencies lose value against stable currencies such as the dollar. This particularly happens when sometimes just before an election. Other causes of inflation and depreciation of African currencies are due to rampant corruption, political instability, poor fiscal policies and misappropriation of public funds.
For instance, if you kept Ksh 10,000 two years ago in form of cash, its value will have depreciated due to inflation. However, if you stored the Ksh 10,000 in the form of Bitcoins, its value would have appreciated by over 50%.
Assuming that you had deposited the money in a bank account, it would have earned 1.5%. Factor in the 5.7% rate of inflation and the tax imposed on interests. It means your money will have earned a few coins after two years. Therefore, it is better to store your money in digital currencies compared to when it in the form of unstable African currencies.
Use Peer to Peer Payment Systems
Small businesses in Africa can make use of peer-to-peer technology by the use of smartphones to make Bitcoin payments. It allows users to make money transfers from their credit cards to wallets. Businesses can adopt such technology and allow their customers to make money transfers to their wallets. It is easy since the customer only needs to allow their credit card data to be used to accept or send funds to a business's wallet. This a good option for eCommerce stores.
Accepting Bitcoin Payments for Goods and Services
Most African countries have adopted digital payment options like the use of mobile wallets and digital payment platforms such as PayPal, Mpesa and Skrill. There are also crypto payment gateways that businesses can use to accept crypto payment in Africa.
For instance, Health Land Spa, a Kenyan health service provider and Minku, an online leather and clothing store accept Bitcoin payments. This is a good start and Bitcoin acceptance is expected to gain traction in the coming years.
Where to Spend Crypto in Africa
Nowadays, there are establishments accepting Bitcoin in Africa. These are some of businesses accepting Bitcoin in Africa.
Kenya
Mamamikes
Mamamikes is a Kenyan gifting retail service and e-commerce platform.
Betty's Place
Betty's Place, a restaurant owned by Betty Wambugu, is located in Nyeri, a town in rural Kenya. She sales the popular East African beef dish, "nyama choma" (roast beef). She accepts Bitcoin.
Healthland Spa
Healthland Spa is a Kenyan spa based in Nairobi.
Boxlight Electronics
Boxlight Electronics is a wholesale and retail supplier of electronics in Nairobi, Kenya.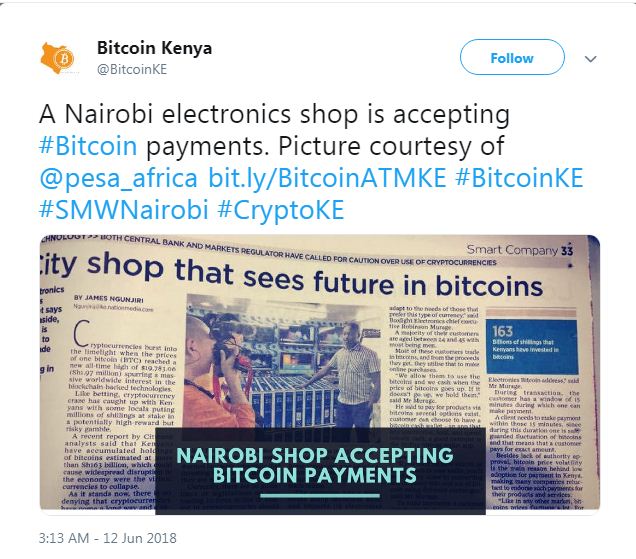 Nigeria
Minku
Minku is an online leather goods and clothing store.
South Africa
White Dog Taproom
White Dog Taproom is a restaurant and golf driving range.



Bidorbuy
Bidorbuy is an online auction and marketplace that offers Bitcoin as a payment option.
Fines4U
Fines4U is traffic fines administrator, which announced in 2017 that it will take payment in bitcoin from clients who want to settle their outstanding traffic fines.
Ashworth Africa
Ashworth Africa is a South African tour company.
TakeAlot
TakeAlot is an online retailer that accepts Bitcoins in the country.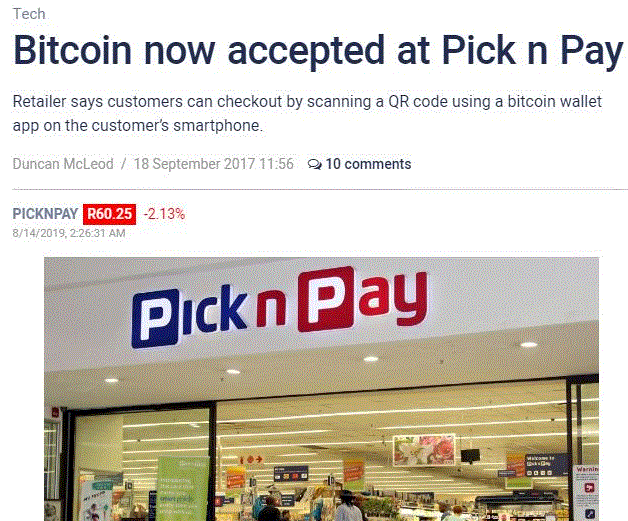 Cape Coffee beans
Cape coffee beans is an online store selling roasted coffee beans.
Red & Yellow Creative School of Business
Red & Yellow Creative School of Business is a business school that accepts Bitcoin payments for advanced diplomas, certificates and online courses.
Sapphire Corporate Solutions
This South African company specialises in bespoke corporate clothing, promotional gifting and operational efficiencies.
Zimbabwe
Stan Williams, the Sculptor
Stan Williams is a dreadlocked Zimbabwean sculptor who sales his artwork in Bitcoin.
Further reading