Sending money to Africa is increasingly becoming easier, cheaper and faster because of advances in technology. We've selected 5 services that help you to transfer money to Zambia from European countries, the United States, Australia as well as many other countries. You can use some of these services as well to top up airtime for prepaid mobile phone plans.
Fastest and cheapest options

There are many options available to send money to Zambia. Choose a method that is cheaper to you and the recipient, one that is faster, and one that is efficient.
Of all the methods, we recommend using World Remit, or wire transfer. However, you should also ask the Zambian recipient on the method they mostly prefer.
Benefits
Disadvantages
Azimo
Send money to Zambia from Europe via app & website, First transfer is free and next transfer fee as low as £1, instant airtime top up
No cash payment, Receiver must have a bank account, No transfer to mobile money, No transfers from the US
World Remit
Send money to Zambia from 145 countries, Nine payment methods, Free transer for your first transaction if you use the promotion code, Multiple receiving methods: bank accounts for all banks in Zambia, mobile money, cash pickup, instant airtime top up
Maximum per transfer is USD 1000, mobile money only works with MTN
Taptap Send
No transfer fees
No bank transfers, Money can only be sent to people with mobile money accounts with MTN
Mujuru
Multiple payment methods including Whatsapp
No bank transfers or mobile money, Payment only received in cash where there are Mukuru agents
Hello Paisa
Payment via Hello Paisa Android or iOS app, 5 South African rand per 100 South African rand
You can only send money from South Africa, No bank transfers or mobile money, Cash can only be collected at UAE Exchange stores
---
World Remit


With its headquarters in London and regional hubs in Poland, the Philippines, and the United States, you can send money through World Remit to Zambia.
Sending money to Zambia is possible from more than 145 countries around the world such as the UK, the US, Australia, and Canada, The maximum amount per transfer is USD 1,000.
World Remit Transaction details
Azimo


Launched in January 2012 and registered in the UK, Azimo allows people to send money to Zambia from 25 countries including the the UK, the Eurozone, Sweden, Norway, Denmark, Switzerland and Poland. At the moment, the service is not available for US senders.
Payments can be done via online bank transfer or on their website or using their Android app or iOS app with debit/credit card payments. Accepted cards are Master Card, Maestro and Visa. You can pay via SEPA bank transfers.
Azimio does not accept cash as a payment method.
Transferring via bank transfer may take up to 24 hours.
On top of sending money using Azimo platform, you can also send instant mobile top up to a mobile phone user in Zambia to be used for talk time or data bundles.
Azimo transaction details
---
Taptap Send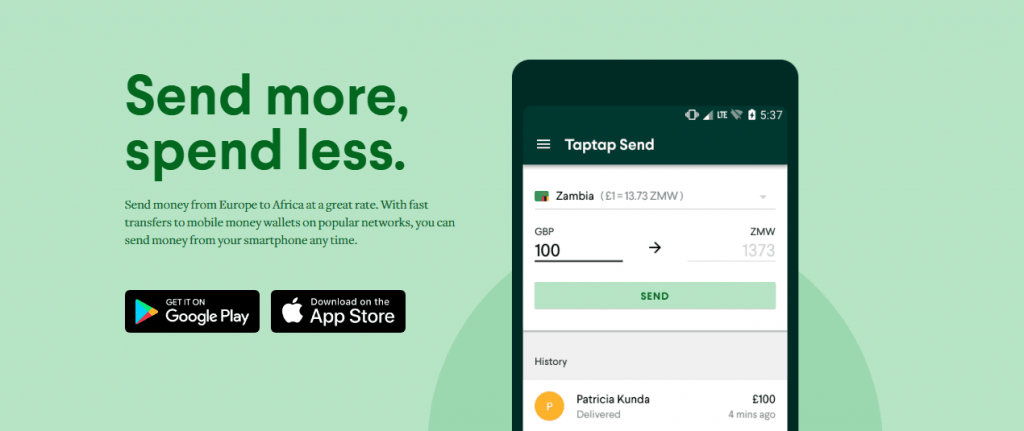 Taptap Send is a UK registered money transfer service, which has partnered with mobile money service providers in select African countries, including Zambia.
TapTap transaction details
---
Mukuru


Established in 2006, Mukuru is a digital international money transfer service based in the UK.
---
Hello Paisa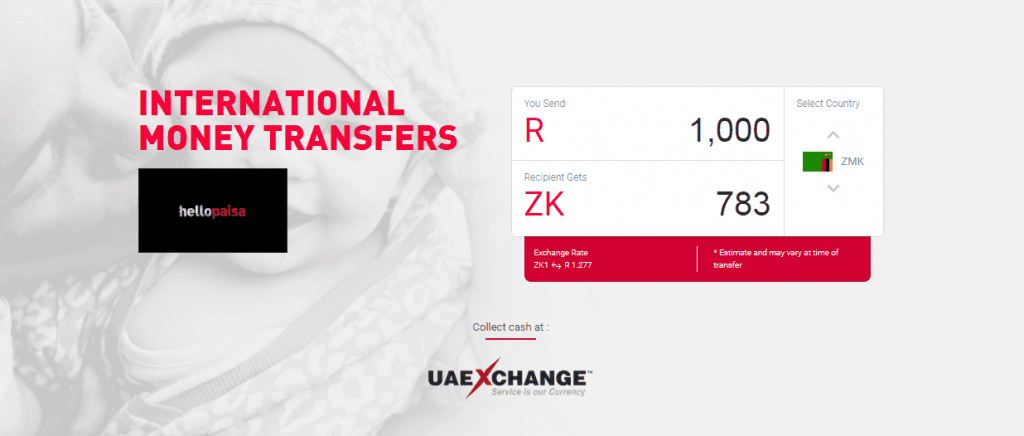 Hello Paisa became the first company to be authorised as an independent money transfer operator in South Africa after it started in March 2015. The company, started by two brothers Nadir and Shaazim Khamissa, offers services to send money to Zambia from South Africa.
Hello Paisa transaction details
---
More information
With these five services, you will be able to conveniently send money to family members or friends for school fees, medical care, food or to support projects and businesses in Zambia.