Getinsha is the first Islamic bank in Europe to offer interest-free purely digital banking service founded in mid-2017 to provide financial services. insha is supported by Albaraka Turk (100% investor), which is a pioneer of Islamic banking in Turkey. Albaraka Turk is part of the Albaraka Group, which operates globally.
insha's leading partner is solarisBank. With its full German banking license and infrastructure, solarisBank enables other financial institutions like insha to provide banking services. The insha app was officially launched at the end of September 2018.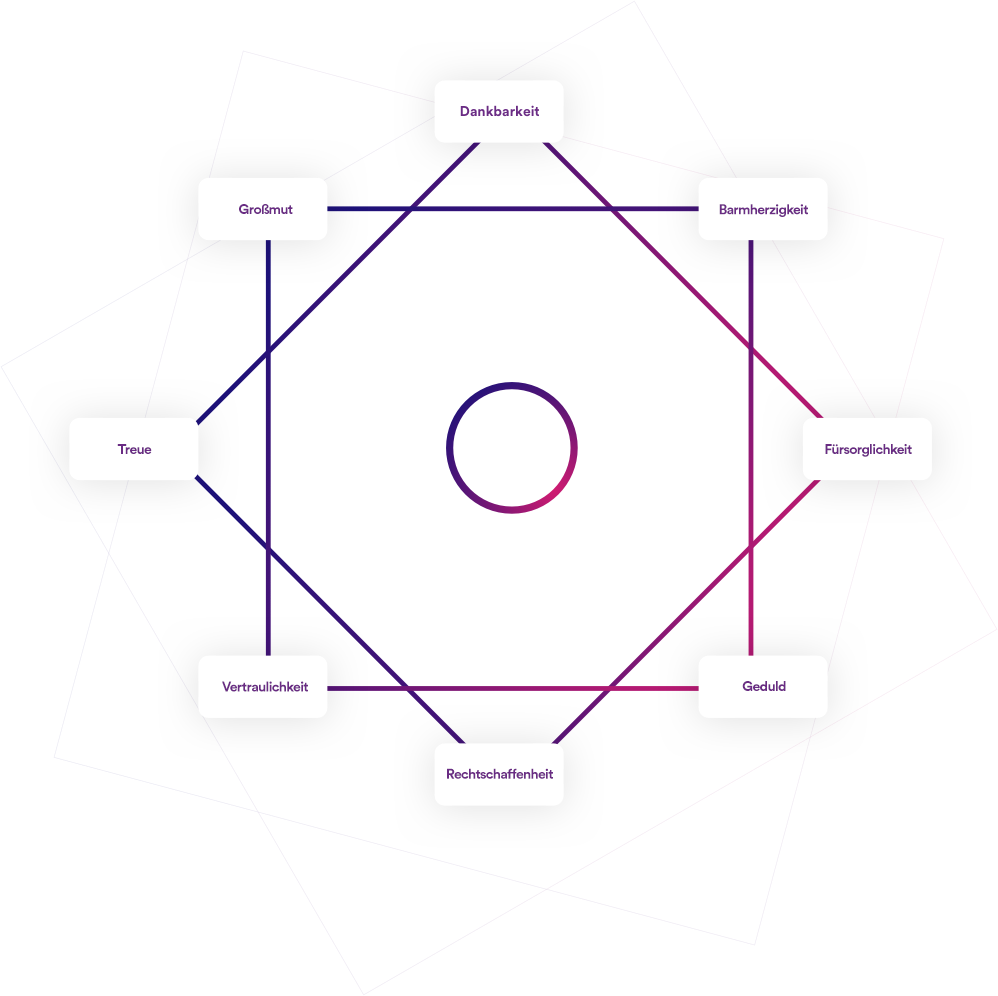 What is Islamic banking?
Islamic Banks are not allowed to charge interest (riba) and will never invest in weapons, alcohol, porn or the pig industry. They also adhere to the ban on speculation (ghar) with e.g. derivatives and gambling (maysir). There is something to be said for this type of banking, perhaps even for non-Muslims.
Small Islamic banks demonstrated a relatively better handling of the economic downturn […] while Islamic banks may have escaped the consequences of highly volatile financial instruments, they were not spared from a major shock in the real economic sectors. (ScienceDirect, Economic Systems, Volume 42, Issue 2, p. 346ff)
Financing is provided through trade structuring or participation. This ensures that the funds are forced to flow into the real sector. As a result, the investments made are sustainable and offer excellent security.
History of Islamic Banking
Islamic banking is based on the pre-Islamic Mudarabah from the 6th century, which can be translated as speculation. The first Islamic bank of modern times was founded in Egypt in 1963. Pakistan and Iran followed in the 1970s. Since the 1980s several conventional banks offered Islamic financial products. In 1990, the Accounting and Auditing Organisation for Islamic Institutions (AAOIFI) was established, responsible for auditing Islamic financial products. In Germany the KT Bank AG is the first and so far only bank to offer an Islamic bank account.
Interest-free loan
Since Getinsha is not allowed to charge interest, or would rather like to, any kind of loan would be interest-free by nature. Up to the present moment "our credit instrument is not yet available" and is currently not granting any interest-free loans.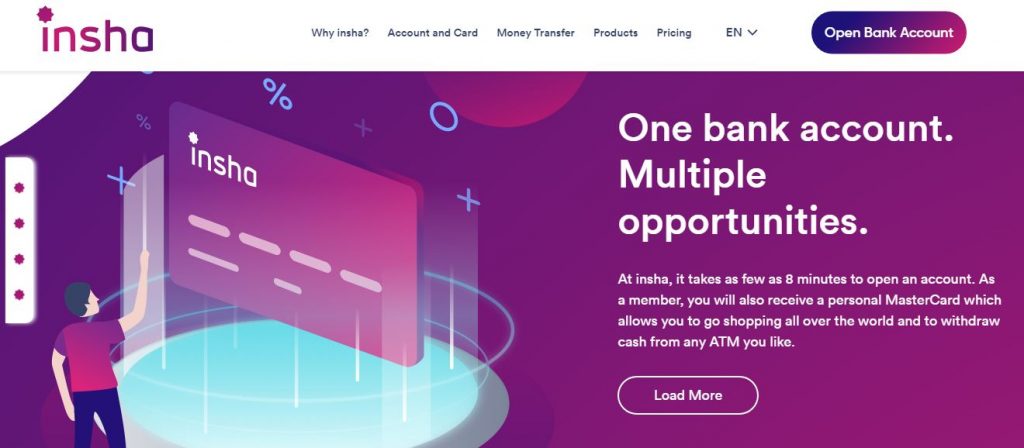 Where Are Getinsha's Headquarters?
Its headquarters are in Berlin, Germany. insha carries out all its services online. It does not have physical branches, and customers don't have to sign any physical documents.
insha Customers and insha Supported Countries
To open and operate an insha account, you have to be 18 years and above, and you must live in Germany, Austria, Belgium and Netherland. It is focusing on Muslims and people with a Turkish background in Europe. insha places Muslims' interests at heart. On its app, Muslims can find locations of the nearest mosques wherever they are, locate directions of the Qibla, and track prayer times with notifications.
insha is making efforts to expand its services to other European countries. The insha account comes with a personal MasterCard, which you can use to shop anywhere around the world.
How insha Customer Support Works
insha has a Support Team that portrays high levels of professionalism and is ready to help customers during workdays between 09:00-18:00. Unlike other digital banks, real people will listen to all your problems and address them accordingly. You can reach the team by calling +49 69 79 100 101 or by emailing support@getinsha.com.
insha Services And Products
insha offers services to its customers through its app. Let's have a look at some of the services provided.
There are no hidden fees. Account opening is also free.
The European Deposit Guarantee Schemes guarantees up to 100,000 Euro in insha accounts
Money withdrawals are free at all ATMs. You don't need to worry if you are visiting or taking a vacation in Turkey.
Interest-free digital bank accounts. insha offers private banking services. You can open your account within 8 minutes.
insha card. This card saves on time since you won't have to stand in long waiting lines. With insha's vast ATM network, customers can withdraw cash from anywhere in the world using this card.
SEPA and Turkey Money Transfers. If you want to send your money to Turkey quickly, insha is the best app to do this. You can send your money online, using your mobile app directly to the Albaraka Turk EUR or TL account and other EU countries.
The insha inSave feature enables you to save your money automatically. By creating a standing order, you can save fixed monthly sums. inSave also helps you track your savings. It shows how much time is left until you have reached your savings goals.
insha services are more than cash withdrawals and money transfers. insha aims at changing the world into a better place. It has an inShare feature where customers can donate money and support each other. You will choose whether you want to donate to a charity, a public institution, or a foundation.
insha offers business bank accounts to specific businesses, those that are shariah-compliant, and do not involve high risks.
Does insha Have App Only or Both App and Website?
When you land on insha's website, it will direct you on how to download the mobile app. Customers can access Insha services through a mobile app. You just need to download the insha App from the App Store or Google Play Store. The app requires iOS 8.0 or later. It is compatible with iPod, iPhone, and iPad touch.
insha customer online reviews
On the German customer review site Trustpilot, the customer rating for February 2020 is very widely spread between 'excellent' (41%) and 'unsatisfactory' (47%). Most of the complaints there have to do with the blocking of the account. The bank does this when it sees something it wants to check, such as a suspicious transaction or the absence of a tax number. It also turns out that insha sometimes checks if the new customer himself meets the religious requirements (or rather the origin of the money). This makes insha inaccessible or at least difficult to access for non-Muslims.
Other Islamic Banks in Europe
There are other bank in Europe that offer Sharia-compliant finance products. They include the following:
KT-Bank is the first bank to offer an Islamic account in Germany since 2010. The most striking difference to insha bank is the fact that KT-Bankank already offers Islamic credit. This means that they buy your desired property for you and resell it to you for a financing premium. This avoids the interest rates forbidden in Islam.