Bitwala is a blockchain banking service founded by Jorg von Minckwitz, Jan Goslicki, and Benjamin P. Jones in October 2015. The need for cryptocurrency-friendly banks drove the idea of developing a blockchain banking experience. Bitwala utilizes digital currency to offer a faster and cheaper solution.
In 2018, disaster struck when WaveCrest Holdings LTD, Bitwala's debit card issuer, withdrew permissions forcing the company to suspend its services. However, Bitwala did not go down completely. It set about building a new product, blockchain banking. It is now among the best in the industry. Being a virtual bank, Bitwala has no physical branches.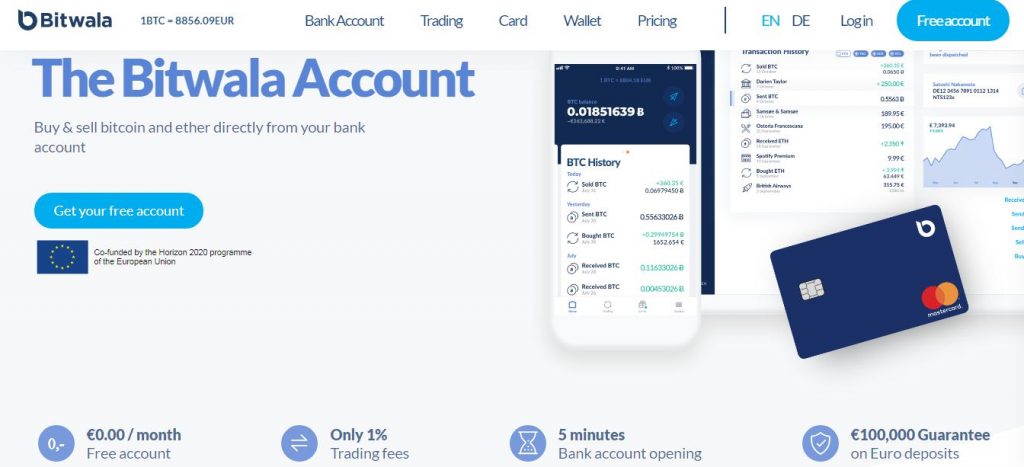 Bitwala Customers
With its headquarters in Berlin, Germany, Bitwala serves European residents who are looking for a blockchain banking solution. The service is now available for users from 31 European countries (fiat banking and transactions are processed in euros). It does not offer its services to U.S persons. If you want to open a Bitwala account, you must be:
A resident of the European Economic Area or Switzerland
18 years and above
Hold a valid identification document
Hold a Proof of Address document. This will be required during the verification video call
Services Offered By Bitwala
Bitwala provides a range of products and services with the use of Bitcoin and other crypto-currencies, making life easier.
Bank Account. Bitwala offers a fully German bank account that you can use to receive your salary, pay your rent or send and receive SEPA transactions. You will also be able to set up automatic payments for service subscriptions that you use regularly. Bitwala accounts come with an IBAN. Euro deposits up to € 100,000 are protected by the German Deposit Guarantee Scheme (DGS).
Bitcoin Wallet. The Bitwala account also includes highly secure Bitcoin wallets that you can use to buy and sell crypto-currencies (using Euros) for a 1% fee from your account and store them in one place. There is no third party access to the wallet, including Bitwala itself. The wallets are backed up, giving the user full control and the ability to extract private keys.
Bitwala debit cards. They can be used anywhere in the world where MasterCard is accepted. You can use your card to withdraw your money at millions of ATMs globally.
Bitwala supports Bitcoin and Euros. Bitcoin is stored in a dedicated wallet. Every user has an individual wallet, private, and public key. This means that users can deposit Bitcoin directly, just like in other wallets. On the other hand, Euros are stored in the regular bank account where you can deposit, withdraw, and spend funds.
How Can Customers Access Bitwala Services?
Bitwala can be accessed through its smartphone app for Bitcoin banking on iOS and Android devices. You can open a German bank account with an integrated Bitcoin wallet and trading directly from within the app in minutes. You can get more information concerning the bank on their official website where it provides an extensive support section.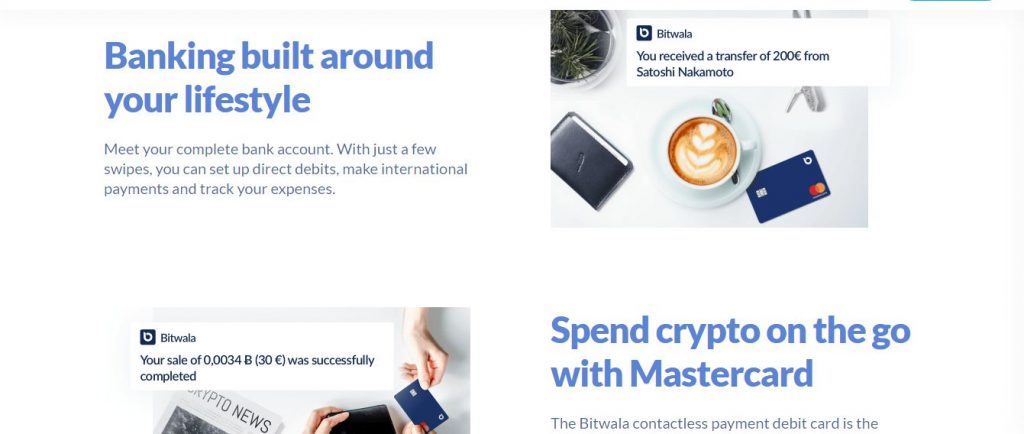 Bitwala Customer Support
Bitwala has a professional customer support team that is happy to help and give answers to all your questions. You can reach the team through +49 30 2398 0075 or email via [email protected] The Bitwala support service is available in both English and German. You just need to choose the language you prefer. Bitwala customer support is available from Monday to Friday from 9:00 AM-6:00 PM (Central European Time). This excludes German public holidays, weekends or bank holidays.
Does Bitwala Has Its Own Banking License?
No. Bitwala is held under its trusted bank partner solarisBank that holds a fully German banking license, which is regulated by the European Central Bank (ECB) and the BaFin. All Bitwala accounts are managed under solarisBank.
Bitwala Business Bank Account
Bitwala offers business accounts for Bitcoin transfers. It supports companies dealing with the trade of crypto-currencies and fiat currencies. Bitwala provides an exchange mechanism that converts crypto-currencies in fiat currencies and vice-versa, giving companies the freedom to trade across multiple payment rails. It provides businesses with multiple features and options such as expenditure tracker, mass payments, and open banking API facilities.
Bitwala Online Customer Reviews
Every Bitwala customer has a story to tell. Bitwala products score highly on review websites. The products have received more positive reviews than negative reviews on Trustpilot, where it has been rated 3.9 stars. Customers have also rated it 4.5 stars on the Google Play Store. In 2017, Bitwala received awards from various forums like The German Innovation Award, FinTech Pioneers, ITC Spring Europe, and the Paris FinTech Forum Award.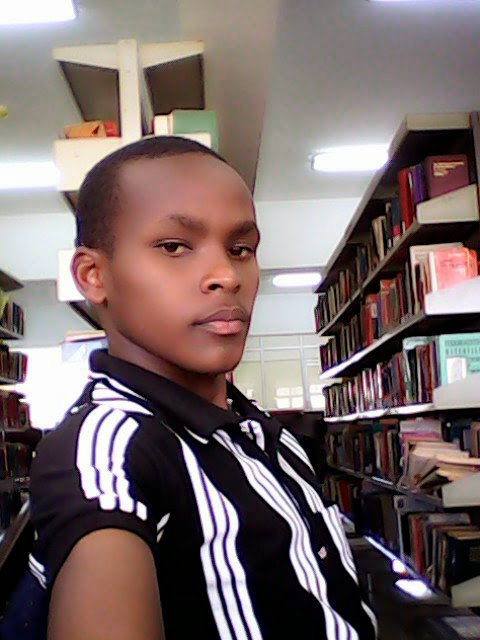 Vincent is a writer with an interest in finance, business, technology and health niche. He holds a Bachelors degree in Applied Statistics with computing. Read more about Vincent and see our complete editorial team at FiFi.