BlockFi is a platform which offers crypto backed loans. You will use your cryptocurrencies such as Bitcoin as collateral. It is also a suitable platform for people who want to invest in Bitcoin loans. Furthermore, the loan scheme provides crypto accounts with a compound interest.
What's Special About BlockFi Bitcoin Loans
Cheap loans. When you borrow money through BlockFi, you will repay the loan with an interest of 4.5%. When you lock your crypto assets into your account, you get a credit equivalent to 50% of the value of your crypto assets.
Fast loans. Crypto backed loans are instant once approved. The process of applying for a loan with BlockFi is brief. BlockFi will then check if you meet their loan requirements and then respond in a few hours.
No credit checks. BlockFi does not consider credit scores to determine your loan eligibility. On the other hand, getting a loan from BlockFi will not have an impact on your credit score.
Multicurrency support. BlockFi supports various crypto assets. Among them are Bitcoin and a large number of altcoins.
BlockFi loan calculator. BlockFi has a loan calculator that you can use to determine the value of the collateral that you need to obtain a loan.
Pay interest first. When you get a BlockFi loan, the company requires you to pay the interest first and then pay the principal amount at the end.
How BlockFi Works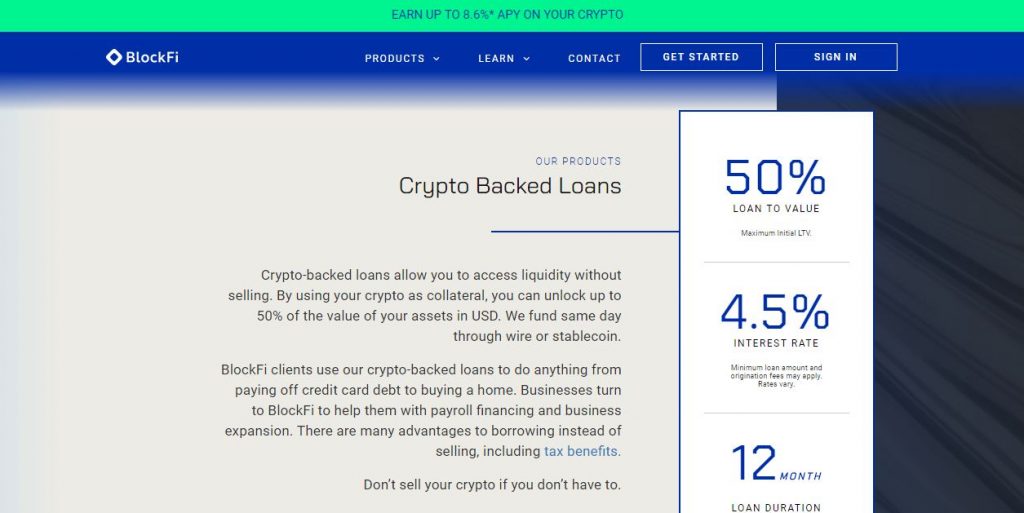 One qualifies for a BlockFi loan equivalent to 50% of the value of crypto assets they hold. For example, if you lock 1 bitcoin at the market price of $8,000 for every bitcoin, then the maximum loan you can get is $4000. You can refinance the loan when it reaches its maturity date. Once you have borrowed the loan, you can do anything with the money. There are several benefits one can enjoy from borrowing cryptos instead of selling them.
The process of getting a loan is easy and straightforward.
Create an account with BlockFi. Make sure to fill in all your details correctly.
Once you have an account, click on the Loan tab. Then click Apply and fill in the KYC/AML verification. Fill in your details correctly.
Review the information you just entered and then sign the agreement.
Lock your collateral to BlockFi's wallet.
Wait as BlockFi verifies your request .
Once you have passed the verification process, you will receive the loan in the form of the US dollar. The money will be deposited directly into your bank account through wire transfer.
Then start paying BlockFi interest every month either in USD, ETH, LTC or BTC.
At the end of BlockFi repayment term, pay the principal amount. Alternatively, you can choose to refinance the loan.
Fidelity Digital Assets customers can now get crypto backed loans from following its partnership with BlockFi.
BlockFi Loan Interest Rates
| Blockfi LTV | BlockFi Interest Rate | BlockFi Origination Fee |
| --- | --- | --- |
| 50% | 9.75% | 2% |
| 35% | 7.9% | 2% |
| 20% | 4.5% | 2% |
What Happens if You Don't Repay the Loan?
It is important that you fulfill BlockFi loan repayment obligations. If you default to repay the loan, BlockFi gets full possession of cryptos equivalent to the loan that you used as collateral. BlockFi requires the borrower to lock up two times the value of the loan you are borrowing as collateral.
Is BlockFi Safe?
BlockFi is among the secure non-bank lending platforms offering cryptocurrency backed loans in the US. You only need to back up your loan using crypto assets. Its services are available in 35 US states. BlockFi funds are held by Gemini, a licensed cryptocurrency exchange located in New York.
BlockFi Countries
There are no BlockFi supported countries apart from the United States. BlockFi loans are available in 47 states in the US.
What you Need to Be Careful About
Getting a loan with BlockFi is easy and it can be the only option you have in times of financial need. However, watch out for the following.
Low LTV ratio. You can only borrow a loan of up to 50% of the value of your cryptos.
It is risky. The value of cryptocurrencies is not always guaranteed and they can drop at any time. In this happens, if you can repay the loan immediately, it would be better. However, you can back up the loan using other assets.
Not available in all countries. It is only available in the US where it not available in all states.
More Information About BlockFi