HSBC is one of the largest banking institution in the world. The bank offers business bank accounts in the UK. Business banking products offered include business current accounts, businesss savings accounts, business debit cards, overdrafts and loans. HSBC business banking is ideal for startups, big businesses, non profit organisations, etc.
HSBC offers business overdraft for 1 month up to a year. Interest for overdraft is calculated daily on the amount you use.
HSBC Business Accounts
Small Business Bank Account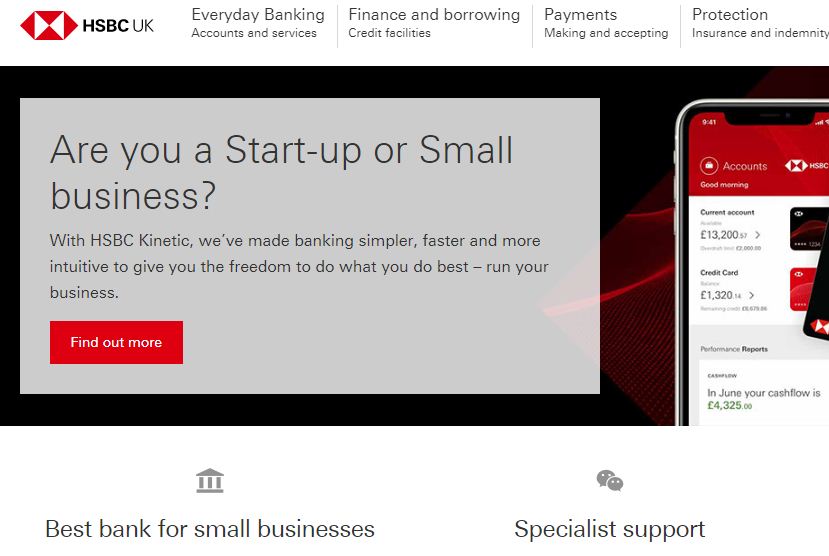 This is a business account in the UK for companies whose turnover is below £2 million and they do not wish to apply for more than £30,000 in borrowing facilities. You can have multiple signatories for this account. You only need to provide details of other applicants, such as additional directors and shareholders.
Benefits for this account include commercial debit cards, arranged overdraft, euro business account, USD business account, and small business loans from £1,000 to £25,000.
HSBC Kinetic Current Account
This is a current account for small businesses. To qualify for this account, you need to have a Limited company and a Sole Trader.
The account has no monthly maintenance fee for the first 12 months. You can apply for up to £30,000 overdraft in-app, with funds available on the same business day that your credit assessment is successful.
With Kinetic Current Account, you cannot make international payments in-app, no cheque books issued, no foreign currency accounts or holdings and there is no multi-user access.
Charitable Account
This is HSBC account at a reduced price for charities and not-for-profit organisations with a charitable purpose. If your organisation is a club, society or association with a turnover of less than £2m you can apply for HSBC Charitable Account online. If your organisation is not a club, society or association or has a turnover of more than £2m, you need to call account opening team on 0800 731 8904, to discuss your needs in more detail.
Large Business Bank Account
This is a business account for large companies that are not eligible for HSBC Small Business Account and HSBC Kinetic Current Account. Benefits of the business account for large businesses include business loans up to £100k, dedicated relationship manager and multi-user access.
HSBC Corporate Account
This is a specialist banking services for corporate banking customers with a turnover above £10 million. You will get a dedicated relationship director with commercial expertise.
Business Currency Account
If you do business overseas or regularly deals in foreign currencies, this account will help your business save in exchange rates. You can open a euro business account, US dollar business account in the UK and 90 other world currencies. The currency account gives you essential support in key areas such as importing and exporting, foreign currency and international payments.
You can also open Client Currency Account if you hold money for clients in euros or US dollars. This helps businesses and organisations separate customers' funds from their own.
Business Savings Account
Savings accounts are available for businesses intending to save money and earn interest. Your business can open more than one savings account. Savings accounts include Business Money Manager and Business Money Market Account. Interest rates depend deposited amount, type of account, and duration.
HSBC Business Loans
Your business can get a small business loan between £1,000 to 25,000 with fixed interest. You can also borrow 25,000 and above from 12 months up to 20 years with either fixed or flexible interest rates. You can also apply for commercial mortgages, business growth fund, asset finance, and overdraft.
HSBC Business Account Fees
HSBC business accounts are free for the first twelve months. Monthly maintenance fees are as follows.
Large Business Account: £10 a month
Charitable Account: £5 a month
Kinetic Current Account: £6.50 a month
Small business account: £8 a month
Additional charges include money transfers, ATM use, cash deposit in branch or Post Office, mobile cheque deposit, etc.
HSBC Online Business Account Alternatives
Depending on your needs, you may find that HSBC is not suitable for your business. Online business banking alternatives you can look into include the following.
Conclusion
A business account is a key component of any successful business. It is important to separate personal finances from business funds. HSBC online business account offers many banking benefits that include business loans, foreign currency account, business debit cards for you and your employees, dedicated relations manager, business savings and overdraft.