Kenya is one of the most advanced economies in Africa. The country has a GDP of more than $74 billion. This makes it the 9th largest economy in Africa after South Africa, Nigeria, Egypt, Algeria, Morocco, Ethiopia, Ghana, and Angola.
Kenya is also known for its strong financial sector. M-Pesa, the money transfer product offered by Safaricom, has revolutionized how people store and transfer money. Its model has been replicated in most other emerging markets. Kenya is also known for its stock exchange. In this article, we will look at how to invest in the Nairobi Securities Exchange (NSE).
Companies in NSE
A total of 73 companies are listed in the Nairobi Securities Exchange.
These companies have a combined market value of more than $22 billion.
The biggest company listed in the Nairobi Securities Exchange is Safaricom that is worth more than $10 billion.
What is the Nairobi Securities Exchange (NSE)?
The Nairobi Securities Exchange (NSE) was previously known as the Nairobi Stocks Exchange. It changed its name when it started to introduce additional products like derivatives, bonds, and REITS. The Nairobi Securities Exchange is a company where companies list their shares. The company behind the exchange went public in 2015. A good comparison to NSE is Nasdaq and New York Stocks Exchange (NYSE).
Categories of Companies Listed in the Nairobi Securities Exchange
As with all security exchanges, companies that are listed in the NSE are divided into categories. These categories are:
Agricultural companies like Sasini and Williamson Teas.
Automobile and accessories like Car and General.
Banking like Barclays, Equity Bank, and Standard Chartered.
Commercial and services like Scan Group and Longhorn Publishers.
Construction and Allied like Bamburi Cement and East Africa Portland.
Energy and Petroleum like Total and Kengen.
Insurance like Jubilee Insurance and CIC Insurance.
Investment like Centum and Trans Century.
Manufacturing like Unga Group and Carbacid.
Telecommunication like Safaricom.
Reits like Fahari iREITS.
Performance of Stocks Listed in the Nairobi Securities Exchange
Stocks listed in the Nairobi Securities Exchange have had a rough period in the past few years. This is because some international investors have left due to macroeconomic challenges the country is facing.
The cost of doing business remains high and companies have been confronted with high tax rates. Further, the capping of interest rates charged by banks has affected the performance of the Nairobi Securities Exchange.
As shown below, the Nairobi All Share Index (NASI) has gained by just 83% in the past decade. This pales in comparison to what the Dow Jones Industrial Average (DJIA) and S&P have achieved.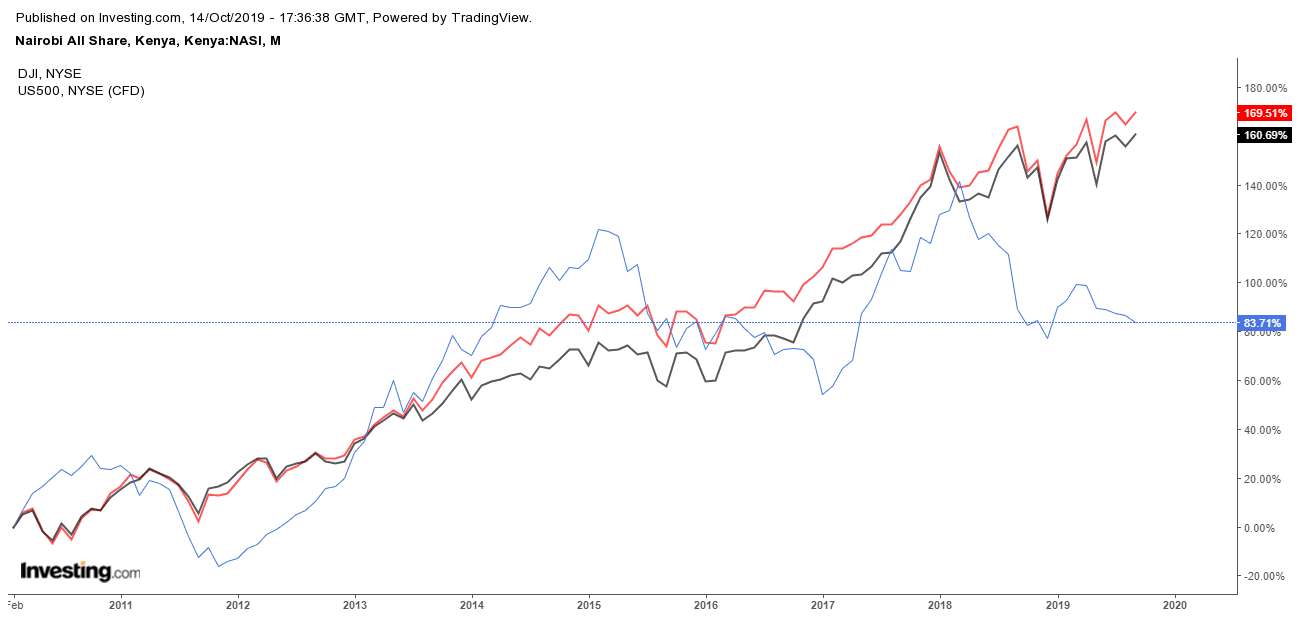 How to Invest in the Nairobi Securities Exchange
It is a difficult thing for many foreigners to invest in the Nairobi Securities Exchange. This is simply because they need documents to show that they are bonafide investors. However, large foreign investors have found it relatively easy to invest in the Kenyan stock market.
The first step of investing in the Kenya Securities Exchange is to find a broker. Fortunately, there are many stock brokers in the country. In fact, most banks acts as brokers. The leading brokers that you can use are:
Equity Bank Stock Brokers
Dyer & Blair
Suntra Investments
NIC Securities
Kestrel Capital
You can find the list of all stock brokers in Kenya here.
After finding your broker, you should register for what is known as a Central Depository Company (CDC) account. This is an account that is linked to your investment account. It is similar to a bank account. You must register for the CDC account in person. The only document that you require is your ID or passport number and your bank account.
Finally, after getting your CDC account, you can direct your broker to buy the shares that you want. These shares must be acquired in Kenya shillings. You can direct the broker to buy the shares by either calling them, visiting them, or by using their online platforms. Most stock brokers have online platforms where you can buy and sell shares directly.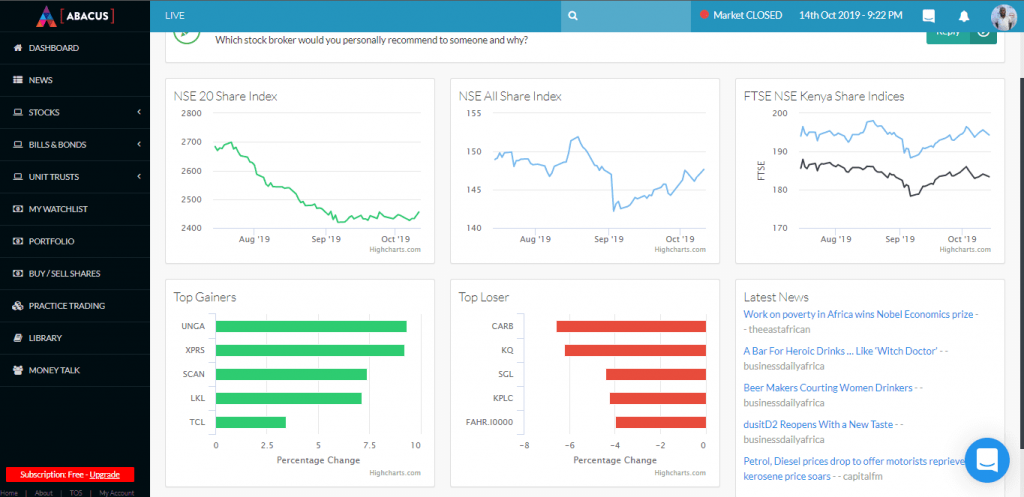 Conclusion
The big question is whether you should invest in the Nairobi Securities Exchange (NSE) or not. This is a difficult question to answer mostly because of the direction Kenya is taking. The country has continued to increase its debt and budget deficits. At the same time, these funds have been stolen by cartels. Meanwhile, the unemployment rate continues to soar and the government has continued to fight – instead of supporting local businesses. Still, when you conduct enough research, you can find some good companies to invest in the country.