Nuri is an online bank that enables you to manage Euro and Bitcoin deposits in a single account. With the Nuri account, you can save, withdraw, and automatically exchange fiat currencies for bitcoin via their Bitcoin investment or savings account. Nuri offers a German IBAN, SEPA transfers, international payments services and Visa debit card.
Can You Use Nuri for normal banking?: Nuri offers a euro bank account with a Visa debit card and access to a self-hosted non-custodial (called "Bitcoin vault") or a hosted Bitcoin wallet where you can send and receive Bitcoin. [Bitcoin lightning](/bitcoin-lightning-network), for near-instant and low fee Bitcoin transfers, is not supported yet. Neither is instant-sepa.
What you can do with Nuri
Transfer money between your bank accounts in the European SEPA zone, buy Bitcoin, set up automatic Bitcoin investments to be accessed by your own Bitcoin wallet (called Bitcoin vaults) or keep it on the hosted Nuri wallet.
Schedule automatic Bitcoin investment via the Nuri Savings Account or choose to earn up to 3-5% annual extra Bitcoin through their hosted Bitcoin interest saving account in partnership with Celsius. **Nuri bitcoin interest account has been temporarily suspended.**
The Problem Nuri is Solving
Nuri was established to disrupt the traditional banking industry by creating an account to transition between cryptocurrencies and fiat currencies. The cryptocurrency industry has grown significantly. In slightly over 10 years, the industry is now worth hundreds of billions of dollars. Many big companies like PayPal, Facebook, Fidelity, and JP Morgan are getting into the industry. While there have been adoption of these currencies, there have been a disconnect between the cryptocurrencies and fiat currencies in the traditional banking system.
Nuri solves the challenge mentioned above by creating a fully-online bank that allows people to save, buy cryptocurrency, spend, and trade the currencies. To achieve that, the company has partnered with SolarisBank, which is a German banking platform that pioneered the concept of banking-as-a-service model. Read our comprehensive review of SolarisBank
As a result of Bitwala Solarisbank partnership, you get a full German bank account that operates as a normal account. For example, you can receive your salaries on it and pay bills.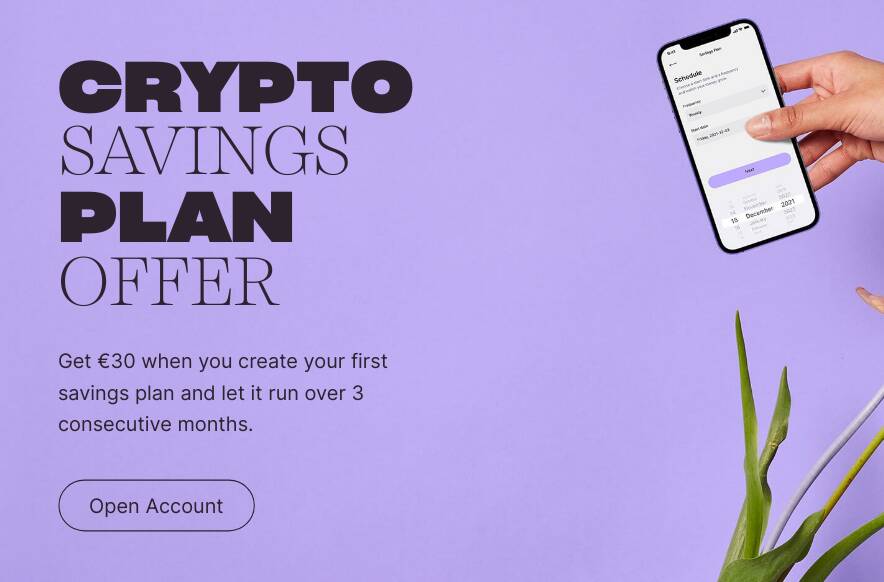 Nuri crypto interest account has been temporarily suspended after its partner, Celsius Network, blocked all withdrawals. Read Nuri's full statement here. Other Nuri's crypto products are not affected.
How to Open Nuri Bank Account
Account opening is available on Nuri website and Nuri app for iOS and Android. If you want to open a Nuri account, you must be:
A resident of the European Economic Area or Switzerland or a national of Bitwala supported countries outside EU
18 years and above
Hold a valid identification document. This will be required during the verification video call
Good to know
Bitwala Schufa / Nuri Schufa: When opening an account with Nuri, the bank will not request any of your data from Schufa Holding AG. This is because Nuri doesn't offer an overdraft and thus the creditworthiness doesn't need to be checked. You can only spend the money you have on your account.
For those who need one, Nuri will offer you a free crypto tax reporting solutions in partnership with CryptoTax.
Services Offered By Nuri
Nuri provides a range of products and services with the use of Bitcoin and other crypto-currencies, making life easier.
Nuri Bank Account
Nuri offers a fully German bank account that you can use to receive your salary, pay your rent or send and receive SEPA transactions. You will also be able to set up automatic payments for service subscriptions that you use regularly. The account comes with Nuri bank IBAN.
Nuri Bitcoin Wallet
The account also includes highly secure Nuri Bitcoin wallet that you can use to buy and sell cryptocurrencies (using Euros) for a 1% fee from your account and store them in one place. You will have your own private and public keys unlike Revolut crypto banking where you are not the real owner. There is no third party access to the wallet, including Nuri itself. The wallets are backed up, giving the user full control and the ability to extract private keys.
Nuri Debit Card
Nuri card can be used anywhere in the world where Visa is accepted. You can use your Nuri debit card to withdraw your money at millions of ATMs globally. Bitwala Mastercard was discontinued early this year. Unfortunately, there's no Nuri virtual card (Bitwala virtual card). If virtual cards is more your thing, Revolut offers a better solution, although their cryptobanking services so far is more limited.
Nuri Savings Plan (Crypto Savings Plan)
The bank allows you to set up recurring bitcoin purchases and grow your investments using cost-averaging strategy. You can start saving from as little as €30 for a fee of 1% via Nuri savings account.
Nuri Crypto Interest Account
Nuri crypto interest account has been temporarily suspended after its partner, Celsius Network, blocked all withdrawals. Read Nuri's full statement here. Other Nuri's crypto products are not affected.
You can also invest via Nuri Bitcoin Interest Account in partnership with Celsius Network. Celsius Network invests your cryptocurrency in the crypto backed loans markets. Interest for this account is paid every Monday.
Some of the interesting features of Nuri crypto investment include weekly bitcoin interest payout, the ability to add and withdraw funds anytime (no lockup), investment starting from as low as €10 in Bitcoin, apart from network fees there are no fees for investing or withdrawing.
Nuri Fees / Bitwala Fees
Opening a bank account with Nuri is free of charge. However, there are services that attract fees. Fortunately, Nuri fees are transparent, meaning there no any hidden fees.
| Nuri Service | Nuri Pricing |
| --- | --- |
| Account opening | Free |
| Account management | Free |
| SEPA transfers (outgoing and incoming) | Free |
| Card payment in Germany, SEPA area | Free |
| Ordering Nuri card | Free |
| Ordering replacement card | €9.50 |
| Buying cryptos | 1% of transaction volume (+ 1€ blockchain network fee) |
| Withdrawal | Free |
| Deposit | Free |
| Selling cryptos | 1% of the transaction volume (+ blockchain network fees) |
| Minimum trading amount (per trade) | 30 € |
| Maximum trading amount (per trade) | 15,000 € |
| Trading limit | 30,000 € per rolling 7 days |
| Receiving crypto | Free |
| Sending crypto | Free (+ blockchain network fees) |
Nuri Limits
Nuri current trading limit is €50,000 enforced over a 7-day rolling period. If you begin trading on a Monday you can trade a maximum of €50,000 until the following Monday, when the limit is reset. There is also a limit of €15,000 per trade that applies to ensure your order is executed at the exact price stated in the dealing ticket. You can place multiple orders after another. The value of the bitcoin you wish to purchase cannot exceed the Euro amount on your current account and the value of bitcoin you wish to sell cannot exceed the bitcoin amount in your wallet.
Nuri Supported Countries
With its headquarters in Berlin, Germany, Nuri serves residents of European Economic Area and Switzerland who are looking for a crypto banking solution.
Is there Bitwala USA? No, you cannot open Bitwala (now Nuri) account in the US. However, you can use Nuri Visa cards in the US.
Is Nuri Safe?
Yes, Nuri is regulated by Germany's Federal Financial Supervisory Authority and all funds up to €100k are insured by the German Deposit Guaranteed Scheme (DGS).
Nuri Customer Support
Nuri has a professional customer support team that is happy to help and give answers to all your questions. You can reach the team through +49 30 2398 0075 or email via support@bitwala.com. Nuri support service is available in both English and German. You just need to choose the language you prefer. Nuri customer support is available from Monday to Friday from 9:00 AM-6:00 PM (Central European Time). This excludes German public holidays, weekends or bank holidays.
Nuri Online Customer Reviews
Every Nuri customer has a story to tell. Nuri products score highly on review websites. By September 2021, Nuri had received more positive reviews than negative reviews on Trustpilot, where it has been rated 3.4/5 stars from over 1400 customers and 3.4 stars on the Google Play Store from over 3.000 customers. In 2017, Nuri received awards from various forums like The German Innovation Award, FinTech Pioneers, ITC Spring Europe, and the Paris FinTech Forum Award.
Nuri Alternative
Nuri operates in an industry that has seen increased growth in the past few years. Its peers are companies that offer crypto banking, crypto trading, and crypto wallets. Some of the Nuri alternatives are:
Final Thoughts on Nuri Bank Review
Bitwala bank, now Nuri bank, is a revolutionary company that aims to become a global banking platform specializing on cryptocurrencies and fiat currencies. The number of users have continued to grow and the company has continued to increase its workforce. The bank has promised to offer news services in the future, which include Nuri Google Pay integration and Nuri virtual card. If cryptocurrencies continue performing well, there is no doubt that Nuri will be one of the biggest companies in the space.
Further Reading on Nuri Bank