The real estate industry is incredibly hard to get into for many investors. The barriers to entry are many and the cost of investing is significantly high as well. Karl Vaan and Taavi Pettai wanted to change this. In 2017, they started BitofProperty. What is BitofProperty? The company enables people from around the world to invest in real estate with as little as €50.


Real estate is an imperishable asset, ever increasing in value. It is the most solid security that human ingenuity had devised. It is the basis of all security and about the only indestructible security. – Russell Sage
What is BitofProperty?
BitofProperty is a startup started in 2017 with the goal of decentralizing the real estate industry. The population around the world is growing leading to increased demand for residential and commercial property.
The real estate sector is challenging because of the initial cost of buying land and constructing. Another challenge is that interest rates in the European Union have dropped so much that most banks are afraid of lending to individuals.
BitOfProperty operates a website where users from around the world can browse to find real estate deals. They invest as little as €50 in these properties and become partial owners. This works in a similar way to how stocks work.
After investing, these investors will receive payments every month. According to the company, investors earn an average return of 6.40% and they receive their payouts every month.
How to Invest in BitOfProperty
Investing in BitOfProperty is relatively easy. All you need is to visit the website and sign up. You can even sign up using Google. After you sign up, you will need to be verified. To do this, you need to send your personal details like identity card and proof of residence. Finally, you need to deposit money using a bank transfer. Finally, you need to go to the marketplace and select the properties to invest in. You can invest in one property or create a portfolio. You will then start receiving payouts every month.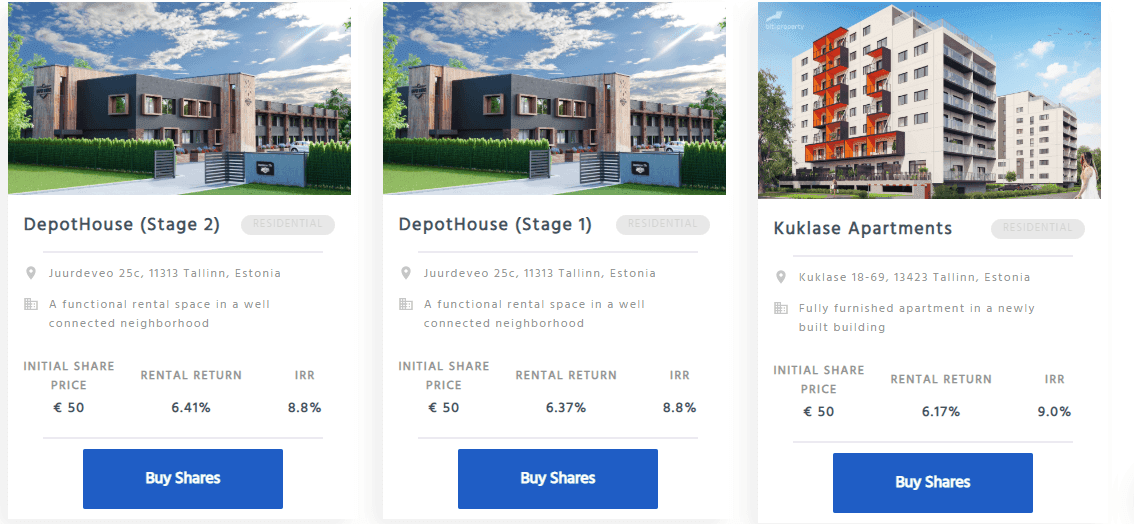 Before you invest in a property, you need to read more about it. The company provides a concise description of the property and provides documentation. You should also look at the capital structure and payment schedule. Taking time to read all this will help you make informed decisions.
Benefits of Investing in BitOfProperty
As an investor, it is always a good thing to put your money somewhere where it can earn interest. This is the main reason why most of the world's richest derive their income from investments. There are several reasons you may want to invest in BitOfProperty:
Access to real estate investments. As mentioned above, real estate is known for its large barriers of entry. BitOfProperty enables you to invest in it from €50.
Monthly payouts. Unlike other investments, BitOfProperty guarantees monthly payouts, which guarantees good cash flow.
Diversification. BitOfProperty enables you to diversify your sources of income.
High rates. The average interest rates in BitOfProperty is 6.4%. This is more than what you earn from other investments like bonds.
Risks of Investing in BitOfProperty
As with all types of investments, BitOfProperty comes with its own risks. It is always recommended that you consider these risks before you put in your money. Here are several risks that come with investing in BitOfProperty:
Company risk. BitOfProperty is a relatively young company that is likely making losses as it accelerates its growth. There is always a risk when investing in such a company.
Property risk. The company does a lot of research before it lists its property. However, there are risks that come with properties like property taxes and high insurance costs.
Cyber risks. BitOfProperty is an online company. This means that your data may be compromised in the internet.
Environmental risks. There are environmental risks that come with property investing. Good examples are floods and earthquakes.
Countries BitOfProperty is Available in
BitOfProperty was started in Singapore and has offices in Latvia. The company accepts investments by people from around the world. Highly sanctioned countries like North Korea and Iran are not accepted.
BitOfProperty Alternatives
There are several alternatives to investing in BitOfProperty. First, you can invest in shares of public real estate companies. There are many such companies in Europe. Second, there are many real estate crowdfunding companies in the industry like Peerstreet, Bulkestate, RealtyMogul, and Fundrise among others.
Summary of BitOfProperty
BitOfProperty is one of the many companies that are helping change the real estate industry. The company makes it easy for anyone to invest in the lucrative industry. Still, we recommend that you only put a small part of your funds in companies like BitOfProperty because of the risks mentioned above. Instead, you should put most of your funds in an index fund, Bitcoin, gold or in stocks. These have been proven to be strong investments over the years.