Bondster is a peer-to-peer company that helps connect companies seeking money with individuals who are looking to invest their money. Bondster has emerged as one of the fastest-growing fintech companies from the Czech Republic. In this Bondster review, we will look at how to invest in Bondster.
Quick Facts About Bondster
Founded in Czech Republic in 2015.
Bondster has more than 8,000 investors.
Bondster has a buyback program

.

Bondster investors make about 15% every year.
Investors have put about €31 million.
What is Bondster Marketplace?
Czech Republic joined the European Union in 2004. As a member of the EU, the decisions made by the European Central Bank (ECB) have an effect to the Czech economy. After the financial crisis of 2008/9, the ECB decided to lower interest rates. This had mixed impacts. To mortgage owners, the decision made their payments cheaper. The same is true for businesses.
The low interest rates had negative impacts also. They made it very difficult for small businesses and individuals to access capital from banks. This is because these rates, together with the Basel 1 and 2 regulations, meant that banks would apply stringent measures before lending.
All this happened at a time when technology was advancing fast. In the United States, companies like Lending Club and Prosper had become multimillion-dollar companies by creating the peer-to-peer lending industry.
Bondster was created to use technology to solve these problems. The company helps companies raise money from individuals from multiple countries. Bondster uses originators, who are tasked with bringing loans to the platform. It acts as the intermediary.
How Bondster Works
Bondster has a very simple model. The company has partnered with a number of loan originators. These are companies that get companies that want financing. The originators do their vetting and give the loan details to Bondster. Bondster then publishes the loan to the marketplace, where investors can read details and invest. After this, the borrower will pay back the money through the Bondster platform. The chart below shows a summary of how Bondster works.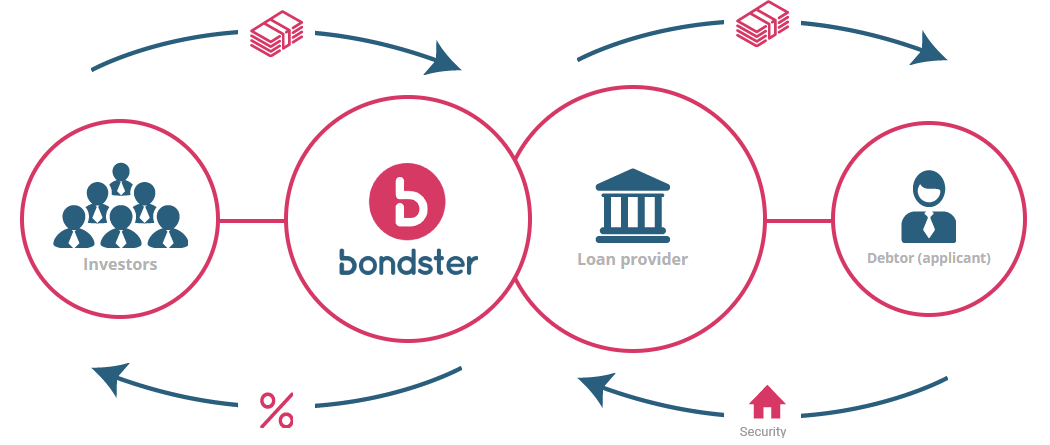 How to Invest in Bondster
Like all peer to peer lending marketplaces, investing in Bondster is a simple process. First, we recommend that you read the terms and conditions. This is an important step because it helps you know your rights.
Second, you click the sign up button and enter your details. After your details have been verified, you transfer funds to your account. You can use your credit card or do a bank transfer. Finally, you should go to the marketplace and select the loans you want to invest in. The image below shows an example of loans that are available on the marketplace. Another alternative is to use its auto invest feature.

Pros of Investing in Bondster
There are several benefits you get by investing in Bondster. Some of these advantages are:
Buyback guarantee. Bondster has put in place a buyback guarantee that ensures that you get your money back in case of a default.
Transparent platform. As shown above, the lending platform is transparent. You get to see a diverse number of details about the borrower.
Secured loans. Bondster requires that all loans have security. This could be a real estate or a vehicle.
Easy to Invest. The process of investing in Bondster is relatively easy. It takes less than five minutes to get started.
High returns. The average annual return of Bondster is 15%. This is a higher return than other investments.
Fast-growing company. Bondster is a fast-growing company as evidenced by the growth chart below.


Cons of Investing in Bondster
Is Bondster a scam? This is a common question about Bondster and other P2P lending platforms. Bondster is not a scam. It is a real company that has been in the industry for a while. Still, there are a number of cons of investing in Bondster.
No mobile apps. Bondster does not have mobile applications, which is a better way for investors to track their income.
Going concern risks. Bondster is a private company. This means that it does not publish data about its business. Therefore, investors don't know what is happening in the company.
Security risks. There are risks that the company may have security risks such as being hacked.
Regulatory risks. There are risks that Czech and European regulators may start focusing on the P2P industry and add new regulations.
Default risks. There are risks that some borrowers may default. While Bondster has a buyback program, there are risks that it may have challenges of funding widespread defaults.
Countries You Can Invest in Bondster
Bondster is a company that was founded in Czech Republic. Therefore, most of the loans are from Czech companies. Nonetheless, the company accepts investments from around the world.
Bondster Contacts
It is easy to get in touch with Bondster. Its contacts are:
Physical contact: BONDSTER Marketplace s.r.o. U Libeňského pivovaru 63/2, 181 00 Praha 8 – Libeň
Bondster email: [email protected]
Bondster phone number: +420 283 061 555
Bondster on Twitter
Bondster on Facebook
Summary
Bondster is a fast-growing Czech peer-to-peer lending marketplace. The company has more than 8,000 investors and has seen impressive growth. As an investor, we recommend that you set aside some money to invest in Bondster and other P2P companies. Other funds should be invested in value and growth stocks, bonds, Bitcoin and in index funds.