Brickstarter is an online company that helps global investors put their money in the fast-growing vacation rental industry. The company does this by scanning the real estate industry and finding the best vacation rental properties. Investors can then own part of these properties by investing a minimum of €50. We will look at everything you need to know about how to invest in Brickstarter.
What is Brickstarter?
The vacation rental industry is seeing increased growth. The industry became highly popular with the launch of Airbnb, a company that enables people to make money from their houses. Other companies like Expedia and Priceline have also gotten into the industry.
In addition, the industry has been supported by the fast-growing vacation industry. These days, local and international travelling has been increasing. This has been caused by the improved global economy, especially in Asian countries like China and Singapore. According to data, more than 4.5 billion passengers travelled by air last year. In 2004, the total number was less than 1.4 billion.
While the vacation rental industry has been growing, many people are still not invested in it. This is because many of them don't have rooms to spare. Others don't have the expertise to attract vacationers in their property.
This is where Brickstarter comes in. The company selects a good property and asks investors like you to invest in it. The company then does all the improvements. In the end, the company finds an investor who buys the building.
How to Invest in Brickstarter
Brickstater operates a website where it lists its properties. As an investor, all you need to do is to visit the website, create an account, be verified, deposit money, and then start investing. The minimum amount of money you can invest in Brickstarter is €50.
After you invest in properties, you will receive your returns after the company sells the property. It uses highly-experienced professionals to ensure that the properties are sold as fast as possible.
The more money you invest in a vacation property the more your returns will be.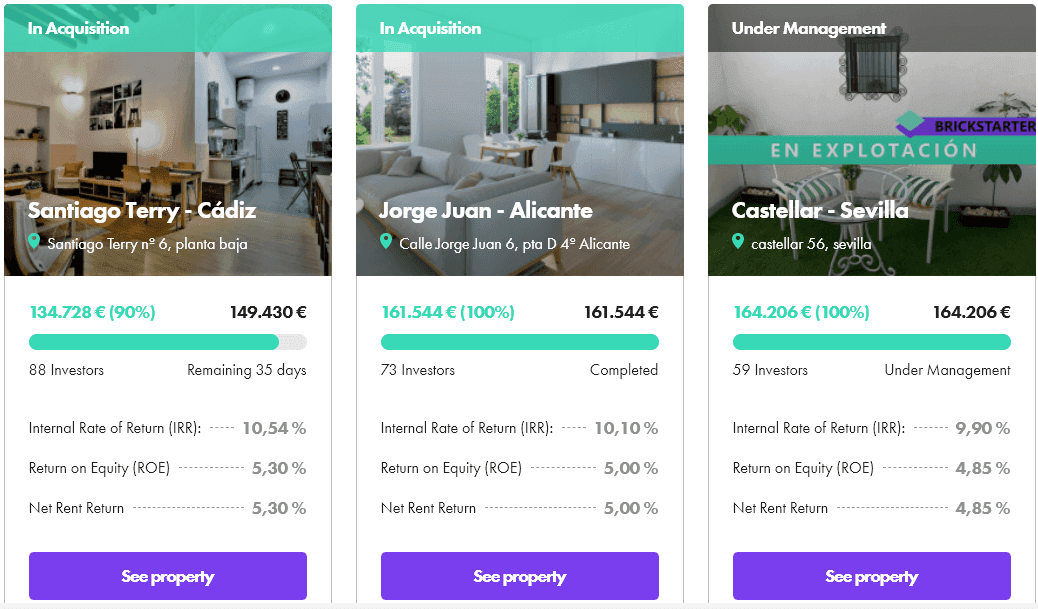 Benefits of Investing in Brickstarter
There are many benefits you get for investing in Brickstarter:
Low minimum capital. Unlike other types of investments, you only need €50 to start investing in Brickstarter.
Experienced team. The team behind Brickstarter is highly-experienced in the real estate industry.
Fast-growing. The vacation rental is a fast-growing industry that is expected to continue to grow as more people continue to use vacation rental properties.
Diversification. As an investor, Brickstarter helps you diversify your source of income.
Easy to invest. The process of investing in Brickstarter is very simple. It takes less than 30 minutes to get started.
What are the Risks of Investing in Brickstarter?
There are several risks that come with investing in Brickstarter. Some of these risks are:
Liquidity risk. It is very difficult to exit your investment after you have invested. This is simply because there is no secondary market.
Company risk. Brickstarter is a relatively new company and there are chances that it may not survive in the future.
Property risk. The company may not find buyers to buy their properties.
Credit risk. The company also uses some credit to buy and fix properties. Interest rates may go up.
Cyber risks. As with all online companies, there is the risk of the system being hacked and your data compromised.
Funding risk. The minimum amount needed to invest is 50 euros. There is a significant risk that the company may not get all the funds it needs to buy and revamp investments.
What Countries is Brickstarter Found?
Brickstarter was started and is headquartered in Valencia, Spain. However, as a decentralized company, it accepts investments from around the world. Users must be 18 years and above.
Summary
There are many crowdfunding companies around the world. Some of the companies looking to disrupt the industry are Fundrise, RealtyMogul, and BitOfProperty. It is important to invest in such properties. However, because of the significant risks involved, it is recommended that you put only a small portion of your funds in the industry. Most of your funds should be in index funds and stocks.