Bulkestate is European online real estate company started in 2016 by Igors Puntuss. The company provides a platform where small and large investors can invest in pre-screened real estate projects. As a result, the company enables anyone to invest in real estate, which is one of the most lucrative sectors. The company has seen significant growth in the past two years.
Almost 15,000 loans have been made on its platform. The average weighted returns to investors have been about 15.29%.
Bulkestate Review: What is Online Real Estate Crowdfunding?
Real estate is one of the best investment sectors in the world. This is because the world's population is increasing, which has led to increased demand in housing. However, the biggest barrier to the industry is the amount of money it takes for one to invest in the industry. In most European cities, it takes hundreds of thousands of euros to develop a property. This is unaffordable to many people.
Bulkestate solves this problem by enabling people to invest in pre-screened projects. Investors can invest as little as €50 on a real estate project. These investors will make money after the project is completed and either sold or let.
Online peer-to-peer real estate industry has been growing a lot in the past few years. A report by iFunding estimated that this industry is worth more than $11 trillion. Some of the biggest companies in the industry are Fundrise and RealtyMogul.
Bulkestate Review: How Bulkestate Works
Bulkestate uses a very simple model. The company is made up of a team that has been in the real estate industry for a long time. As a result, these professionals are able to find quality real estate projects and screen them. After a project is screened and a feasibility study is done, the company posts it on the marketplace where potential investors can invest. The investors' funds are stored in Escrow until the project is fully-funded.
Bulkestate Review: How to Invest in Bulkestate
The process of investing in Bulkestate is very simple. It involves the following simple steps.
Create your online account. Go to the company's website and create your account using your email address. You will be required to verify your email.

Add funds to your account. Deposit funds to your new Bulkstate account. You can add funds starting at just EUR 50.

Look at the available investments. Go to the marketplace and find the listed investments.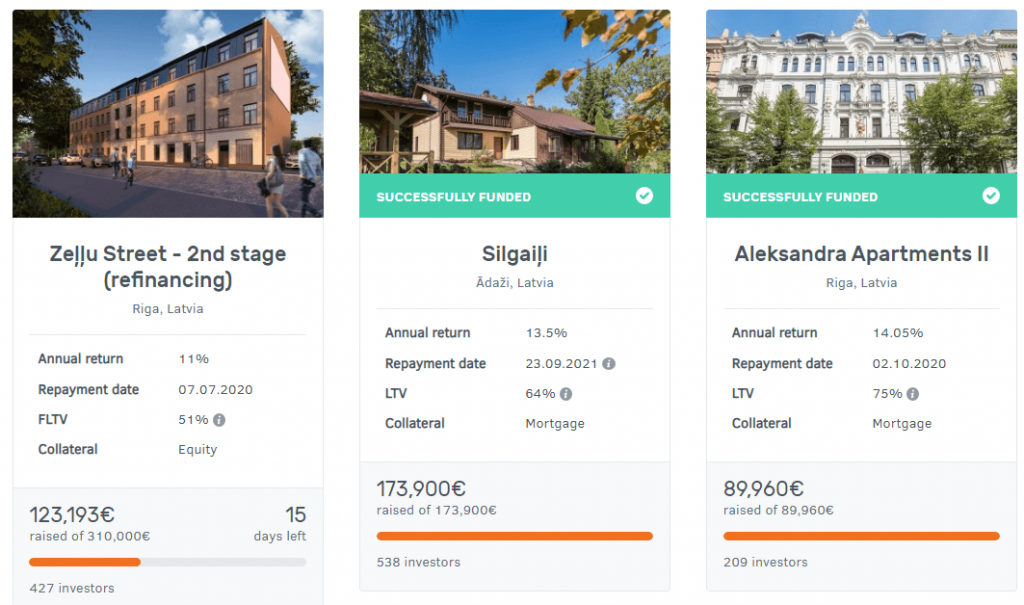 After you look at the investments, there are three ways of making an investment. First, there is group buying. In group buying, you are buying an entire apartment block. You can be a part owner of the apartment.
Second, you can invest in real estate loans. This is a situation where a developer wants money to complete his project. You will find the details on the platform and contribute to the project.
Finally, you can auto-invest. When you select this option, the company will select investments for you based on your risk criteria. The average investor in Bulkestate has invested about EUR 1,000.
Here is a video tour of one of the Bulkestate's fully-funded project.
https://www.youtube.com/watch?v=Vup0VqDcuDY
Bulkestate Review: What are the Risks of Investing in Bulkestate?
Investing in Bulkestate comes with its own set of risks as with all investments. There are several risks that come with investing in the company:
Growing concern risk. Bulkestate is a relatively new company. As a result, there is a possibility that the company may go out of business as many startups do.

Interest rates risk. Interest rates are significantly low in Europe. This makes investing in real estate a bit cheaper. However, rates could go up after you make an investment.

Real estate risks. Real estate is a risky industry. For example, if the cost of raw materials rise, there is a likelihood that the cost of invested properties will go up.

Security risks. Bulkestate is an online company. There is the risk of your information being compromised.

Default risk. When you invest in loans, there is a likelihood that a borrower may fail to pay.
Bulkestate Review: Countries Bulkestate serves
The company's platform is available to people from around the world. However, the company only makes investments in real estate projects in Latvia, where it is headquartered. In an interview, the company's founders said that they only focus on Latvia because of the vast experience the team has in the country. Expanding to other countries would require additional local real estate professionals.
Bulkestate Review: Should you Invest in Bulkestate?
If you are interested in the real estate sector, you could give Bulkestate a try. Thousands of people have already invested in projects listed by the company. However, because of the risks that we have mentioned, we recommend that you do so cautiously. This means that you should set aside a small portion of your funds to the company. Also, you should invest in multiple projects. If you are in Latvia, you could pay a visit to the project's location. Finally, we recommend that you invest most of your funds in traditional assets like stocks and index funds.
Bulkestate Review: Summary
Bulkestate is a company that started to disrupt the real estate industry. The company's goal is to help ordinary people invest in the sector. Before you invest, we recommend that you take time to do a lot of due diligence. We also recommend that you manage your risk well by setting aside a small portion of your funds in these types of investments.