CapitalRise is a British property investing platform that enables retail investors to participate in the real estate sector. The company has had significant success since it was founded in 2015. Perhaps, the biggest success has been convincing VCs to invest more than £35 million in the company. People have invested more than £48 million. In this review, we will look at how you can invest in CapitalRise.
Quick CapitalRise Facts
CapitalRise was started in 2015.
Minimum investment in CapitalRise is £1,000.
Average annual returns in CapitalRise is 10%.
CapitalRise charges no fees to invest.
What is CapitalRise?
The real estate industry is one of the most exclusive ones around the world. There is a simple reason for this. The cost of investing in the industry is significantly high. For example, buying and developing a simple home in London can cost you more than £100k. This is an amount that is unaffordable to many people.
Fortunately, technology has made it easier for people to invest in real estate. It has enabled people to invest in real estate stocks. Platforms like RealtyMogul and Fundrise have made it possible for one to invest in the real estate sector.
CapitalRise was developed to help ordinary people be able to invest in the real estate sector. The company does this by connecting developers and retail investors. After receiving a request, CapitalRise does a lot of due diligence. The company follows the following four steps in evaluating the potential of a project.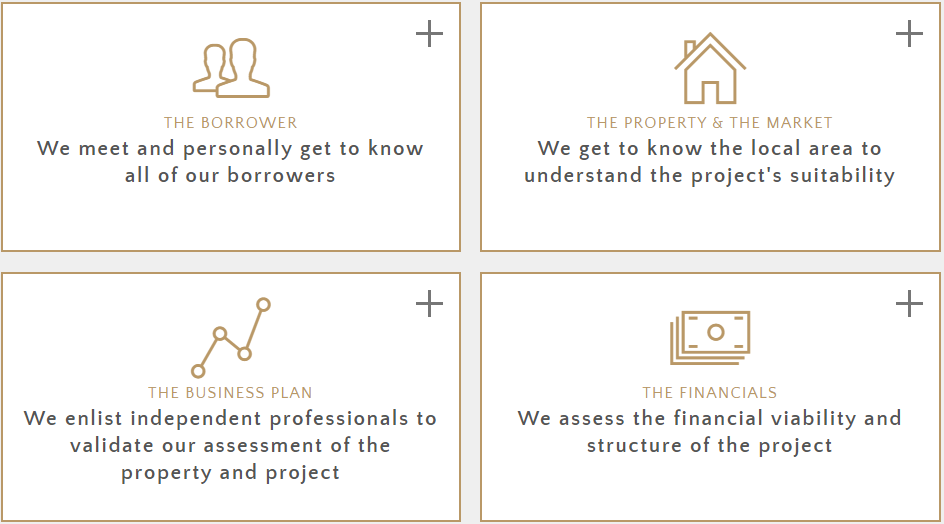 Most investment requests are denied. If the company believes in the viability of an investment, it lists it on its marketplace, where people can make their investments. A complete summary of this process can be found here.
Types of Loans Offered by CapitalRise
CapitalRise offers developers two types of loans. These are:
Senior loans. In these loans, CapitalRise investors are the first lenders. These loans tend to reach to 60% of the Loan to Value (LTV) of the gross project value.
Mezzanine loans. In these loans, CapitalRise investors are the second investors. LTV value is usually between 60% and 75%.
How to Invest in CapitalRise
One of the main benefits of investing in peer-to-peer loans is that the process is usually very easy. The process is usually one of the easiest ways of investing in real estate. Here are the steps you use to invest in CapitalRise:
Read the website and T&Cs. We recommend that you visit the website and read the terms and conditions.
In the website, follow the Apply button. You can invest in CapitalRise as an individual or a company.
Submit documents and be verified. You should now submit your documents and wait for verification.
Deposit money. You should invest money to your account and then start making investments. The minimum amount you can invest in CrowdRise is £1,000. It is recommended that you read all details of your projects before you invest.
Deal closure. You will start receiving dividends from the developer as agreed.
What are the Advantages of Investing in CapitalRise?
There are a number of good reasons why you should consider investing in CapitalRise. These are:
Easy way to invest in real estate. CapitalRise offers an easy and cheaper method of investing in the real estate industry.
Quality real estate properties. CapitalRise team does a complete review before posting its real estate projects.
Diversifying. If you have invested in other assets, CapitalRise is an ideal way to diversify your earnings.
Superior returns. CapitalRise offers better returns than the market averages.
Free to invest. The team behind CapitalRise does the due diligence and charges people nothing to invest.
Passive income. CapitalRise offers a simple way to earn passive income.
What are the Risks of Investing in CapitalRise?
All types of investments carry some risks. This is true for volatile assets like cryptocurrencies or safer investments like bonds. There is always a risk. Similarly, there is a risk of investing in CapitalRise. Here are some of these risks:
Inflation risks. There are risks of investing in real estate. For example, raw materials of construction could increase, which could affect the construction process.
Natural disasters. There is a risk that a natural disaster like an earthquake could wipe out investments.
Weather. There is a risk that bad weather may affect and delay the construction process.
Regulations. There is a risk that new regulations may affect the company.
Company risks. There is a risk that the company may go out of business.
Countries CapitalRise Operates in
CapitalRise is a British company. It does not accept investments from international customers. To invest in CapitalRise, you must be either a sophisticated investor, high net-worth investor, or a corporate investor.
What are the Contacts of CapitalRise?
CapitalRise Summary
The real estate industry is one of the backbones of the global economy. The demand for quality real estate projects will lead to more demand especially in this low interest rate regime we are in. Therefore, a company like CapitalRise offers an ideal method of helping you invest in the industry. Still, we recommend that you diversify your investments in assets such as stocks, bonds, Bitcoin and in index funds.