Crowdestor is crowdfunding company that enables individuals to invest in real estate projects and businesses. Established in Latvia, the company does background research on companies seeking capital, lists them, and then investors fund them. The company was established in 2018 and has so far helped raise more than €19 million. It has more than 7000 investors.
Quick Summary About Crowdestor
Started in Latviyoua in 2018.
More than 7000 investors.
More than €19 million raised.
No auto-invest.
No secondary market.
Who can invest – worldwide, over 18.
Why Crowdestor Was Started
Crowdestor joined a vast number of peer-to-peer lending companies that were founded in the past decade. Advanced technological advancement has enabled the creation of platforms that help build trust online. This happened as interest rates in most developed countries dropped to zero. This decision made it almost impossible for banks to lend money to individuals. Instead, they focused on companies. In fact, non-bank loans have been on an upward trajectory.
Crowdestor was started to help investors generate a return by lending to companies. These companies benefit by having access to capital in an easy method. This creates a win-win situation for businesses and individuals.
How to Invest in Crowdestor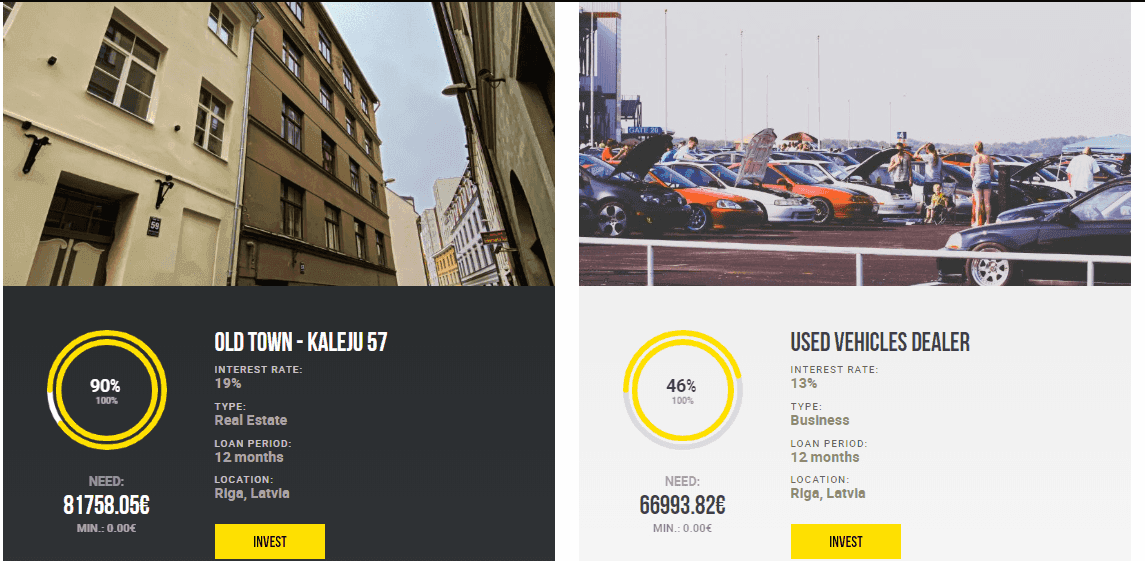 Crowdestor works in a similar way many other peer-to-peer lending companies work. It has a platform where an investor can create an account. On the investing page, the investor can have a look at the projects that have been listed. They then invest as little as €50 on these projects. The company welcomes investors from around the world. One can invest in Crowdestor by using a desktop or a mobile device.
A common challenge with Crowdestor is that it does not have a secondary market. As such, it is always difficult for an investor to exit their investments. They must wait for the end date stated on the description.
In 2019, the company introduced a buyback guarantee fund. The aim of the fund is to safeguard the returns of investors if the borrower defaults. The company then uses the buyback fund to refund investors whose borrower has defaulted. This fund works in a similar way to what a deposit guarantee fund works in the Europen Union.
What are the Benefits of Investing in Crowdestor?
There are several benefits that you gain by being an investor in Crowdestor:
Diversify your investments. You likely have investments in stocks, bonds, and gold. An investment in Crowdestor is an important way for you to diversify your returns.
Better returns. Returns in fixed income has gone to almost zero. With Crowdestor, you get better returns. According to the company, the average annual return is 15%.
Invest in safe businesses. The team behind Crowdestor uses their vast years of experience in the financial industry to identify opportunities. They also use technology to calculate the investments.
Invest in a fast-growing industry. Investing in peer-to-peer companies enables you to participate in an industry that is growing.
What are the Risks of Investing in Crowdestor?
As with all investments, there are risks of investing in Crowdestor. These risks increase when you consider that Crowdestor is a relatively young company in an industry that is growing. Here are some of those risks:
No auto invest. Unlike other P2P platforms, Crowdestor does not have an auto invest feature. This is a feature that allows an algorithm to select investments.
No secondary market. Unlike other platforms, Crowdestor does not have a secondary market, which means that it is difficult to exit an investment.
Company risk. Crowdestor is a small company that was started in 2018. Many small companies don't survive. This is especially critical for Crowdestor because it has not raised any venture funds.
Interest rates risk. Crowdestor allows only fixed interest rates. This means that you cannot hike rates when overall rates rise.
Cyber risks. Crowdestor is an online business. This means that there are risks that its platform could be hacked and your personal data stolen.
Regulatory risk. The peer-to-peer industry is a relatively new industry. New regulations could come to the industry.
Which Countries Do Crowdestor Operate in?
Crowdestor was started in Latvia, where it is currently headquartered. All companies that raise money on the platform are from Europe. This makes it easier for the company to vet them. However, investors from around the world can invest on the platform.
Alternative Companies to Crowdestor
There are many peer-to-peer lending companies in Europe. Among the most prominent are Bondora, EstateGuru, and Bulkestate among others.
Summary
Crowdestor is a fast-growing company that aims to change the peer-to-peer lending industry. The company has an easy-to-use platform and thousands of global investors. We advise that you use the platform to invest. At the same time, we recommend that you diversify your investments in other p2p platforms, stocks, bonds, Bitcoin and in index funds.