DoFinance is one of the fastest-growing peer to peer fintech companies in Europe. The company enables ordinary investors from Europe and around the world to generate passive income by investing in business loans. The company, which is owned by Alfa Finance Group, has managed to add more than 150k investors. These investors have placed more than EUR 16 million in loans in the past few years alone.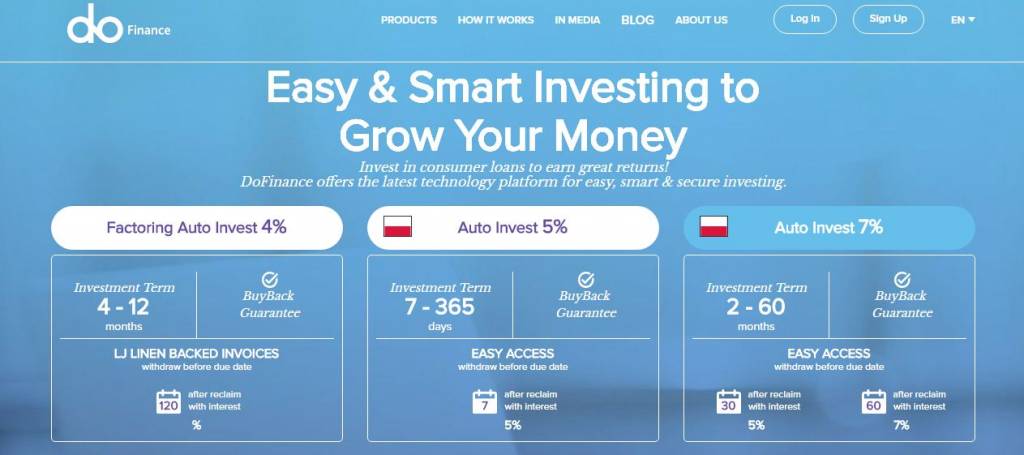 Quick Facts About DoFinance
Does DoFinance have autoinvest? – Yes it does.
What is the minimum amount one can invest in DoFinance? – EUR 100
What is the average term of loan in DoFinnce? – 29 days
What is the average amount of loan in DoFinance? – EUR 350
Who can invest in DoFinance? – Anyone above 18 years and with a bank account.
How DoFinance Works?
DoFinance is a company in the peer-to-peer lending business. This is one of the fastest-growing industries around the world. The industry is led by companies like Lending Club, that is valued at more than $1.4 billion.
The industry aims to help borrowers and investors. Borrowers can access financing easily within a few minutes while investors can make money by extending credit to people. This situation has come in handy at a time when the European Union and other developed countries are experiencing ultralow interest rates.
Savers are thus not making money and banks are afraid of lending money to borrowers, who they consider risky. As such, the so-called non-banking companies are changing the financing world by creating a win-win situation for borrowers and lenders.
Borrowers approach DoFinance, which then uses its proprietary techniques to evaluate their credibility. It then lists these loans on its website, where investors can extend financing to them.
The company gives two approaches of investing. An investor can go to the marketplace and make the investments. Alternatively, the investor can use one of the four autoinvest features. These are summarized in the screenshot below.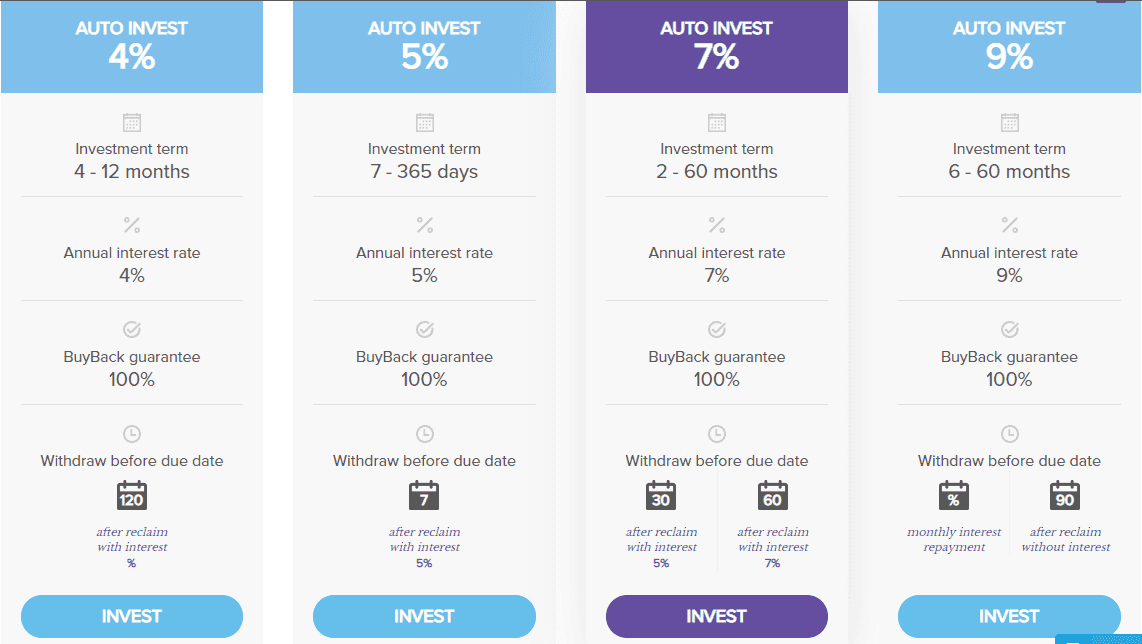 What are the Benefits of Investing in DoFinance?
There are several reasons why thousands of investors are moving to peer-to-peer lending companies like DoFinance. Some of these reasons are summarized below:
Easy to invest. The process of investing in DoFinance is very easy. All you need to do is to create an account, be verified, deposit funds, and then start investing.
High income. The average returns you get in DoFinance is more than what you get from a savings account or when you invest in a government bond.
Diversifying your portfolio. As an investor, it is always a good thing to diversify your income. Depending on one source of income can lead to significant financial issues.
Fast-growing industry. Investing in DoFinance allows you to participate in an industry that is growing very fast.
Easy to withdraw funds. DoFinance does not have a secondary market. However, it allows you to withdraw your funds early for a fee.
Buyback program. A common problem with platforms like DoFinance is high default rates. DoFinance mitigates this by having a buyback program. This is similar to a deposit insurance.
Free to invest. DoFinance does not charge money to invest.
What are the Benefits of Borrowing Money From DoFinance?
There are several benefits that you get as a borrower in DoFinance. Some of these benefits are:
Access to funds. You can access funds easily with DoFinance. This is unlike other financial institutions like banks.
Flexible payments. The company gives you flexibility in paying your funds.
No collateral. DoFinance loans do not require a collateral. This means that your valuable assets will not be taken away after you default.
Faster access to funds. You can be vetted and prequalified within less than two days.
.
What are the Risks of Investing in DoFinance?
All types of investments come with their own risks. In the past, we have seen so-called safe investments vanish in thin air. As such, there are several risks that come when you invest in DoFinance. Some of these risks are:
Default risks. It is common for online borrowers to default on their loans. If this happens, there are risks of you losing money.
Company risk. Lending Club is the biggest P2P company. Yet the company is making losses. There are chances that DoFinance is also making losses or low margins. This means that there are risks to the company.
Cyber risks. Cyber risks are inherent in all types of companies. DoFinance is not unique and there are chances that it could be a victim of cybercrime.
Regulation risks. There are regulatory risks that come with the company. Countries it operates in can add more regulations. This is a risky thing for such a company.
Interest rate risks. Loans offered by DoFinance are fixed in nature. This means that you can lose out if interest rates rise.
Countries Allowed to Invest in DoFinance
DoFinance is a company that allows investors from around the world to invest in loans that it offers. It does not limit people based on their nationalities. Still, there are high-risk countries like North Korea and Iran that it does not accept investors.
Summary
DoFinance is a company that is bridging the gap between investors and borrowers. It is part of the many European companies that are trying to make it big in the industry. Other companies in the industry are BulkEstate, Bondora, and EstateGuru. Investing in the company is a good thing but you need to be careful. Because of the risks mentioned above, we recommend that you only place a small amount of money on it.