Ekassa is an online peer-to-peer company that was started in 2012. The company operates a platform where people can borrow and lend money from one another. This helps borrowers access funding that they need. Lenders benefit by generating high returns from their investments. Over the years, the company has become one of the fastest-growing peer-to-peer lending companies from the European Union.

What is Peer to Peer Lending?
Peer-to-peer (P2P) lending is a relatively new method of accessing capital. After the financial crisis of 2008/9, the industry started to grow because global interest rates declined significantly. In the European Union, rates have been in the negative territory for years. As a result, many banks find it difficult to lend money to individuals because of the risks that come with it. Alternative lending industry is one of the common ways for borrowers to access capital. Other leading P2P platforms in the world are Lending Club, Prosper, and Upstart.
How to Invest in Ekassa
Investing in Ekassa means that you will be lending your money to a borrower. The company works hard, and in partnership with other borrowers, to provide hundreds of loans on its platform.
As a lender, all you need to do is go to Ekassa website, create an account, be verified, and then start investing.
After selecting the ideal plan, you should now invest the amount you want to invest. The Ekassa minimum amount you can invest in Ekassa is €10. You can select the Ekassa Autoinvest feature. This allows the company to make investments for you immediately.
To be clear. Unlike other P2P marketplaces, borrowers don't directly list their loans on Ekassa platform. Instead, the company has partnered with external lenders who conduct due diligence on the borrowers. When you invest in Ekassa, your funds go to these borrowers.
If the borrower defaults, Ekassa's partner will make a follow-up on them. The company applies several strategies, even legal, to ensure that the borrowers pay the money.
Types of Ekassa Loans
There are two main types of loans that you can chose from. The Guaranteed option means that you are almost 100% sure that you will make a return. This usually has lower interest rates. The profitable option usually does not have a guarantee. This tends to have higher interest rates.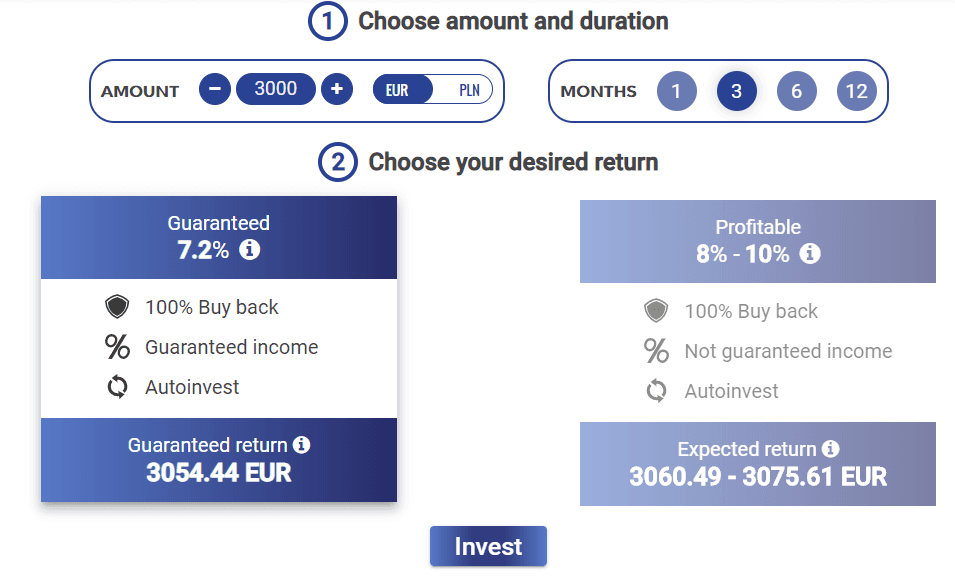 Ekassa Review: Advantages of Investing in Ekassa
There are several reasons why you should consider investing in Ekassa. Some of these advantages are:
​Long track record. The company has been in the industry for more than 7 years. It has advanced loans to thousands of people.
Diversify your income. Peer-to-peer lending is a good strategy for diversifying your income.
Easy to invest. If you qualify, you can start investing within less than a day. Autoinvest allows the system to invest for you.
Large loan portfolio. There are thousands of loans waiting to be funded in Ekassa.
High returns. Ekassa loans offer an average return of 13%. This is more than what other types of assets return.
Low starting amount. You can start your portfolio with just 10 euros.
Buyback guarantee. Unlike other P2P companies, Ekassa comes with a 100% buyback guarantee.
Ekassa Review: Risks of Investing in Ekassa
While Ekassa is a relatively safe peer-to-peer lending marketplace, it also comes with several risks. As an investor, knowing these risks will help you make informed decisions.
​Company risk. There is the risk that Ekassa or its partnering organizations may go out of business. If this happens, you may lose your money.
Interest rates risk. In the European Union, interest rates are low. If these rates start moving up, you could find yourself missing investment opportunities.
Default risks. It is possible for the borrowers to default on their loan obligations. If this happens, you might lose your investment.
Security risk. Ekassa is an online platform. This means that it may be a target of cybercriminals.
Regulations change. Regulations surrounding the peer-to-peer lending industry could change and put risks to lenders.
Ekassa Supported Countries
Ekassa is a company that is based in Latvia. The company only accepts borrowers and lenders from the European Union.
Ekassa Alternatives
P2P lending companies that are similar to Ekassa include:
EstateGuru
Bondora
Mintos
CrowdEstate
Final Thoughts on Ekassa
Ekassa is one of the fastest-growing P2P lending companies in the European Union. The company offers better returns than you can find in other traditional finance organizations. Still, you should only invest a small amount of your assets on the platform. This is because the P2P industry is still young and risky. As such, most of your money should be invested in traditional assets like real estate, stocks, and index funds.