EstateGuru is a real estate crowdfunding platform that enables individuals to invest in pre-vetted, short-term, property-backed loans. The company was established in Latvia in 2013. Since then, it has continued to grow. It has extended loans worth more than €154 million to thousands of borrowers. The company has more than 20,000 lenders, who have earned interest worth more than €10 million. The company has raised more than $1.5 million from venture funds.
One of the main differences is that EstateGuru offers only business loans – we do not give out consumer loans and we originate all the loans ourselves. This enables us to do thorough due diligence on all projects. We have an internal credit committee who looks through each loan application and decides what can be approved for the marketplace. Also, all of the projects on the EstateGuru marketplace are backed by a collateral. — Mikhel Stahm, COO EstateGuru
How EstateGuru Works
EstateGuru has a very simple peer-to-peer lending business model. The company acts as a middleman between borrowers who want to get money and lenders who want to give out money for a profit. By creating such a marketplace, the company helps the two sides.
Borrowers access the much-needed capital while investors get a return that is higher than savings. All loans offered by EstateGuru are assessed thoroughly by the company. They are also secured by an asset like land or mortgages. Also, the borrower must go to the notary office to sign the mortgage agreement. For this reason, only borrowers from Portugal, Latvia, Lithuania, Finland, and Estonia can borrow money.
How to Invest in EstateGuru
As an investor, there are several steps you need to follow to invest in EstateGuru. First, you need to check out whether you qualify. The company accepts investors from about 45 countries. Most of these countries are from Europe, including the entire EU.
Second, if you qualify, you need to create an account. You can do this on your computer or mobile device. After creating the account, you need to verify yourself by clicking a link that is sent to you and by sending documents that verify yourself and address.
Third, you need to fund your account. You do this by making SEPA payments, Transferwise, Lemonway, and Trustly among others. The minimum amount you can invest is €50.
Fourth, after you have deposited funds, you now need to go to the marketplace and find loans to invest in. There are three primary loan types that you can invest in:
Development loan: This is a loan that is used to fund the construction or development of a property.

Bridge loan: This is a short term loan used to meet current obligations before a borrower secures permanent financing.

Business loan: This is a loan used to finance operations of a company.
Instead of making investments yourself, you can use the autoinvest feature. This feature allows the company to create a portfolio for you.
The minimum investment is 50 euro, per project. You can set up automatic investing, but then you are investing in any project that becomes available on EstateGuru. You can only decide to invest in full bullet loans or loans that pay out interest on a monthly basis. If your investment per project is 250 euro, you can add additional criteria.
Advantages of Investing in EstateGuru
There are many benefits that come with investing in EstateGuru. Some of the main reasons why people deploy their capital to the capital are:
High returns. Loans invested in EstateGuru usually have higher interest rates than those saved elsewhere. Rates around 11% are the norm on EstateGuru.

Easy to invest. The process of investing in EstateGuru is relatively easy. It is possible to start investing within less than a day.

Multi-platform. You can invest and track your earnings using your mobile and desktop platforms.

No fees. You are not charged any fees as an investor.

Easy exit. You can exit your loan obligations by selling your holdings using the secondary market. EstateGuru charges a 2% fee for selling on the secondary market, consequently the expected yield when buying on the secondary market is a little bit lower.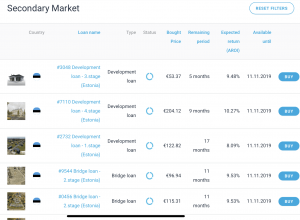 What are the Risks of Investing in EstateGuru?
There are several risks that are associated with investing in EstateGuru. Some of these risks are:
Fixed interest rates. As a lender, you charge a fixed interest rate. This means that you will lose money if interest rates rise.

Security. As with all online-only companies, there is always a risk of losing money through fraud.

Default risks. While the company has put in place measures to reduce risk, the reality is that some risks – like death – are above its capacity.

EstateGuru risk. There is a risk that EstateGuru could go out of business. If it does, lenders are at risk of losing their money.
What Countries is EstateGuru Available in?
EstateGuru is available in several countries. Borrowers can only be from countries like Portugal, Latvia, Estonia, Finland, Lithuania, and United Kingdom. Lenders can be from 41 countries, most of them in Europe.
Summary
EstateGuru was started to make it possible for lenders to make money by giving out cash to borrowers. The company has been very successful in this as the default rate is less than 4%. As an investor, we recommend that you allocate some of your capital to peer-to-peer lending. Also, you should consider diversifying your income by investing in other real estate P2P lending companies like Bulkestate and Crowdestate.