Fast Invest is a leading European peer-to-peer lending company. The company has more than 30k registered users, who have made investments worth more than €13 million. Fast Invest enables its customers to invest in pre-vetted loans. Users can invest as little as €1 on loans and earn interest from the borrowers. We will look at how to invest in Fast Invest in this article.
Key Facts About Fast Invest
Fast Invest was started in 2015 by Simona Vaitkune in London.
Fast Invest lenders earn an average return of more than 16%.
Fast Invest has a buyback program and a default guarantee.
Fast Invest has more than 20 employees and is growing fast.
How Peer-to-Peer Lending Works
Like all peer-to-peer lending companies, Fast Invest creates a platform where borrowers and lenders can transact comfortably. As such, it creates a mutually-beneficial program where borrowers can access money at friendly rates and where lenders can earn a decent return on their investment.
The peer-to-peer lending industry has been growing rapidly in the past few years. The reason for this is simple. The process of borrowing money is less cumbersome than going to a bank and filing all the paperwork. At the same time, the interest rates regime in the developed countries has made it possible for these companies to do well. With interest rates being so low – and at times negative – liquidity providers are not incentivized to lend money to ordinary people.
These companies prefer to lend money to other large companies and earn a decent return. Savers on the other hand are not incentivized to save money because of the low interest rates. Subsequently, the peer-to-peer lending companies provide a platform where borrowers and lenders can interact and benefit.
How to Invest in Fast Invest
Fast Invest works in a very simple process. The lender creates an account, submits the required documents, deposits money, and then starts to invest in loans. Lenders can add any amount of money that they want. The minimum deposit in Fast Invest is €1. There are two ways of investing in Fast Invest.
The first method of investing in Fast Invest is to go to the loans page and identify the loans that have been listed. You should then click the invest button and make your investment. The second method of investing in Fast Invest is to use the company's algorithms. This is a process where you let the algorithm select the loans for you. The screenshot below shows you the loan list.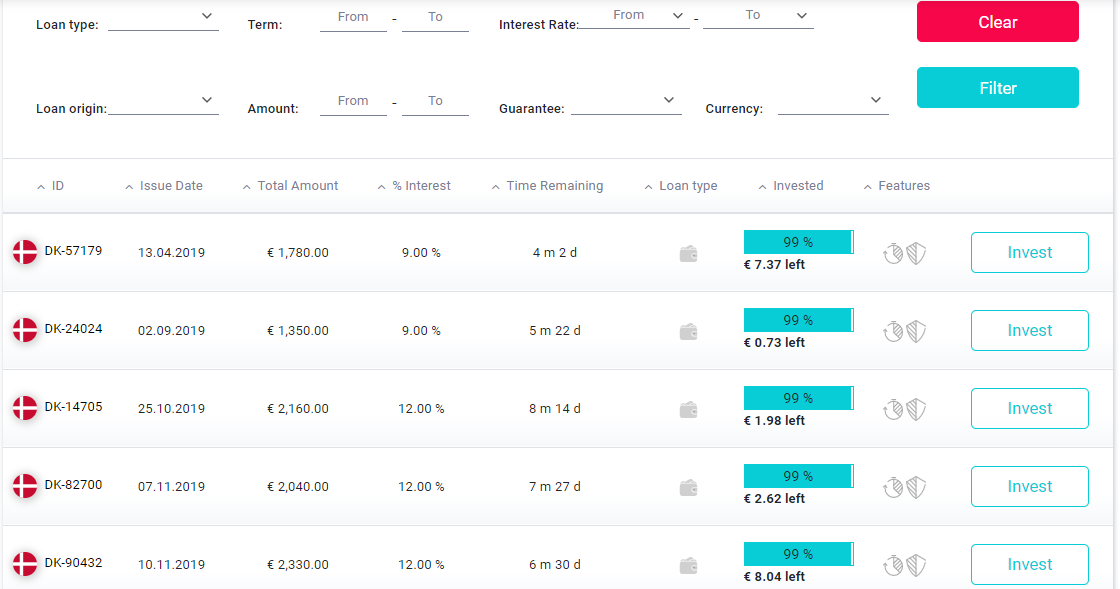 As you can see, there are several parts of the loan list. First, the loan list shows the country of the borrower. This is followed by the customer code, the date issued, the amount sought, the interest rate, time remaining, loan type, and the amount invested. Next to this amount, there are two buttons. These buttons show the moneyback guarantee and the buyback plan.
Why Invest in Fast Invest?
The peer-to-peer lending industry is relatively easy. It is also an industry that is growing fast. As with all similar industries, there are fears of fraud in the industry. Therefore, you need to be very careful when you invest in these countries. Here are the top reasons you may consider investing in Fast Invest:
Buyback program. Fast Invest has a buyback program. This means that Fast Invest will reimburse you if the borrower is late by three days.
MoneyBack. This is a program that allows you to sell back the loan to Fast Invest if you are not interested in the loan any more.
Diversification. As an investor, it is always recommended that you have a diversified portfolio. This will help you stay safe even when one investment falls.
Above average returns. Returns in Europe are hard to come by these days. Fast Invest allows you to generate above-market returns.
Easy to invest. Unlike other platforms, investing in Fast Invest is relatively easy. You can also use the automated process to invest in the loans.
Variety of loans. There are hundreds of loans that are available at any given time.
Fast Invest Available Countries
Fast Invest is available in 55 countries. Most of these countries are located in Europe. The company does not offer its services to American customers.
Is Fast Invest a Scam?
A common question that we are asked is whether Fast Invest is a scam. The company is not a scam. However, as with all online companies, you need to understand the risks that come with investing in the company.
Default risk. There is a risk that borrowers will default on the loans. Fast Invest solves this by having a buyback program.
Company risk. There is a risk that the company may have liquidity risk. This means that it can go out of business.
Interest rates risks. The company has some interest rates risks. This means that investors will be trapped if interest rates rise.
Digital risks. Fast Invest is an online-only company. There are risks that the company may be hacked.
Regulatory risks. There is a risk that regulations could cripple the business.
Final Thoughts on Fast Invest
Fast Invest is a good company that has a proven track record in the crowded peer-to-peer lending industry. The company has demonstrated that it is a credible organization. If you are interested in investing in the country, we recommend that you be a bit careful. This means that you should only invest a small portion of your money to Fast Invest. Also, we recommend that you diversify your investments across other P2P lending marketplaces. Finally, we recommend that you invest in other assets such as fixed income, commodities, bonds, mutual funds, Bitcoin and index funds.