Fellow Finance PLC is a publicly-traded Nordic peer-to-peer lending marketplace. The marketplace allows retail and institutional investors to invest in personal and business loans. The platform offers peer to peer loans for both consumers and businesses.
Quick Facts on Fellow Finance
Founded in 2013 by Jouni Hintikka and Teemu Nyholm.
It is regulated by the Finnish financial sector regulator.
It made a net profit of €94 359 in 2020.
Minimum investment is €10.
Average annual returns is between 7% and 10%.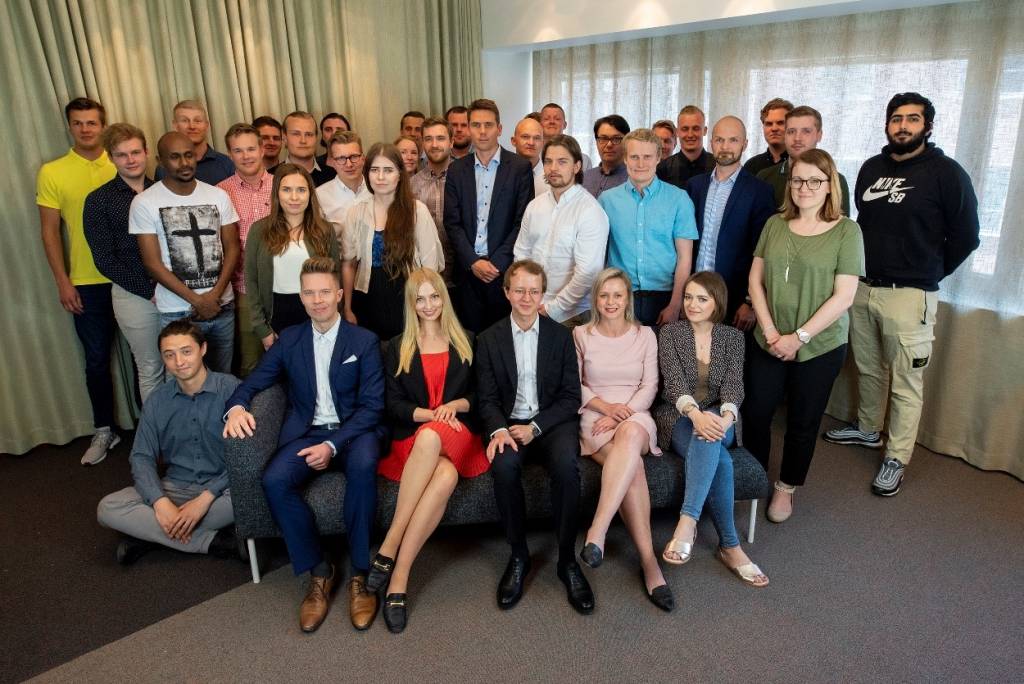 What is Fellow Finance?
Fellow Finance is a Nordic peer-to-peer lending marketplace that facilitates consumer and institutional lending to individuals and companies in the Nordic region. The company was started to encourage people to make safe investments in an era of low interest rates. It was also started to make it easier for people and businesses to access capital.
The company's business model is very simple. Companies and individuals that want to invest in p2p loans or need money visit its website and create a profile. Borrowers create a borrowing profile and list the amount of money they want to raise. Fellow Finance has a team of experienced risk-assessors that get to work to verify the details. Once a borrower is prequalified, their information is made public to investors, who can invest. Borrowers can borrow up to €50,000 and the term of the loans is between one and ten years.
What are the Benefits of Investing in Fellow Finance?
There are a number of benefits of investing in Fellow Finance. Here is a summary of these advantages.
A listed company. When you invest using Fellow Finance, you use a listed company that is showing growing revenue.
High returns. The average returns of loans in Fellow Finance is between 7% and 10%. This is higher than what you get in other places.
Secondary market. This allows you to exit a loan easily without any fees.
Limited risks. There are little risks in Fellow Finance because loans are sold to collection agencies.
Loan Allocator. There is the availability of the Loan Allocator feature.
What are the Risks of Investing in Fellow Finance?
There are several risks that come with investing in Fellow Finance. As an investor, you need to have a good understanding of these risks. Here are some of the most common risks.
Liquidity risk. Fellow Finance removes the liquidity risk by having a secondary market. Still, it is possible to lack a buyer in this market.
Interest rates risk. There is risk that interest rates can rise. When this happens, you can find yourself at a loss.
Company risk. Fellow Finance is a small company and in the past, we have seen many small companies go out of business.
Cyber risk. There's a risk that the company may be hacked. This would expose your data and even lead to theft.
Types of Fellow Finance loans
The two major loan types in Fellow Finance are:-
Consumer loans. These loans are available in all the countries where Fellow Finance is in operation. The borrower gives a personal guarantee, but there is no collateral on personal loans. You will find clear and detailed information on the platform to help you make a concise decision. This information includes the loan amount, maximum interest rate, borrower geography, and loan duration. Maximum Fellow Finance personal loan is 50.000€.
Business loans. These are inclusive of both personal guarantees and collateral from the directors. The greatest beneficiaries of the business loans are the SMEs for funding the capital for startups and working funds, among others. In addition, the company offers business invoice funding for companies to instantly receive loans against their uploaded invoices. Businesses can get Fellow Finance loans up to p to 1.000.000 €.
Different countries with Fellow Finance services offer a variety of options from consumer loans, invoice funding and business loans. Finland is the only country that offers all the three services while Sweden offers business and consumer loans, Czech Republic business loans while Germany, Poland and Denmark offer only consumer loans.
How Fellow Finance Works
Investing in Fellow Finance is relatively easy. While the company is based in Europe, it allows investors from around the world to invest. The following are the steps you take when investing in Fellow Finance.
Visit the website and read all the necessary details.
Sign up with your email address. Enter valid information because the company will verify.
Submit your documents. The company needs your ID or passport, bank account number, and proof of residence.
Deposit funds. You should deposit funds to your account. You can do this is in a number of currencies like dollar, euro, DKK, and sterling.
Look at the projects and start investing. The screenshot below shows how your dashboard will be like.
Alternatively, you can invest automatically using an allocator.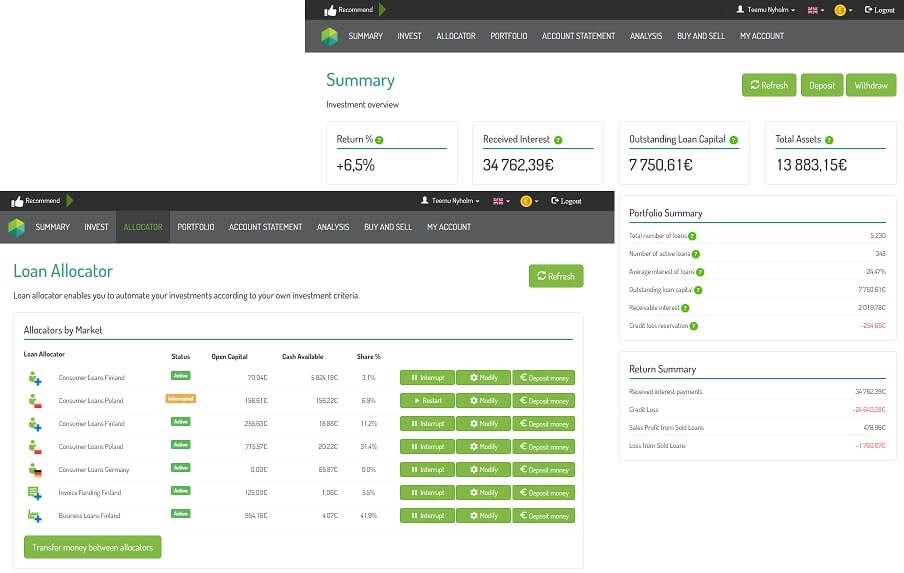 How to Deposit Funds on Fellow Finance
Once your Fellow Finance account is active, you can go ahead and deposit money using a SEPA bank transfer or money transfer services such as Wise, formerly Transferwise, Revolut, Trusty, etc.
The Loan Allocator Auto-Invest tool
The Fellow Finance auto-invest feature puts the platform far ahead of the competitors in terms of functionality. With the Loan Allocator, you can set a variety of parameters depending on the amount of loan you desire. Moreover, you can place a bid on a particular credit rating or set the minimum interest rates. Furthermore, you can set different loan percentages with their various credit ratings. As a result, you get to diversify loan portfolios.
On the secondary market, the Loan Allocator performs a splendid task in placing bids on loans by using the following criteria:-
It identifies loans with paid installments.
Locating the overdue loans and figuring out how many numbers of days are remaining.
Checking the discount rate and identifying your most preferred rate before you buy the loan.
Secondary Market in Fellow Finance
After you invest your funds, you will receive monthly instalments from the borrower. This money is deposited directly to your Fellow Finance account. You can wait for the period you agreed with your borrower.
A good thing about Fellow Finance is that it has a secondary market. A secondary market is a marketplace where you can sell your loans to other people. A good example of a secondary market is what happens in the bond market. If you own a government bond, you can hold it to maturity. You can also sell the bonds in the open market.
How much can you earn as an investor on Fellow Finance?
As an investor on Fellow Finance, you have the advantage of enjoying industry-level profits with annual estimated returns of up to 10%. The Auction system which the platform uses enables borrowers to set the interest rate that they desire and lenders place a bid on the loans with their terms of interest rates they are willing to lend that range from 13% to 55%.
Fellow Finance Fees
Opening account on Fellow Finance for investors is free of charge. Fellow Finance bills and charges borrowers for loan payment reminders and penalty interest. Selling loans on the secondary market has 1% commission. While the interest rate is based on the loan offers from investors to a borrower, it may include an additional interest charged by Fellow Finance.
Fellow Finance takes opening and monthly administration fees from borrowers. You can find borrower fees from country-specific websites.
Is Fellow Finance safe?
Fellow Finance is an Authorized Payment Institution which is under the regulation of the Finnish Financial Supervisory Authority of Finland. It is listed on Nasdaq First North Growth Market Finland Marketplace. The company has been around since 2013 and has had over 406M EUR invested through it.
Fellow Finance Supported Countries
Fellow Finance is a Nordic company that is headquartered in Helsinki, Finland. Supported countries are Finland, Sweden, Denmark, Germany, Poland and Czech Republic.
Fellow Finance Alternative
The are many other platforms you can use for peer to peer loans and peer to peer investment. They include the following:
Final Thoughts on Fellow Finance PLC
Fellow Finance is one of the many peer-to-peer lending companies in Europe. It has seen impressive growth in the past few years and has joined other p2p lending companies such as Lending Club to be a public company. As with all new industries, there are risks. Therefore, we recommend that you only invest a small portion of your money on the platform.
Discover More