Finbee is a European peer-to-peer lending platform that was started in 2015. The company was started in Lithuania and is one of the fastest-growing startups in the country. Finbee was originally focused on peer-to-peer consumer loans but this has recently evolved to include business loans. Finbee loans attract an average of 18% in annual interest. In this article, we will look at everything you need to know when investing in Finbee.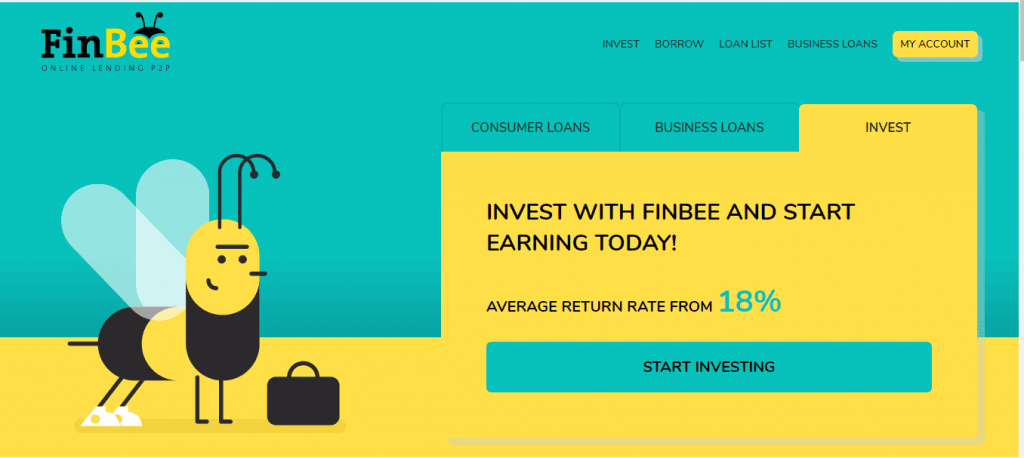 Quick facts about Finbee
Started in Lithuania in 2015.
Finbee added business loans on its platform in 2017.
Finbee was founded by Laimonas Noreaka, who is a serial entrepreneur.
Why Finbee Was Started
Finbee was started to help bridge the gap between lenders and borrowers. Lenders want to make money by earning interest while borrowers want to get money to fund their emergencies or businesses.
While the peer-to-peer lending industry is not new, it gained popularity after the financial crisis of 2008/9. Several factors contributed to this. First, the use of 4G made internet faster and readily available to more people. Second, the iPhone ushered in a new era in mobile computing.
Third, and most importantly, central banks from around the world brought interest to almost zero. This was meant to spur growth. In reality, this had some unintended consequences as banks became afraid to lend to individuals. Also, savers earned less money in interest.
Finbee and other peer-to-peer lending marketplaces solved this by making funds available to borrowers. It also made it easy for people to lend money in a safe environment.
How Finbee Works
Finbee works in a very simple method. The company has a website where investors can see investments and where borrowers can submit their applications.
The process starts when a borrower applies for money. The company uses technology and one-on-one interviews to evaluate the borrower. They then give the borrowers a credit score as shown below.


Low risk clients attract lower interest rates compared to high risk clients. After the loans go online, lenders can decide to invest in them directly or indirectly using the autoinvest tool. Autoinvest enables the company to use its algorithm to allocate capital. The screenshot below shows some loans that are listed and how much they have been funded.


As you can see, most people lend to borrowers that have medium and lower risk.
After you invest, the borrower will start to pay back the money in instalments until the total amount is paid.
How to Invest in Finbee
The process of investing in Finbee loans is very easy. All you need is to check whether you qualify to be a lender. You qualify if you have a bank account, you are from an accepted country, and you have verifiable documents.
After this, you just need to create a free account on the website. You only need your email address to create the account. However, you will still need some verifiable documents before you invest the funds. If you are approved, you just deposit funds and select investments. You can also let the algorithms do it for you.
Benefits of Investing in Finbee
There are many benefits that come with investing your money. Leaving your money idle in a bank account is not a good option because it contracts as inflation rises. Here are some of the key benefits you get by investing in Finbee:
High interest rates. The average annual interest rates you get for investing in Finbee is above 18%. This is a high rate of return than what you get in other platforms.
Easy to invest. You only need a few minutes to set up your account and start investing.
Diversify your earnings. Maybe you have invested in other industries. Finbee can help you diversify your earnings.
Low investing capital. You can invest in Finbee with as little as EUR 50. This makes it affordable to many people.
No fees to invest. The company makes money just from borrowers.
Risks of Investing in Finbee
All investments have risks. The same is true with investment products like bonds and stocks. There are several risks that come when you invest with Finbee. These are:
Loss of capital. You can lose all your investment if the borrower fails to pay or if they die.
Cyber risks. Finbee is an online company. All online companies have risks of being hacked.
Regulatory risks. Lithuania is part of the European Union. As such, the region can decide to impose tough regulations on the P2P industry.
Company risk. Finbee, like other companies, can face challenges and decide to go out of business.
Unfunded loans. Some of the loans you invest can fail to reach full funding. This is risky because the borrower will not have access to their loans.
Supported Countries
Finbee is a company from Lithuania. As such, most people who borrow funds there are from Lithuania. However, the company has not placed strict limitations on the people who can invest in these loans.
Summary
Finbee is an exciting company that has made good progress on bridging the gap between lenders and borrowers. The company is a good place for you to invest some of your money. Ensure that you invest little money across multiple loans. Also, ensure that most of your investments is in other types of investments like fixed income, index funds, and dividend-paying stocks.