Flender is a fast-growing Irish fintech company. The company operates a peer-to-peer lending marketplace that allows people to provide financing to Irish companies. Established in 2017, Flender has seen impressive growth.
The company has helped companies raise more than €13 million and create 700 jobs. It has raised more than $25 million in venture funding. It has also been featured in leading Irish and international publications.
Investing in Peer to Peer Lending at Flender
Peer to peer lending is an industry that is growing fast. The industry helps fill the gap left by big banks that are not extending loans to individuals and small companies because of the low interest rates environment that we are in. The founders of Flender – Kristjan Koik, Oli Cavanagh and Jeremy Davies – hoped to help empower businesses by making funding available to them. Their model creates a win-win situation where companies access funds while lenders earn interest.
Our mission is to ensure that borrowers can get on with growing their business while our lenders enjoy attractive and reliable returns.
How to Lend Money at Flender
As an individual, the process of giving out loans in Flender is very easy. You first need to meet the conditions. The main conditions you must meet to give out loans in Flender are:
You must be an Irish citizen.

You must be 18 years and above.

You must have a valid bank account.
If you meet the conditions, you need to create your personal account. You start by answering a few questions on this link. If your account is approved, you then need to deposit money and start making investments.
There are two ways of doing this:
AutoFlend – AutoFlend is a process where you create certain parameters and let the algorithms select loans for you.

Personal Loan Selection – This is a process where you go to the marketplace and select the loans you want to invest in.
The image below shows some of the companies that were fully-funded.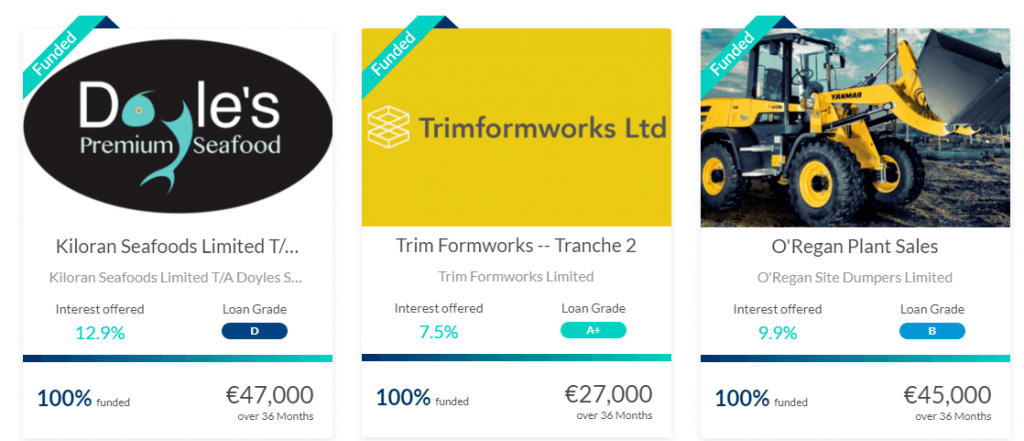 Loans Available at Flender
As mentioned, Flender focuses on business loans. Companies that raise money from the platform tend to be small and fast-growing companies that want funds to launch a new product, expand their business, finance new projects, marketing, and to fund working capital. In its lifetime, Flender has helped companies raise more than 13 million euros.
Benefits of Investing at Flender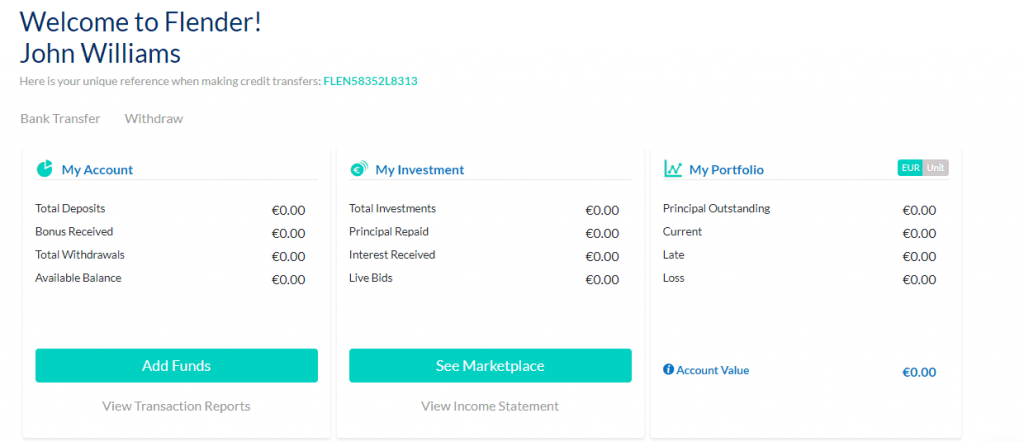 There are several benefits you get by giving out loans at Flender. Some of them are:
Diversifying your income. Diversification is an important concept in personal finance. You should invest in Flender if you have invested in other financial products like stocks.

Great returns. The average return at Flender is 10.4%. This is higher than what Irish bonds return.

Safe platform. Flender has put in place measures to vet all companies that borrow on its platform. This helps to reduce default risks.

Easy process to invest. Giving loans using Flender is a very simple process. It takes less than 30 minutes to get started. AutoFlend can also help make investments for you.

Small account requirements. Flender does not have a high minimum balance. You can start with just €50.

No fees. Flender does not charge lenders money.
How Flender Makes Money
As mentioned above, Flender does not charge you money to give out loans. Instead, the company takes a small cut from the borrower's side. This helps to maximize the returns of the borrowers. As a result of this, the company works hard to ensure that the companies listed are of high quality. It does this by doing the following:
Ensure that the company is registered by the Irish government and that it has been operating for quiet some time.

The credit team evaluates the company's finances and financial data from Credit Safe and Stubbs Gazette.

The credit team takes a holistic approach to evaluating companies credit worthiness.
Our decision engine runs affordability and credit checks on borrowers and we have partnered with worlds largest credit data provider Equifax on this. Additionally we have third layer of underwriting that traditional lenders do not have – borrowers social circle trust. Kristjan Koik
Risks of Investing at Flender
There are several risks that you are exposed to when you invest at Flender. Being aware of these risks will help you make the right decision.
Company risk. Flender is a young company and there are existential risks.

Default risk. There is a possibility that some lenders may default on their obligations.

Interest rates risk. There is a risk that interest rates may rise. This will make you miss out on these returns.

Digital risk. Flender has invested in securing its platform. Still, there is a possibility of the company being compromised.
Countries Flender is Available in
Only companies in Ireland can raise money on Flender at the moment. This is because of the difficulty of verifying international companies. However, people from around the world can invest in Flender. You just need to create an account, deposit funds using a credit or debit card and start investing.
Should You Invest in Flender?
As an investor, Flender offers a good platform to help you grow your money. The platform has seen impressive growth and more companies are embracing the peer-to-peer lending providers. Therefore, we recommend that you set aside a small portion of your funds to invest in these platforms. As we have always recommended, most of your funds should be invested in stocks and index funds. A smaller portion should be invested in relatively new investment products like peer-to-peer marketplaces and crypto.