Grupeer is a European peer-to-peer platform that helps connect lenders and borrowers. The company helps connect investors, who want to generate returns and borrowers who need the money. Grupeer has more than 20k investors from more than 90 countries. These investors have given out more than €42 million in 2019. In total, the company has issued loans worth more than €67 million. In this article, we will look at how to invest in Grupeer.
Grupeer is currently experiencing financial problems. It is also involved in lawsuits against loan originators. In April 2020, the platform stopped accepting new investments in order to focus on existing liabilities.
A notice on its website says. "Our main priority is to recover from the crisis in the best way possible for our current investors."
Quick Facts About Grupeer
Grupeer was started in 2016.
Average annual returns of Grupeer is 13%.
Grupeer has a buyback plan.
Grupeer has an automated system for making investments.
Why Grupeer was Started
The peer-to-peer industry is growing rapidly around the world. Research shows that the industry is having a CAGR of about 19%, and is expected to reach more than $44 billion by 2024. This is a significant growth for an industry that was inexistent in the past few decades.
The peer-to-peer industry connects borrowers and investors. Borrowers can easily access capital while investors can generate returns easily. Grupeer was started to take part in this industry by providing a platform where lenders can extend loans to viable borrowers.
Grupeer created an industry that is safe and one that allows borrowers and lenders to access and make money.
How Grupeer Works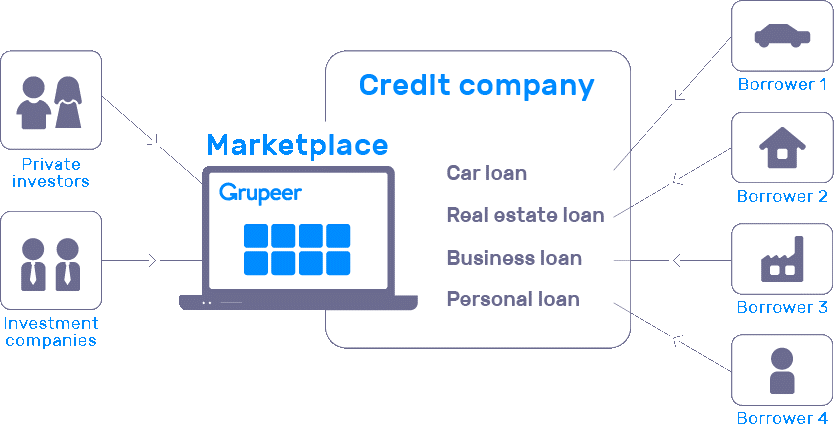 Grupeer works in a very simple way. There are three main parts of the company's platform. First, there is the lender who wants to make money. The lender just needs to create an account, submit documents, and then select investments. The second part is Grupeer, which is responsible for being an intermediary.
Finally, there are the originators. These are companies that are required to find and vet borrowers and then list them on its platform. Having these originators is a good thing because it simplifies Grupeer's business model. It is also a good thing because it ensures that there are always loans listed on the platform. The chart below shows how Grupeer works.
Grupeer offers three types of loans:
Loan deals. These are loans to businesses and individuals.
Development projects. These are loans to development companies.
Grupeer Stability Fund. This allows you to buy a part of a project.
How to Invest in Grupeer
As mentioned above, the process of investing in Grupeer is relatively easy. You start by creating an account and submitting verification documents. This process takes less than a minute. Documents verification is a required process because the company needs to comply with Know Your Customer (KYC) and Anti-Money Laundering (AML) laws.
After this, you need to deposit funds. The minimum amount of money you can deposit is €10. After doing this, you need to go to this page and find loans. You should select the type of loan that you want to invest in and then invest the amount of money that you want to invest. The screenshot below shows a sample of loans that are available.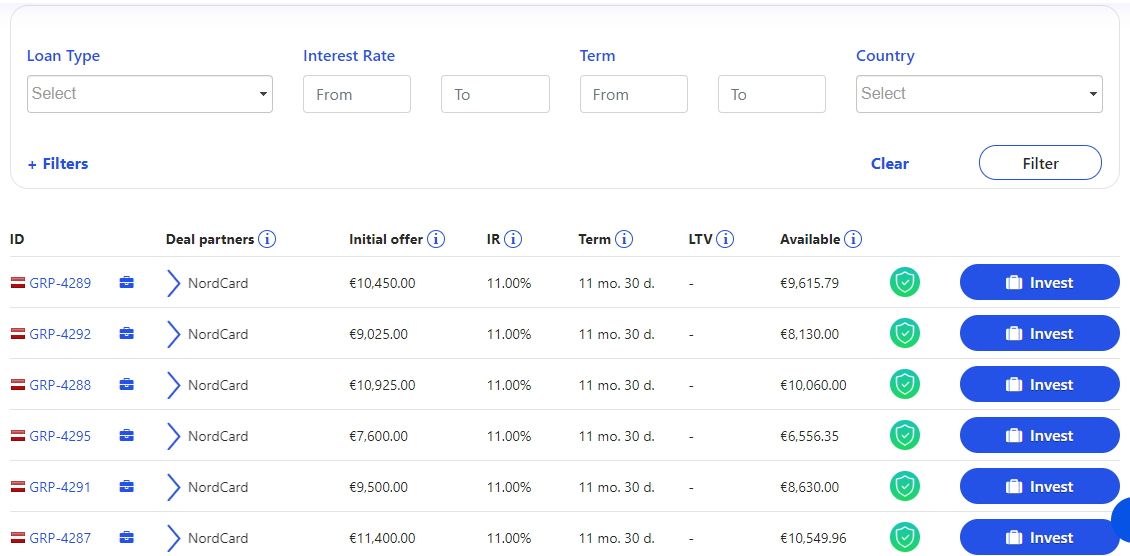 Benefits of Investing in Grupeer Loans
Skin in the game. Grupeer requires that originators invest at least 5% in the loans that they offer.
Above average returns. Grupeer offers an average of 13% annual returns.
Proven track record. Grupeer lenders have extended more than €67 million. It has more than 21k investors.
Diversification. Investing in Grupeer allows you to diversify your income.
Easy to invest. The process of investing in Grupeer is relatively easy.
Buyback Guarantee. Grupeer loans come with a buyback guarantee that makes it safe for investors.
Is Grupeer a Scam?
Grupeer is not a scam. It is a company that has been in the business for several years and is ranked well on TrustPilot. Still, there are a number of risks that come with investing in it.
Digital risk. There is always a risk that your information is compromised.
Regulation risk. There are chances that regulations could change. This could affect how the company operates.
Liquidity risk. Grupeer could have liquidity problems if many lenders ask for a buyback.
Company risk. There is a risk that the company may have some financial challenges.
Originator risk. Grupeer does a lot to vet its originators. However, this does not remove the risks that exist about these originators.
Countries Grupeer Operates
Most of originators in Grupeer are from the European Union. This makes it easy for the company to vet them. However, the company accepts investors from around the world.
Grupeer Summary
Grupeer is one of the fastest-growing peer-to-peer lending companies in the world. It has above-market returns and has more than 20k customers. As an investor, you can decide to put some of your money on the company. This should be part of your portfolio. Most of your funds should be in other investments such as bonds, mutual funds, Bitcoin and index funds.