Housers is a real estate crowdfunding platform based in Spain. You can use Housers to invest in the real estate market. By investing in Housers, you can earn an average annual return of 8.22%. The platform is now available in Portugal and Italy while all people from the EU can invest in the platform. Housers allows investors to invest in rental projects where they become part of a property and benefit from the monthly rent. However, Housers does not have a buy-back guarantee and auto-invest feature. In this article, we are going to review Housers and show you how to invest in real estate through Housers.
Quick Facts about Housers
Housers is a real estate crowdfunding platform operating in Spain, Italy, and Portugal. So far, the platform has over 133,500 users.
You can earn an annual return on investment of between 8% and 10%. You can invest a minimum of €300 on each project.
Housers has so far raised over €130 million from investors and paid out €67 million to investors (updated 2022).
Housers was founded by Alvaro Luna and Tono Brusola in January 2016 in Spain and later expanded to Italy in April 2017 and Portugal in August 2017.
The leading review website, Trustpilot, has warned its users that Housers has been misusing the site by manipulating reviews to give itself fake positive ranking. Invest on this platform with caution.
What is Housers?
Housers is a real estate crowdfunding platform that allows investors to invest in rental projects and earn monthly rental income generated by those projects. Housers invests in real estate development projects and through these projects, it can pay back investors' money together with interest after a given period.
Housers is a platform that connects borrowers and lenders. Lenders invest their money and make money in form of interest payments. Borrowers on the other hand go to the platform, borrow money, and pay it back with interest. Borrowers prefer companies like Housers because many banks are not lending to individual lenders. Also, the process of borrowing money is relatively easy.
How to Invest in Housers
To invest in Housers, you need to first create an account on their website. You will need to provide details like name, email, address, and phone number. You will need also need to verify your account by providing a copy of your ID. With that, you can start investing. After that, you can go ahead and fund your account through a credit card or bank transfer. You can then select the best investment you want to invest in.
Housers has three types of investments.
Buy to let. These are long-term investments with a horizon of 5 to 10 years. You will get a monthly payout as tenants pay their rents.
Buy to sell. These are investments for renovations and ultimately selling the house. The horizon is relatively short. It ranges between 12 and 24 months.
Development loan. These are loans to develop a property. The horizon ranges between 24 and 36 months. Below is a summary of these loans.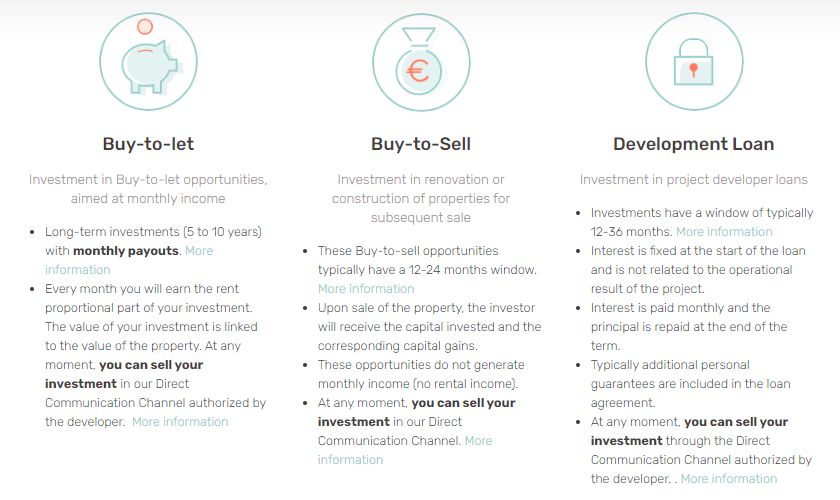 How to Make Deposit on Housers
The only currency supported by Housers is EUR. You can deposit money you want to invest in your Housers account through a bank transfer or using online banks such as Wise , N26 or Revolut.
It is advisable to use online banks to avoid being charged currency conversion fees. You can also deposit using services like PayPal.
What are the Benefits of Investing in Housers?
The finance industry is becoming wider by the day. As a result, it is very important for investors to explore new financial products to invest in. The peer-to-peer industry is one of those industries that you can invest in. Here are the advantages of investing in Housers.
Property-backed investments. Unlike other peer-to-peer marketplaces, loans you offer in Housers are backed by property. This means that they are safe.
Invest in developed countries. If you are from a developing country, you can invest in a property from developed countries.
Income diversification. Housers help you to diversify your income.
Passive income. As an investor, all you need to do is to invest and then start seeing money flowing in.
Track record. Housers has a relatively long track record of managing money efficiently.
What are the Drawbacks of Investing in Housers?
Investing in peer-to-peer lending has its own drawbacks. Before investing your money, you need to be aware of these drawbacks. They include sudden fall in prices of real estate projects, and vacancy risks like a house not getting tenants. Another drawback is that Housers does not have a secondary market and it may be challenging to exit the platform.
Other drawbacks associated with investing in Housers include the lack of an auto-invest feature. You cannot automatically select loans to invest in or reinvest in. Also, Housers does not have a buy-back guarantee feature that protects investors from borrowers' defaulting in repayment.
Housers Fees. Housers charge a 10% performance fee on all capital gained on the platform.
What are the Alternatives to Housers?
The main alternatives to Housers in Europe are:
Housers Customer Service
You can reach Housers' customer service through email: support@housers.com or hotline: +44 (20) 38075972. However, Housers is not very fast in responding to customers' queries. Housers' website is available in four languages: English, Italian, Spanish and Portuguese.
Is Housers Safe?
One unique thing about Housers is that they are very transparent. All their faults are open to all users to assess and criticize. However, the main issue for investors is late loans that affect their performance.
Pros and Cons of Investing in Housers
Pros
Very transparent
Easy to use and invest
Diversified investment
Cons
Does not have a buy-back guarantee
Does not have an auto-invest feature
Late loans
Summary of How to Invest in Housers Crowdfunding Platform
Housers is a real estate crowdfunding platform that you can use to invest in real estate properties. If you are interested in investing in a peer-to-peer property company, we recommend that you allocate some of your money in Housers. However, the platform does not have buy-back guarantee and auto-invest feature. You can also allocate money to other peer-to-peer companies. Most importantly, we recommend that you invest in stocks, bonds, mutual funds, Bitcoin and index funds. These are known for their liquidity and long track record.
Discover More