iFunded is a global peer-to-peer marketplace for the real estate sector. The company is one of the many crop of companies like EstateGuru that help people participate in the lucrative real estate sector. iFunded has raised more than 4 million euros from investors who believe in the company's vision. In this article, we will look at how to invest in iFunded.
Quick Facts About iFunded
iFunded was started in 2015 by Michael Stephan.
iFunded is headquartered in Germany.
The average iFunded loan takes 18 months and yields 5.5%.
Why was iFunded Started?
Interest rates in the European Union dropped sharply after the financial crisis of 2008. The European Central Bank (ECB) brought rates this low with the goal of making it easier for people to find financing. In theory, this tends to work.
In reality, very low – and at times negative – interest rates make it almost impossible for people to borrow. This is because banks prefer giving out loans to companies that have a good balance sheet. This problem was made worse by more policies, Basel I and Basel II, that required banks to look at the liquidity of the borrowers.
Real estate development is always an expensive process. This means that developers need a lot of capital to acquire land and develop their projects. iFunded was started to make it easy for developers to access the capital that they need to run these projects.
How iFunded Works
The process starts when developers approach iFunded for financing. The company's team of experts start their work. They conduct a strict vetting process to ensure that the funds of the investors are protected. They use their decades of experience and expertise in the sector to ensure that projects are excellent.
After this, the company signs papers with the developers and lists the properties on the platform. The marketplace is available here.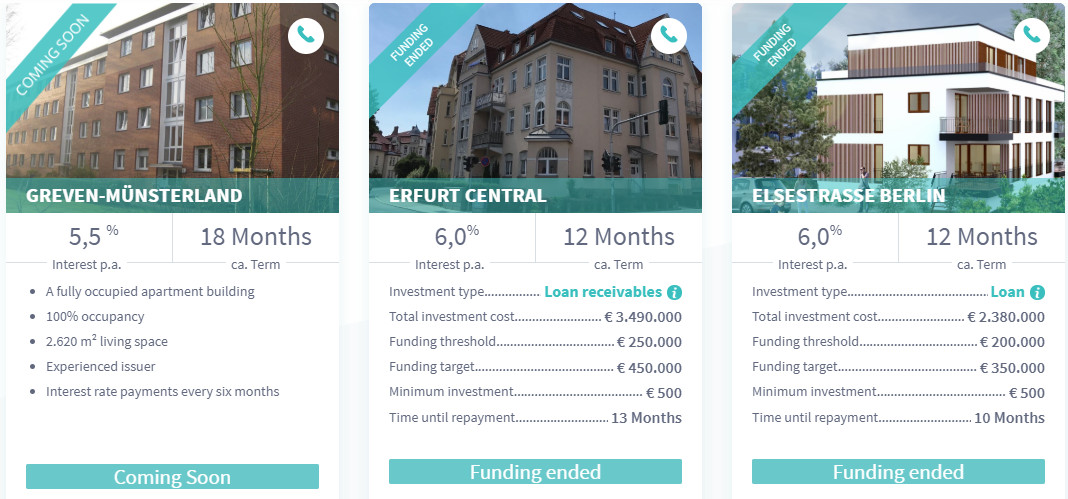 How to Invest in iFunded
Investing in iFunded is a relatively easy process. All you need to do is to read the terms and conditions and then sign up. The registration page is available here.
After you register, you submit the verification documents such as a proof of residence and identity card. After this, you visit the marketplace using the link shown above and you start investing.
You invest by first reading the details of the listed properties. It is recommended that you read these details carefully. Doing so will help you have a good understanding of what to expect. Also, it is recommended that you identify the location of the project. If you are in Germany, you can even visit the location.
After this, you select the amount of money you want to invest in and invest. The table below shows the funding requirements of a project listed on iFunded.

After you invest, the borrower will be sending you interest payments every six months. This duration depends on the terms you agree.
What are the Fees of Investing in iFunded?
iFunded does not charge investors any fee. Instead, the company receives a fee from the developer for listing the project. The company also takes a cut from the interest payments that are made.
What are the Advantages of Investing in iFunded?
There are several reasons for investing in iFunded. These are:
Safe investments. iFunded team looks at all investments carefully. This helps to prevent fraud and to follow on progress.
Invest in real estate. Many people have the desire to invest in real estate. However, the cost is a major barrier. iFunded helps remove this barrier.
Diversifying. Diversifying is recommended because it helps to reduce risks. Investing in iFunded helps you diversify.
A simple process. The process of investing in iFunded is relatively easy. You can start investing within a few minutes.
High returns. The 5.5% annual returns are usually better than the market average.
Is iFunded a Scam?
iFunded is a fully online-only company. This means that it attracts a lot of scrutiny from scared investors. In reality, iFunded is not a scam. However, investing in it has some risks. These risks are:
Liquidity risk. There is a liquidity risk because iFunded does not have a secondary market. This means that you can't access your money once you make an investment.
Funding risks. There is no guarantee that a project you have invested in will receive all the funds its requires.
Regulatory risks. The peer to peer industry is loosely regulated. This could change, leading to significant volatility.
Interest rates risks. There are risks that rates could rise, which could make it difficult for you to make money.
Insurance risks. The money you invest in iFunded is not insured. This means that if a project fails, you lose all your money.
iFunded Countries it Operates
iFunded is a German company. This means that all projects you find are all from Germany. However, anyone in Germany and EU can invest in the company provided that they are over 18 and have a bank account.
Final Thoughts
iFunded is a good company that has seen impressive growth. The company is solving a real problem where many people interested in the real estate industry cannot invest because of lack of funds. While investing in iFunded is safe, there are also some risks. Therefore, it is recommended that you have these risks in mind and learn how to deal with them. A good way is to diversify across other peer-to-peer lending companies like Crowdster and Fellow Finance.
Discover More