Monestro is a European peer-to-peer lending platform based in Estonia. You can invest in consumer loans through Monestro and earn an annual return rate of 10%. Monestro is suitable for experienced and beginner investors located within the European Economic Area or the European Union. When you invest in Monestro, you will be receiving principal and interest payments every month. Monestro has a buy-back guarantee and an auto-invest feature that allows you to auto-invest in loans using pre-set criteria.
Monestro was founded in 2016 in Estonia to create a more secure and low-risk investment.
Quick Facts About Monestro
All loans contain a Buyback Guarantee and an auto-invest feature. Individuals and companies in the European Economic Area can invest in Monestro.
The average interest rate range for Monestro loans is 7-15% with a minimum investment is 10 EUR.
Average loan sum range is €1,500 – 2,200 with an average period range of 3-60 months.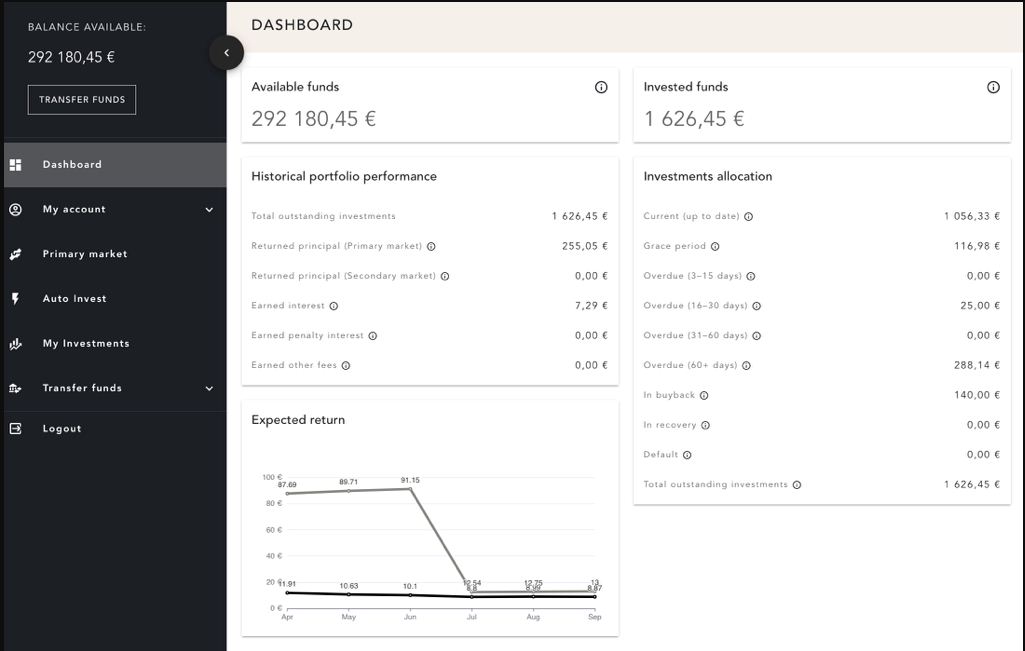 What is Peer to Peer Lending
Banks work in a very simple way. They take customer deposits and then lend them to individuals and customers. They charge an interest rate to offer this service. This rate, together with other loan fees, is how banks make money.
Peer to peer lending is an industry that is aiming to disrupt the banking industry. It's goal is to make it easy for ordinary customers to lend money directly to other individuals or companies. By doing this, P2P companies create a situation that is win-win for borrowers and lenders. It is a win-win situation because lenders make interest while borrowers get the money they need.
P2P companies like Monestro use technology to make it possible. The need for these platforms has been increasing since the financial crisis of 2008/9.
How to Invest in Monestro
Monestro was relaunched this year as an investor-only focused P2P platform, focusing on offering higher-quality, more secure and lower-risk investment opportunities into loans. The platform also introduced new investor protection mechanisms such as "Voluntary Reserve" and "Skin in the game".
As a peer-to-peer company, Monestro uses a very simple business model. It looks for loans, lists them on its platform, and then investors like you can place their bids on these loans. These loans are provided by originators, who are the companies that vet customers and interact with them directly.
There are two main ways of investing.
First, you can select the manual process. This is a process where you select the loans yourself. It is recommended that you take time to read the documents submitted by the borrower. These documents are the identification card, loan application document, and investment sale document. Reading these documents will help you know more about the borrower.

The second method of investing is using the auto-invest tool. This is done by filling out forms that indicate the amount of money you want to invest, the type of loans you want to invest in, and the duration of the loans you want to invest in.
After you invest, you can use the secondary market to invest in the loans. The secondary market is where you can buy and sell your loans. This makes it easy for you to exit your investments before the due date.
Recently, Monestro introduced Stripe as a payment method.
Monestro Investment Features
Monestro offers several investment features. These include Buy-Back obligation, Auto invest and Voluntary Monetary Reserve.
Buy-back Obligation
All Monestro loans have a buy-back guarantee. This means that if a borrower defaults in loan repayment within 60 days, the Loan Originator can buy back the principal amount and the accrued interest.
Voluntary Monetary Reserve
Monestro has created a voluntary monetary reserve to reimburse the investors by acquiring their Claims in the event that any Loan Originator does not comply with its Buyback obligation. The company makes monthly contributions to the Reserve from their own funds, which is typically 0,35% – 0,55% of the outstanding principal amounts of all Claims.
Monestro Auto Invest
Monestro has a new auto-invest feature. The auto-invest feature helps you delegate investments to autopilot mode so that the system can select for you loans that match your pre-set criteria. You don't have to select manually the loans to invest in. You can change the pre-set criterion for an auto-invest portfolio at any time. To use this feature, you only need to set the following loan selection criteria:
Minimum and the maximum amount to be invested in a loan
Loan originators
Loan remaining terms; either short or long term
Annual interest rate with the standard rate being 10%
Loan originators and maximum share of your portfolio to be invested automatically
Monestro Fees There are no fees for investors on the Monestro platform. Registration, verification, and money deposit are free of cost.
Advantages of Investing in Monestro
There are several benefits that come with investing in peer-to-peer loans. The process tends to be easy, and as mentioned above, you can easily put your money to work. Here are the advantages of investing in Monestro:
Fast process to invest. All you need is to create an account, deposit money, and invest.
Auto invest. Unlike many other peer-to-peer investing companies, Monestro has an auto-invest feature. This feature makes it easy for you to invest on autopilot.
Buyback guarantee. Monestro has a buyback guarantee. This means that you will be refunded part of your money if a borrower fails to pay.
Superior returns. Monestro has an average annual return of 20%. This means that you can double your money in less than five years.
Voluntary Reserve Fund. Monestro pays 0,35-0,55% to the fund. If Loan Originator does not comply with its Buyback obligation, the Voluntary Reserve is used to acquire the Claims from the Investors.
At the moment, Monestro does not have mobile apps like many other P2P platforms. The company says it will launch one in 2022.
Is Monestro Safe?
Monestro is owned by Plus Plus Capital. It is licensed as a credit intermediary by the Financial Supervision and Resolution Authority in Estonia. Currently, loans on Monestro are offered by 5 European Loan Originators like NúNú. Monestro risk team carefully assesses each Loan Originator before they join Monestro Marketplace. All loans are secured with BuyBack guarantee and Reserve loans.
The Voluntary Reserve does not guarantee recovery of the Investor's investment in full or in part.
Countries Accepted by Monestro
Monestro is a European company. Therefore, most of its loans are from the European Economic Area (EEA). Monestro services are available all over the EU and EEA region.
Monestro Alternatives
Other P2P lending platforms you can consider investing in include the following.
Summary of Monestro Review
Monestro is a peer-to-peer lending marketplace for consumer loans. Individuals and companies can invest in consumer loans on the platform. The platform has buy-back obligation, auto-invest features, and voluntary monetary reserves. You can invest at least 10 euros within an investment period of 3 to 60 months. It is also a safe and secure investment platform and your investment is secured by a buyback guarantee feature.
Discover More