Monestro is an Estonian peer-to-peer lending company that helps ordinary individuals invest in pre-vetted loans. The company has emerged as one of the fastest-growing European companies in the P2P industry. In this review, we will look at how to invest in Monestro.
Quick Facts About Monestro
Monestro was started in 2016.
Average Monestro loan is 1,804 euros.
Average annual interest for Monestro loans is 26%.
Monestro has an autoinvest feature

.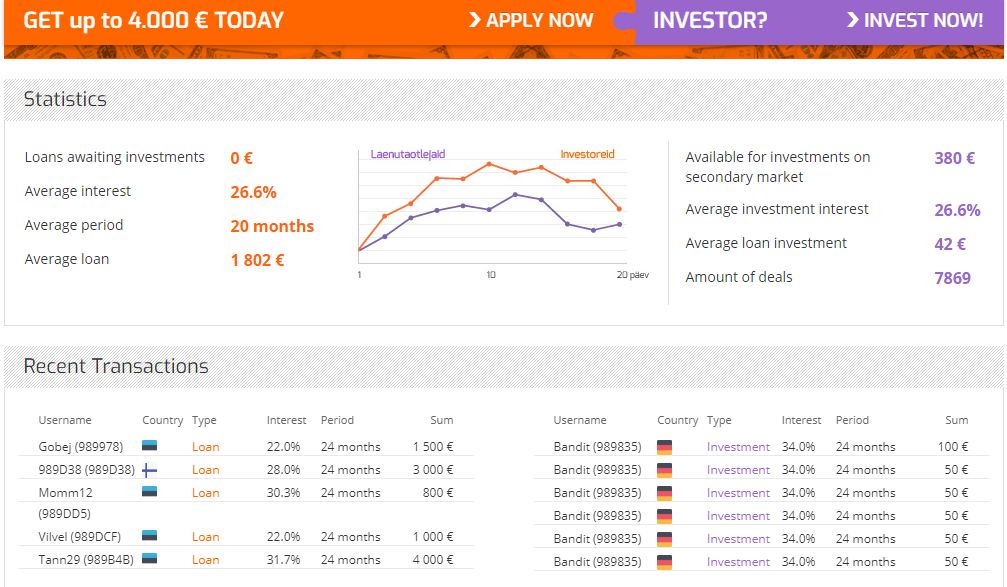 What is Peer to Peer Lending
Banks work in a very simple way. They take customer deposits and then lend them to individuals and customers. They charge an interest rate to offer this service. This rate, together with other loan fees, is how banks make money.
Peer to peer lending is an industry that is aiming to disrupt the banking industry. It's goal is to make it easy for ordinary customers to lend money directly to other individuals or companies. By doing this, P2P companies create a situation that is win-win for borrowers and lenders. It is a win-win situation because lenders make interest while borrowers get the money they need.
P2P companies like Monestro use technology to make it possible. The need for these platforms has been increasing since the financial crisis of 2008/9. Studies show that the industry will reach more than $500 billion by 2025.
How to Invest in Monestro
Monestro was relaunched this year as an investor-only focused P2P platform, focusing on offering higher-quality, more secure and lower-risk investment opportunities into loans. The platform also introduced new investor protection mechanisms such as "Voluntary Reserve" and "Skin in the game".
As a peer-to-peer company, Monestro uses a very simple business model. It looks for loans, lists them on its platform, and then investors like you can place their bids on these loans. These loans are provided by originators, who are the companies that vet customers and interact with them directly.
There are two main ways of investing. First, you can select the manual process. This is a process where you select the loans yourself. It is recommended that you take time to read the documents submittted by the borrower. These documents are the identification card, loan application document, and investment sale document. Reading these documents will help you know more about the borrower.
The second method of investing is using the auto invest tool. This is done by filing out forms that indicate the amount of money you want to invest, the type of loans you want to invest in, and the durations of the loans you want to invest in.
After you invest, you can use the secondary market to invest in the loans. The secondary market is where you can buy and sell your loans. This makes it easy for you to exit your investments before the due date.
What are the Pros and Cons of Investing in Monestro?
Advantages of Investing in Monestro
There are several benefits that come with investing in peer-to-peer loans. The process tends to be easy, and as mentioned above, you can easily put your money to work. Here are the advantages of investing in Monestro:
Fast process to invest. All you need is to create an account, deposit money, and invest.
Auto invest. Unlike many other peer-to-peer investing companies, Monestro has an auto invest feature. This feature makes it easy for you to invest on autopilot.
Buyback guarantee. Monestro has a buyback guarantee. This means that you will be refunded part of your money if a borrower fails to pay.
Superior returns. Monestro has an average annual return of 20%. This means that you can double your money in less than five years.
Why Monestro is Risky
In my Monestro review, I found a number of challenges. This means that you should be very careful when using the platform.
No loans available. As I did my review, I found that the company had no loans available at the time. This makes it impossible to invest in the company.
Expensive to invest. Other peer to peer companies make it free to invest. Monestro charges investors money to invest. For example, activating auto invest costs EUR 4.
Website navigation. Other P2P companies have made it easy to navigate the website. Monestro's website is difficult to navigate.
Contacting the company. Monestro has not listed its contact and social media platforms.
No mobile apps. Monestro does not have mobile apps like other P2P companies.
Vague details. There is very minimal knowledge about who owns and who runs Monestro.
Countries Accepted by Monestro
Monestro is a European company. Therefore, most of its loans are from European countries. Nonetheless, the company accepts investments from around the world.
Summary on Monestro
If you are considering investing in peer-to-peer lending, we recommend that you set aside a small portion of your funds in it. It should be less than 20%. We also recommend that you avoid Monestro because of the risks we have mentioned above. Instead, you should consider companies like EstateGuru, October, and WiseFund. Monestro is a bit risky. In addition, we recommend that you invest in other assets stocks, bonds, Bitcoin and in index funds.