Monethera is a fintech company that connects entrepreneurs seeking funds with individuals looking to lend them money. The company acts as an intermediary or technology provider that connects the two sides. Monethera also is responsible for maintain a good relationship between the lenders and borrowers. In this review, we will look at how to invest in Monethera, one of the fastest growing peer-to-peer lending company in Europe.
Monethera goes bust: Monethera sent out an email to its users on March 27, 2020, informing them that it was shutting down its peer to peer lending marketplace due to to COVID-19 and closed borders, reduced demand for goods and services of their borrower-companies, agreements cancellation, etc.
Monethera Snapshot
Monethera was started in 2017 by Andis Taubers.
The company has received more than €11 million from investors.
Monethera investors make at least 22% every year.
What is Monethera?
Monethera is a financial technology company that was started in 2017. The company was founded to connect investors and entrepreneurs. Investors are ordinary lenders who want to generate a return by investing in companies. Entrepreneurs on the other hand use the platform to raise money to fund their businesses.
In recent years, small and medium enterprises have had a challenging period raising money from banks and other forma institutions. This is because banks are generating very little profits from these loans since interest rates are near zero. This has led to a new crop of financial technology companies that are helping savers lend money to companies. Examples of these companies are October and Wisefund.
Companies like Monethera provide a platform that is mutually beneficial to companies and lenders. Savers get above-market returns while companies get money they desperately need to fund their growth.
How to Invest in Monethera
How does Monethera work? As mentioned above, there are two sides to the platform. There is the borrower and lender side. It starts with the borrower, who approaches Monethera. The borrower describes their business and the amount of money they need. Monethera's team starts working and evaluate the proposal. If they think that the funding is viable, they list the loan on the platform.
The other side of the coin is that of lenders. Lenders start by creating an account. We recommend that you take time to read these terms and conditions. The lenders can be individual accounts or corporations. After registering and verifying the accounts, the lender can deposit money to their accounts and start investing. The screenshot below shows Monethera's marketplace.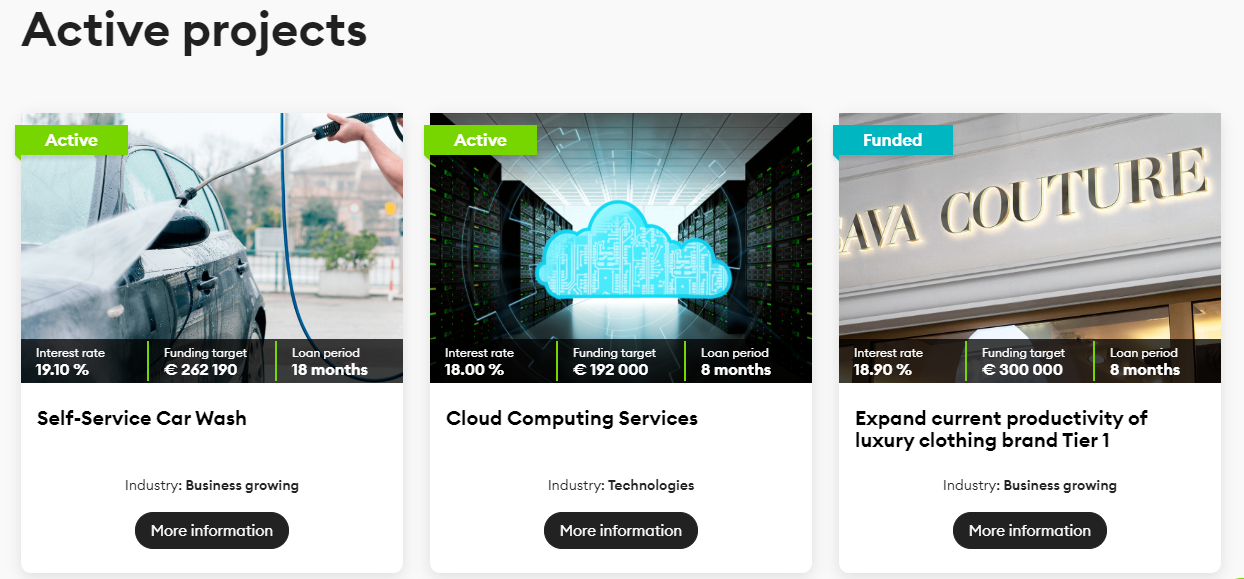 You should select projects that are active. We recommend that you take time to read the details submitted by Monethera. Also, we recommend that you do more research before you invest your funds. If you believe that the business and the terms are good, you should go ahead and invest your money.
Monethera Pros and Cons
Monethera Pros
There are several benefits of investing in Monethera. These are:
Monethera has superior and above-market returns.
Investing in Monethera is a simple process that takes minutes.
Companies provide a broad description of their services and need for financing.
Monethera is an ideal platform for diversifying income.
Investing in Monethera is free.
What are the Cons of Investing in Monethera?
As we have written before, peer-to-peer investing is a risky business. This is because it is based on trust. Here are some of the cons of investing in Monethera:
No collateral. The biggest risk for investing in Monethera is that the loans are not backed by anything.
Too good to be true. Monethera promises returns of up to 22%. This sounds to be too good to be true.
Security. It is possible for Monethera's systems to be hacked and data stolen.
Liquidity. Monethera has a liquidity problem because it does not offer a secondary market. A secondary market enables people to buy and sell loans.
Diversity. The number of loans on offer in Monethera are very small. As of the time of writing this, there are two loans on offer.
What are Monethera Contacts?
Monethera is available on social media. You can contact the company via its website's contact page. You can also contact Monethera on Twitter, Facebook, and LinkedIn.
Monethera Accepted Countries
Monethera accepts investors from around the world. However, there are countries like Somalia and North Korea that it can't accept investments from.
Summary
Monethera is a risky peer to peer lending company. As a rule, we recommend that you invest only a small portion of your funds in Monethera because of the risks involved. We recommend that you invest most of your funds in asset backed companies like EstateGuru and BulkEstate.