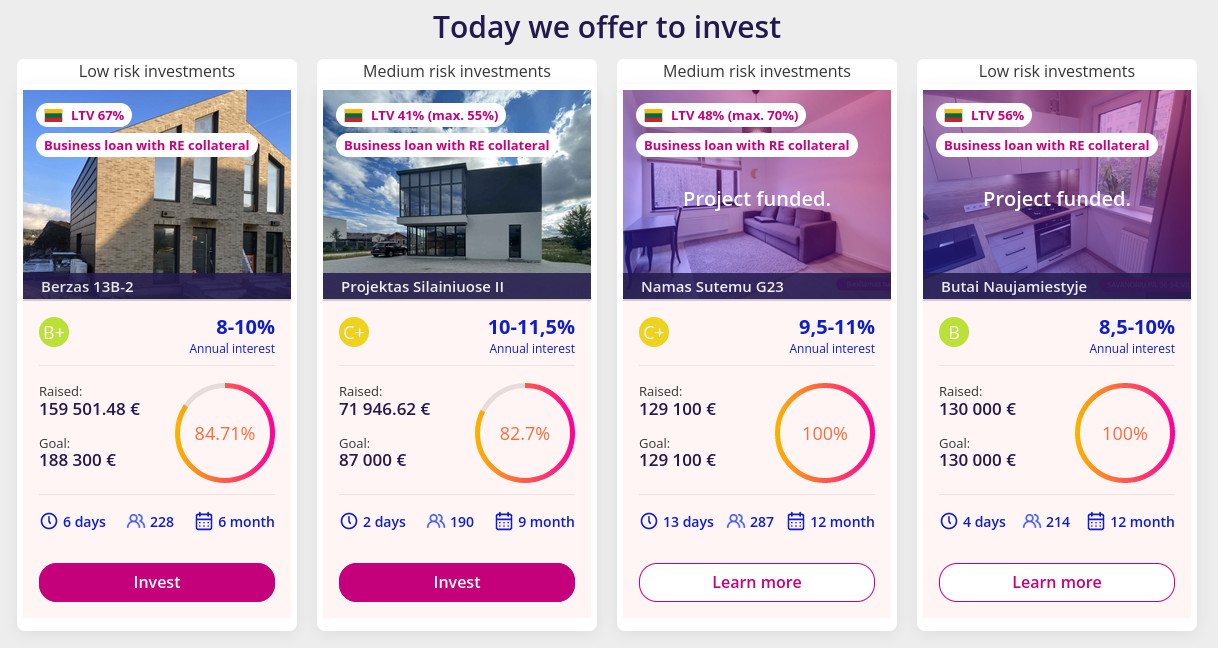 Profitus is a peer-to-peer real estate crowdfunding and investment platform in Lithuania. The platform helps investors invest in real estate projects. Investors can invest a minimum of 100 euros. Investors' funds are secured by borrowers pledging real estate or other collateral. Profitus acts as an intermediary between investors who want to make profits by investing in real estate and borrowers who want to fund real estate projects. The following is Profitus review and how you can invest in it and earn an annual return of 10%.
Profitus was started by Viktorija Vanage in 2017 in Lithuania and started its operations in 2018. In February 2023, Profitus had invested in over 700 projects, invested over 96 million euros, and paid out over 4 million euros to investors.
Profitus Review
Profitus is a real estate crowdfunding platform based in Lithuania that accepts investors from all over the world.
You will earn an average annual interest rate of 5-18% when you invest in Profitus. You can invest a minimum of 100 euros on the platform.
Profitus loans are secured and backed by a real estate guarantee and have an auto-invest feature.
What is Profitus?
Profitus is a real estate peer-to-peer or crowdfunding company based in Lithuania. Lithuania is a member of the European Union. The company acts as a middleman or intermediary by providing a platform where global investors can invest in real estate. Investors who want to invest and earn profit can lend money to real estate projects and start earning interest rates.
The company helps solve significant problems that many people and companies in Europe are facing. Savers have been complaining of low-interest rates paid when they deposit money in a savings account. Borrowers, on the other hand, should be cheering the low-interest rates regime that started after the financial crisis of 2008/9. They are not. This is simply because many banks are not willing to extend this credit to them. Therefore, ordinary investors get paid interest while borrowers get money in a friction-free process.
The online peer-to-peer industry has grown significantly and is expected to grow by almost 20% annually. Analysts believe that it can get to more than $44 billion in 2024. Part of the reason for this is that many people in Europe, United States, and other markets are getting familiar with it.
How Profitus Works and How to Open an Account
Profitus is an easy-to-use investment platform. To start using it, you first need to open an account at Profitus. To do so, click "Register" and fill in the registration form. You then need to specify whether you are a natural person or a legal entity. You can then go ahead and enter your personal details like your name, email address, phone number, and the set password.
After that, you can agree to terms and conditions and click Continue. You also need to confirm your identity through Paysera. You need to have a Paysera account or you can create one.
How to Invest in Profitus
The process of investing in Profitus is very simple. It is actually possible to start and end the entire process within a few hours.
Once you have created an account with Profitus, you can start investing. The minimum amount you can invest at Profitus is 100 euros. Go to your account, deposit funds, and then start making investments. The company has tons of investment projects that you can invest in. According to the company, the average client has €9563 invested in the company. However, you can make as little as €50 per investment.
The investment account will become active on the second day after you have made your investment. The borrower will then start paying you interest every month.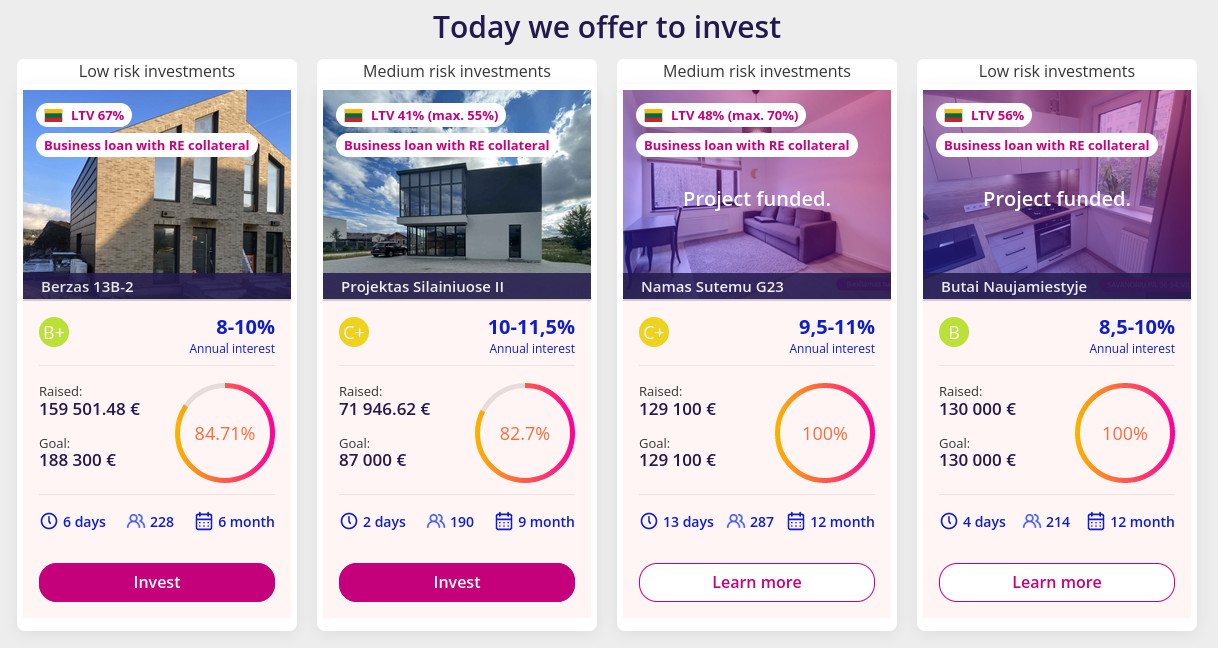 A common challenge with peer-to-peer lending is security. Security is important because you invest in companies and people you have never seen. As such, Profitus solved this problem by having a team of trained professionals who ensure that all loans are backed by real estate.
Who Can Invest in Profitus?
Investors from around the world can invest in Profitus. You need to be over 18 years old to invest in Profitus.
Pros and Cons of Profitus
Pros
Interest rates of between 5% and 18%
Secured loans backed by real estate
Low minimum investment amount of 100 euros
Auto invest option
Cons
Profitus Alternatives
You can invest in the following real estate crowding platforms as an alternative to Profitus:
Is Profitus Safe to Use?
Before investing your money, you need to be sure that your money is safe. For Profitus, it is a safe and secure investment platform and all loans are backed up by a real estate guarantee. In case the borrower is unable to repay their loan, the company can repossess the security collateral.
Profitus Customer Service
You can reach Profitus through an email: info@profitus.lt, or phone: +3706370776. Profitus takes an average response time of 1 working day to respond to customer queries.
What are the Benefits of Investing in Profitus?
There are a number of advantages that come with investing in Profitus. Some of these benefits are:
Diversifying income. As an investor, it is always a good thing for you to diversify your income. Investing in Profitus will help you achieve that.
High returns. The average annual return when you invest in Profitus is 10%. This is a rate that is above the normal average in Europe.
Invest in real estate indirectly. Investing in real estate is usually an expensive and unaffordable thing. Profitus helps you participate in the industry indirectly.
Easy to invest. As mentioned, investing in Profitus is easy. You can invest within a few minutes.
Guaranteed cash flow. You will get a guaranteed cash flow when you invest in the company. The calculator below will help you do these calculations.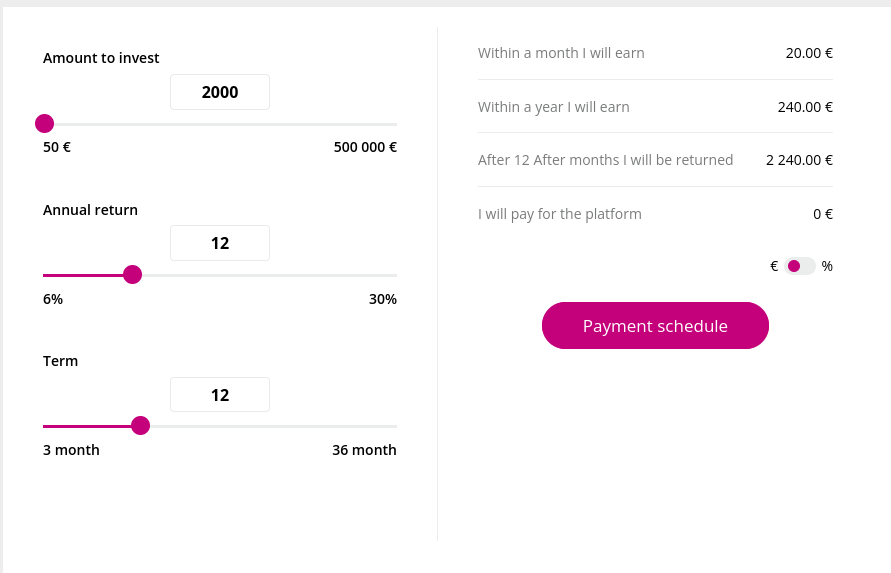 What are the Drawbacks of Investing in Profitus?
Every investment has its won drawbacks. As such, there are drawbacks to investing in Profitus. Before investing your money, you need to be aware of these drawbacks. They include sudden fall in prices of real estate projects, and vacancy risks like a house not getting tenants. Also, Profitus does not have a buy-back guarantee feature that protects investors from borrowers defaulting on loan repayment.
Which Countries is Profitus Available?
Projects listed in Profitus are only from Lithuania. This makes it easy for the company to do its due diligence. However, the company accepts investments from people from around the world.
Summary of Profitus Review
Profitus is a real estate crowdfunding platform in Lithuania that you can invest in and earn a 10% profit. It is based in Lithuania and people from around the world can invest on the platform. You can invest a minimum amount of 100 euros. It has an auto-invest feature. It does not have a buy-back guarantee that protects investors in case borrowers default on loan repayment.
Discover More