Rendity is a peer-to-peer lending platform a European peer-to-peer crowdfunding platform for real estate projects. Rendity is based in Vienna, Austria, and allows investors to invest in real estate projects in Germany and Austria. You need a minimum investment amount of €100 to start investing on the platform. Investors earn an average of 6.03% per annum by investing on the platform.
Rendity Review: Quick Facts
Rendity is a peer-to-peer crowdfunding platform for real estate projects based in Austria and Germany.
You earn an annual interest rate of 6% when you invest in the platform. You can invest a minimum of €100.
Rendity does not have a buyback guarantee, or auto invest option, or a secondary market where investors can sell their portfolio
As of 2022, Rendity has invested total capital of €106,528,000 and has repaid investors over €31,920,000. There are over 27,000 customers on Rendity.
Who Can Invest in Rendity?
To invest in Rendity, you must meet the following requirements:
Be at least 18 years old
Have a bank account in the EU
How Rendity Works
Rendity is an investment platform that helps investors invest in real estate projects. You need to create an account using your email address and you can have your investment account active within a few minutes.
Once you have created an account, you need to upload your documents. You can then go ahead and find the right project to invest in. Browse through the project investments on the website and select one that you want. Then choose the amount you want to invest. The minimum amount you can invest is €100.
The real estate sector is one of the best-known in the world. Demand for real estate projects will continue to increase as the world population and economy expands. As a result, we have seen real estate developers from around the world become incredibly wealthy.
Real estate is known for its huge barriers to entry. For example, you need to have a lot of money to buy land and construct a real estate project. The process of acquiring licenses in the European Union is also long and tedious. Also, you need to have a lot of knowledge and expertise in the real estate industry to invest in it.
Rendity helps solve these problems by removing the barriers to entry that exist in real estate investing. It removes these barriers by helping anyone to invest in pre-vetted real estate projects. One can invest in the sector starting from €1,000.
Rendity does this by creating a platform where developers and real estate owners can raise capital from retail and institutional investors. According to Rendity, more than 70% of investors on the platform are retail investors like you. 22.1% of investors are large institutional investors.
How to Invest in Rendity
To start investing in Rendity, you first need to create an account. Once you have an account, you can browse the platform to see real estate projects you can invest in. After that, you can fund your account. You need to invest at least €100 on Rendity. You then need to upload your documents on the platform.
Types of Investments of Rendity
Rendity offers two types of investments to the investors. They include:
Rendity Growth. This is a kind of investment that allows investors to invest in short-term real estate projects. These projects have higher interests and also a higher risk.
Rendity Income. This is a kind of investment that specializes in rent-paying loans. These are long-term investments with lower risk compared to Rendity Growth while its interests are spread out quarterly.
Below are examples of some of Rendity investments.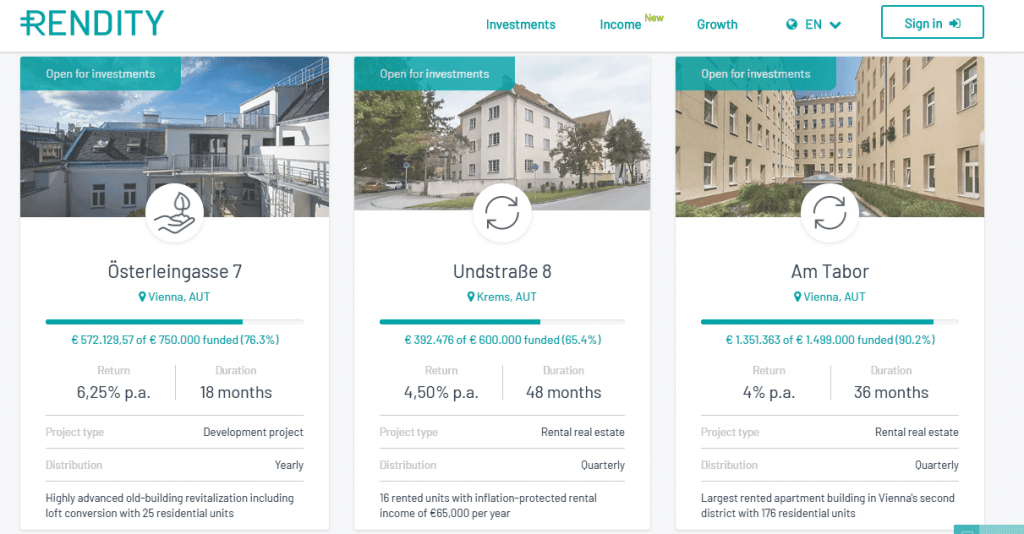 Advantages of Investing in Rendity
Having your money in the bank does not make a lot of sense. This is simply because this money does not earn anything. Also, it is losing money because of inflation. Therefore, investing in Rendity has several benefits. Here are some of these benefits:
Invest in real estate. Rendity makes it possible for you to invest in real estate in the comfort of your home.
Earn great returns. It allows you to earn at least 6% every year. These are excellent returns in a market where interest rates are below zero.
Passive income. With Rendity, it is possible to earn passive money when doing nothing.
Diversification. Rendity allows you to invest in various sectors. This helps you to have a diversified portfolio.
No fees. Rendity does not charge you any fees to invest money. It makes money by charging its borrowers.
Cons of Rendity
No secondary market
No auto-invest feature
No buyback guarantee
Low-interest rates
Rendity Customer Support
Rendity has customer support that can be reached through email: hello@rendity.com or phone: +49 89262042250. You can also reach them via livechat.
Is Rendity Safe?
Investing in Rendity is 100% safe. It is regulated by the Chamber of Industry and Commerce (IHK) and authorized by a financial investment broker in Germany. Rendity also has deposit insurance. Investors get deposit protection for up to €100,000. Also, data is encrypted with 256-bit on the platform.
Rendity has an "Excellent" rating of 45% on Trustpilot. Many people like the platform since it is easy to use and good customer experience. However, one investor complained of data leakage in the platfrom.
Rendity Supported Countries
Rendity is an Austrian company. As such, all of its properties are from the European Union. The company accepts investments from members of the European Union.
Rendity Alternatives
Rendity joins other companies that offer peer to peer investment opportunities in real estate. Rendity alternatives include:
Summary of Rendity Review
Rendity is a peer-to-peer lending platform based in Austria. Investors can invest in projects based in Germany and Austria. Investors can invest in high-quality projects. Rendity has two types of investments; Rendity Growth and Rendity Income. All transactions like deposits, withdrawals, and investments are free. However, Rendity does not have a secondary market, auto-invest feature, or buyback guarantee. Also, its interest rates are low compared to many other investment platforms.
Discover More