Rendity GmbH is an Austria peer-to-peer lending marketplace that focuses on real estate investments. The company targets retail and institutional investors, who want to diversify their holdings. Rendity has seen impressive growth, with the volume of investments reaching more than €23 million in the past few years alone. In this article, we will look at how investing in Rendity works, the risks involved, and the benefits you get.
Quick Facts About Rendity
Founded in 2015 by Lukas Muller, Paul Brezina, and Tobias Leodolter.
More than €23 million raised from more than 2,000 investors since 2015.
Annual returns average of more than 6%.
No secondary market.
What is Rendity?
The real estate sector is one of the best-known in the world. Demand for real estate projects will continue to increase as the world population and economy expands. As a result, we have seen real estate developers from around the world become incredibly wealthy.
Real estate is known for its huge barriers to entry. For example, you need to have a lot of money to buy land and construct a real estate project. The process of acquiring licences in the European Union is also long and tedious. Also, you need to have a lot of knowledge and expertise in the real estate industry to invest in it.
Rendity helps solve these problems by removing the barriers to entry that exists in real estate investing. It removes these barriers by helping anyone to invest in pre-vetted real estate projects. One can invest in the sector starting from €1,000.
Rendity does this by creating a platform where developers and real estate owners can raise capital from retail and institutional investors. According to Rendity, more than 70% of investors on the platform are retail investors like you. 22.1% of investors are large institutional investors.
How to Invest in Rendity
As with all peer-to-peer lending companies, the process of investing in Rendity is very easy. All you need to do is to go online, create an account, submit your documents, view the investment opportunities, and then allocate funds. Rendity offers two types of accounts.
Income account. Income investment is mostly about rental properties. This is where you invest money in a company that owns rental property.
Growth. Here, you fund experienced developers build their projects. You will make money when the investments start to make money.
Rendity does a lot of work to ensure that the investments it provides are of the best quality. As an investor, it is essential that you take time to read details of these investments. You can also visit where these investments are being made because the company provides the map. Doing this type of research will help you avoid making mistakes when investing. Also, we recommend that you only invest a small portion of your total funds because peer-to-peer lending is a relatively new industry.
Below are examples of some of Rendity investments.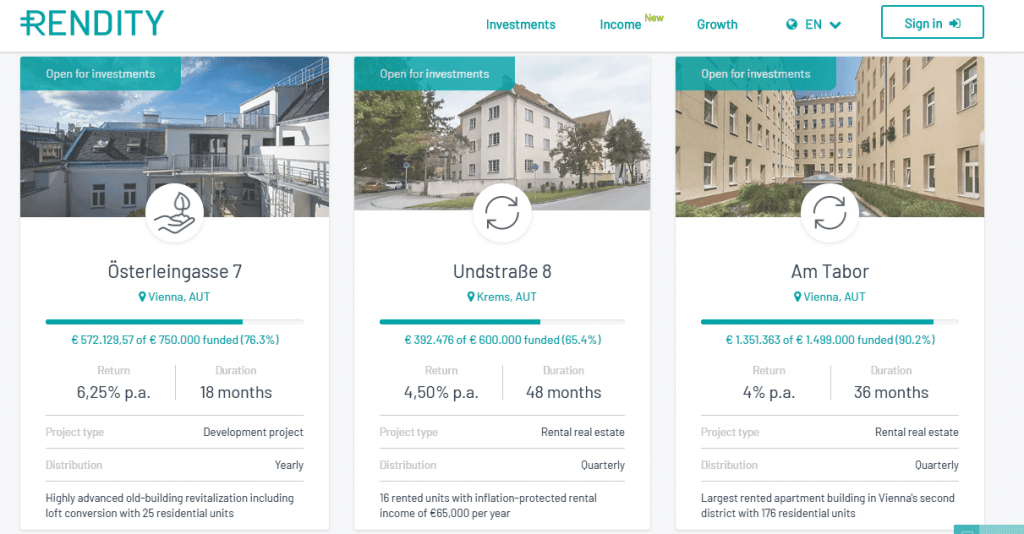 Advantages of Investing in Rendity
Having your money in the bank does not make a lot of sense. This is simply because this money does not earn anything. Also, it is losing money because of inflation. Therefore, investing in Rendity has several benefits. Here are some of these benefits:
Invest in real estate. Rendity makes it possible for you to invest in real estate at the comfort of your home.
Earn great returns. It allows you to earn at least 6% every year. These are excellent returns in a market where interest rates are below zero.
Passive income. With Rendity, it is possible to earn passive money when doing nothing.
Diversification. Rendity allows you to invest in various sectors. This helps you to have a diversified portfolio.
No fees. Rendity does not charge you any fees to invest money. It makes money by charging its borrowers.
What are the Risks of Investing in Rendity?
The peer-to-peer lending industry is a relatively new industry that has seen impressive growth in the past few years. It is always important to invest in such an industry that is growing fast. However, there are risks that you need to know. These risks include:
Liquidity risk. There is no secondary market, which makes it difficult to exit your investment at any time.
Company risk. As with all companies, there is a likelihood that the company may go out of business.
Cyber risk. There is a risk that the company may be targeted by hackers.
Regulatory risks. The regulatory environment in Europe is changing. There are chances that the industry may face more regulations.
Currency risk. Rendity allows investments in euros. If you use another currency, there's a risk of making losses.
Supported Countries
Rendity is an Austrian company. As such, all of its properties are from the European Union. The company accepts investments from members of the European Union.
Rendity Alternative
Rendity joins other companies that offer peer to peer investment opportunities in real estate. Rendity alternatives include:
Summary
Rendity is a company that aims to change the peer to peer real estate investment industry. You should allocate some of your funds in Rendity. Just ensure that you have other investments like in stocks, gold, Bitcoin and index funds.
More Information