Swaper is a fintech company that connects investors and loan originators. The company operates as a mutually-beneficial peer-to-peer marketplace where ordinary investors can lend money and generate a return. Investors have lent more than €117 million to borrowers from Europe. In this review, we will look at how to invest in Swaper.
Quick Facts About Swaper
Swaper was started in 2016 and is headquartered in Riga, Latvia.
Swaper has received more than €117 million in investments.
Swaper has paid interest of more than €1.58 million.
Swaper's cumulative lending volume is more than €90 million.
Swaper loans return a fixed rate of 12%.
How Swaper Works
Swaper is a technology company at its core. The company provides a platform where investors like you can make loans and earn an annual interest.
There are three sides of Swaper. These sides are the technology (Swaper), lenders, and originators. Swaper provides a platform that connects the lenders and the originators. It does all the due diligence and allows the platform to work.
Unlike many other peer-to-peer companies, Swapper does not have many originators. Instead, it uses one company, known as Wandoo Finance Group to do the originations. An originator is tasked with finding loans and doing due diligence. This ensures that the loans are safe for ordinary investors to put their funds. Finally, investors can then allocate money in these loans.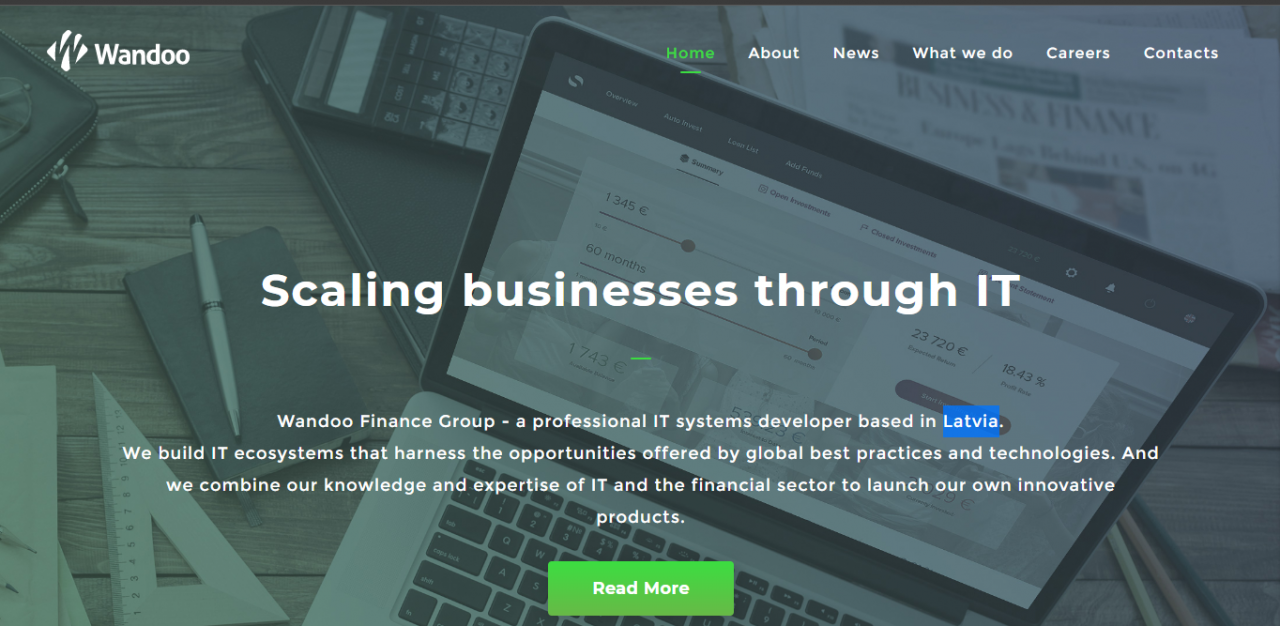 How to Invest in Swaper
Investing in peer-to-peer platforms like Swaper is relatively easy. All you need to do is to ensure that you meet the qualifications. In this case, you must be from one of the several countries in the European Economic Area to become an investor. You must also be above 18 years old and have a bank account.
If you meet these qualifications, you need to create your free account. You can do this on the sign up page or on the Android and iOS pages.
After you sign up, you will need to verify your details. First, you will need to verify your email address. Second, you will need to submit your ID and physical address. This is required for the company to avoid money laundering.
After this, you need to deposit funds to your account. You can deposit the funds in dollars, euros, and sterling.
Finally, you need to select the loans you want to invest in manually. Alternatively, you can let the system select investments for you. To do this, you need to tell the system a few things such as:
Your expected annual return.
Maximum investment in one loan.
Loan term in months.
Loan country.
Don't invest if balance is below…
Reinvest
Remaining available balance.
As we always recommend, it is always important for you to read the terms and conditions before you invest. You can read Swaper's terms and conditions here.
What are the Benefits of Investing in Swaper Loans?
There are several benefits that you get for investing in Swaper loans. Some of these benefits are:
Fast-growing company. Swaper is one of the fastest-growing peer-to-peer companies. The company's cumulative investments have grown from €20M in 2017 to more than €117 million.
Diversifying your income. Investing in Swaper allows you to diversify your earnings. It is also a good way of making passive income.
Loyalty bonus. Swaper has a loyalty bonus. You get a 2% bonus when you deposit €5,000.
Buyback guarantee. Swaper buys back your loan if the borrowers default on their obligations.
Good returns. Swaper offers a fixed return of 12%, which is above average.


What are the Risks of Investing in Swaper?
There are a number of risks that comes with investing in peer-to-peer lending. Some of these risks are:
Platform insolvency. As an investor, you don't have control of whether Swaper will succeed or not.
Credit risk. This is a risk that borrowers may default. P2P loans are usually unsecured, meaning that there is nothing you can do in case of a default.
Cybersecurity risk. There is a risk that Swaper being hacked. Most companies like Swaper claim that cybersecurity is their biggest risk.
Interest rates risk. If interest rates rise, the lender does not have the capability of hiking rates to the borrower.
Not insured. Its true that Swaper has a buyback guarantee. However, the company may struggle to pay if most borrowers default.
Countries Served by Swaper
Swaper is a European company. This means that loans that are offered are from Europe. Similarly, the company accepts investors from the European Union and EEA countries.
Summary
Swaper has created a platform and apps that are ranked highly. The company has also managed to grow the number of lenders and loans under management. As an investor, we recommend three things. First, we recommend that you invest a small portion of your funds in Swaper. Second, we recommend that you invest in multiple loans in Swaper. Finally, we recommend that you diversify your investments across multiple peer-to-peer lending marketplaces and asset classes.