Wisefund is a relatively new European peer to peer lending marketplace. The company was started in 2019 by Olga Bobrova and is headquartered in Estonia. The goal of the company is to help other companies raise capital from a pool of online lenders. Another goal is to help investors make money by extending credit to growing companies in Europe. Wisefund is managed by a small team of professionals with decades of experience in the technology and finance sector.
There are reports of defaulted projects on this platform. Early exit and buyback guarantee were disabled iin 2020 after experiencing a large amount of early-exit requests after Kuetzal collapse. In May 2021, Wisefund investors lost a bankruptcy lawsuit filed against the platform. However, there's a pending criminal proceedings against the platform. Invest on Wisefund with caution.
Wisefund investors earn an average of 18% every year.
https://youtube.com/watch?v=fp0JrV0SRok

Wisefund Review: How to Invest in Wisefund
As an investor, it is always important to have a diversified source of income. As a result, it is always recommended that you invest in various asset classes like real estate, cryptocurrencies, stocks, and index funds. Diversification will help you maximize returns and reduce risks.
Investing in Wisefund is very easy. All you need to do is check whether you qualify to invest. You just need to be over 18 years and have a bank account in the European Union.
If you meet these conditions, you should go to the website and create a free account. Basically, give your details like email address and phone number. Also, you will need to submit details like your address. This will help you in verifying your account.
After being verified, you will be able to deposit funds to your account. You can do this using your debit or credit card. Funds will be deposited right away.
After this, you need to go to the available projects using this link. Here, you will see projects that are available to invest. You should take time to read the details of the companies. Finally, you should then invest money in your ideal companies. It is recommended that you select multiple companies and invest small amounts in each.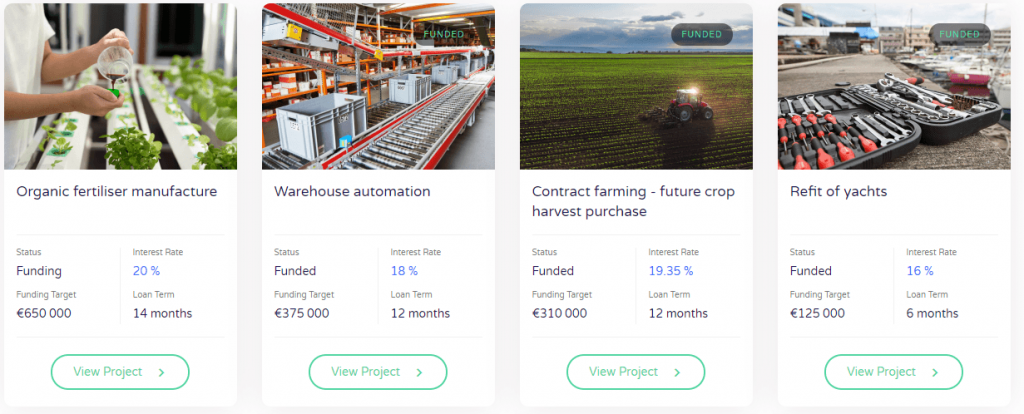 Wisefund Review: How Much Can You Lend at Wisefund?
There is no limit to the amount of money that you can lend using Wisefund. On average, most companies raise between €60,000 and €650,000. However, to avoid exposing yourself to a lot of risk, we recommend that you invest just a small amount to a company. Wisefund allows you to invest as little as €10 to a company. Investing too much money in a company will increase risks.
Wisefund Review: What Interest Rates are Available at Wisefund?
After you invest at Wisefund, you will receive interest payments every month. The company assesses the borrowers credit worthiness and then decides an ideal interest rate to pay. In all cases, companies that are considered risky have a higher interest rate. According to the company, most investors earn between 5% and 21% in interest rates. This is a bigger return than what most fixed income products offer in Europe because of the low interest rates environment.
Here is an example of how the company calculates interest rates. You can lend €1,000 at 15% APR with a loan term of 10 months. In this case, the interest rate is divided by 360. This means that your money will earn you about 0.041% interest rate.
Wisefund Review: How Safe is Investing at Wisefund?
No investment is usually 100% safe. The same applies to Wisefund. As we will see below, there are several risks that come with investing with the company. The company has mitigated some of these risks. First, it has invested heavily in ensuring that its website is safe. Second, it always takes time to vet companies that it lists. Companies must be several years old and have good cash flow.
Wisefund Review: Risks of Investing in Wisefund
There are several risks that come with investing with Wisefund. Some of these risks are:
Company risk. Wisefund is a small and relatively new company. This means that it is making losses and that it could have funding challenges. In the past, several peer-to-peer lending companies have gone through difficult times.

Online security. Wisefund is an online-only company. In recent years, the number of hacks have increased and there is a possibility that your account may be compromised.

Interest rates risk. There are risks that interest rates may rise. The risk is that you are not able to renegotiate your financing with the borrowers.

Default risk. There is a possibility that companies that you lend to might fail to pay back the money.

Unregulated. While Wisefund is a registered company, it is not regulated because its business model does not require it.
Wisefund Review: Countries Wisefund is Available
Wisefund requires that companies that raise money from it are from the European Union. Similarly, lenders must be from the EU member states. This is because they require a bank account in the EU.
Wisefund Review: Summary
Wisefund aims to disrupt the lending industry. Because of the risks mentioned above, we recommend that you only set aside a small portion of your funds to Wisefund. Also, we recommend that you invest amount you can afford to lose in each company. Finally, we recommend that you also diversify by investing in other peer-to-peer lending marketplaces.