B2P Pay is a payment solution for businesses and exporters. It was founded in 2015. It is cheaper and convenient for international business transactions since it has less paperwork and fewer fees. You can combine it with a virtual bank account in Europe, offering the best exchange rates so that you can make quick payments at any time across the world. The option is 80 percent cheaper and faster compared to other payment options you will find in the market.
B2B International Payments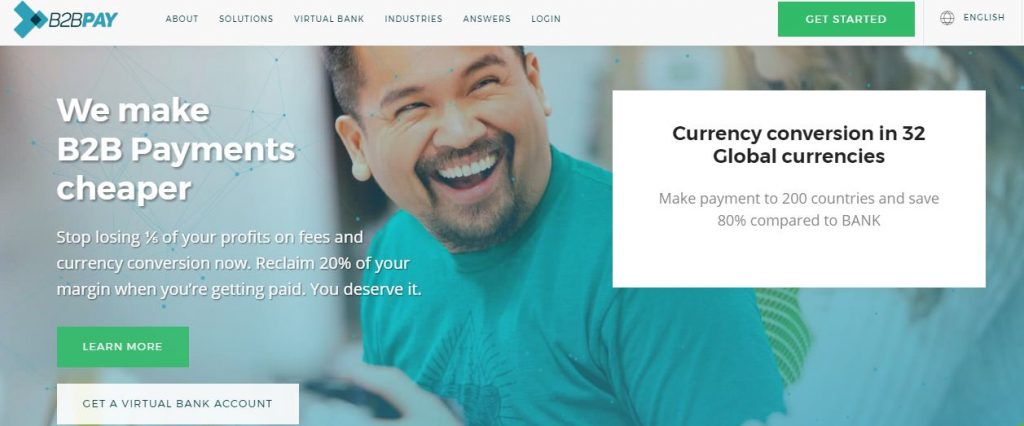 The world has changed and there is a need to make payments in the shorted time possible. Therefore, take advantage of fintech and virtual bank accounts that are accessible from anywhere across the globe.
When you sign up, you get a European IBAN, which you can use to make free SEPA transfers within SEPA member countries and the EU. Once the payment has been finalized, the importer is notified that the amount has arrived in the IBAN account.
For most B2B international payments, there is a long payment process. When a European company pays through its European local bank, in most cases, the money is channeled to an intermediary bank. Every bank involved in the transaction wants to make a profit. This makes the process very expensive, where the fees could range between 3-5% of the amount being transacted. Most global companies usually have a small profit margin. Hence transaction fees and conversion fees take a significant percentage of the profit margin. For this reason, B2B Pay provides a solution to global companies to receive international payments and save up to 80% on fees. All its fees are transparent.
Virtual Bank Account
B2B Pay is free from bureaucracies making transactions faster, cheaper and easier. When you have a virtual bank account, you can monitor all transactions in real-time. In addition, you can use banking infrastructure for cash management, reconciliations and pooling accounts.
When using B2B Pay for a non-resident bank account, from the dashboard, you get all the information you need to know about the transaction. The virtual bank account allows you to download the transaction history at any time. You can access the account using different devices, export data using various software such as QuickBooks. Besides, you also get to receive email notifications and SMS notifications.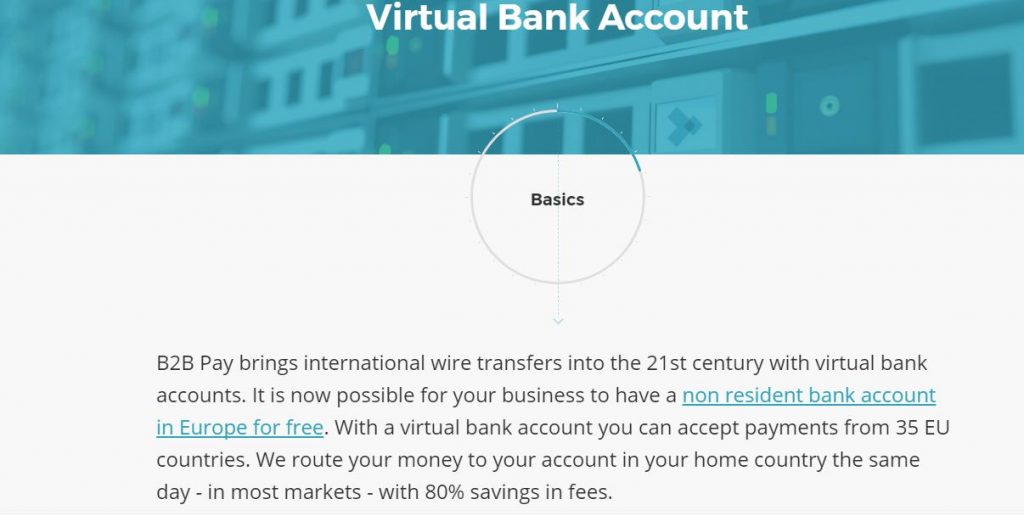 How B2B Pay Works
To enjoy the benefits of B2B Pay, you need to open a virtual bank account for non-resident countries in Europe. The account will then be linked to your home bank account, which helps you to send money 80% faster and cheaper compared to other payment methods. When you open a virtual account, you will get an IBAN number. With B2B Pay, your company will enjoy the following benefits.
Receive SEPA payments from the SEPA member countries within 2 to 12 hours.
Make SEPA payments to SEPA member countries.
Get notifications instantly for incoming payments.
Enjoy online onboarding.
Make global payments in over 138 currencies.
Save up to 30 euros SWIFT charges.
B2B Pay Customers
B2B Pay serves a wide range of customers from many industries. Among them are:
SMEs. When you use B2B Pay, your European customers become more confident.
Importers and exporters. When you use B2B Pay, you can enjoy a profit margin increase of 7% to 20%.
NGOs. B2B Pay saves up to 80% of fees and lets money go where it is needed most.
Travel industries. These industries get to increase their profit margin while providing the customer with the best user experience.