PrepayWay is a new fintech company that is helping international companies solve their toughest logistics challenges. The company helps improve the flow of goods and services around the world. In addition, the company helps reduce costs and improve efficiency in international trade. The company was started in 2018 by a group of experienced financial institutions and is headquartered in Switzerland.
Quick Facts About PrepayWay
PrepayWay is currently building and scaling its product.
The company recently launched Elleeo, which aggregates investments from 70+ P2P platforms.
PrepayWay has been funded by token sales. It has had five successful token sales.
What is PrepayWay?
Globalization has led to significant flows of information and goods around the world. Today, companies like Apple and Samsung use supply chains that are international in nature. For example, a single iPhone is made up of components from around the world.
A challenge with international trade is that there are so many logistical challenges involved in shipping. For example, a single container ship from Hong Kong to Australia may be touched by more than 30 agencies like lawyers, accountants, customs officials, and other handlers. This leads to wastage of time and money. It also creates enormous challenges in the entire supply chain.
PrepayWay is creating a unified ecosystem that will help reduce cost and time wastage throughout the process. It is using the concept of blockchain technology and smart contracting to solve these problems. Companies that will adopt this technology will save money and improve efficiency by creating a unified platform. Companies will remove intermediaries and make the process faster. The chart below shows a smart contract flow chart.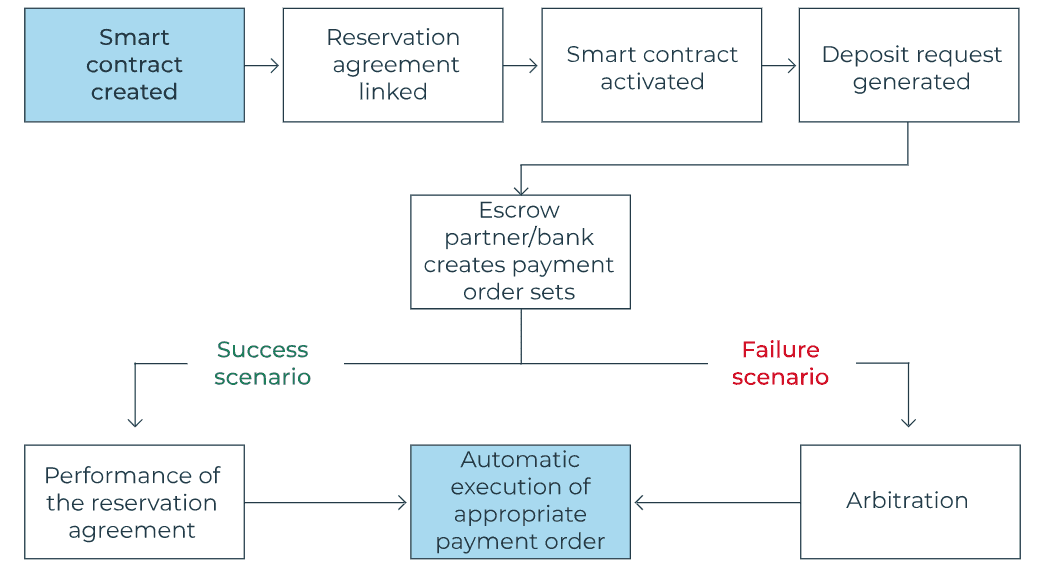 What Makes the PrepayWay Ecosystem?
The PrepayWay ecosystem is made up of a few segments. These are:
Service providers. These are companies that contribute to the ecosystem. These include banks, payment service providers, IT community, notaries, lawyers, and other professionals.
Core Elements. These are used by the ecosystem participants as building blocks for the development of innovative blockchain solutions. They include fiat and crypto gateways, smart dispute resolution, smart contracts, and legal agreements gateways.
Blockchain Solutions. These are solutions that are developed by PrepayWay and other developers to help facilitate the entire process. Examples are PrepayWay real estate, Prepayway Global Trade, and Elleeo.
Ecosystem Users. These are businesses and individual users that use the system.
The flow chart below shows a fiat currency flow through a smart contract.

What are the Benefits of Using the PrepayWay Ecosystem?
Companies that adopt the use of PrepayWay reap a number of benefits. These are:
Speed. The process of doing global trade becomes faster because of the few intermediaries who are used.
Security and transparency. The blockchain industry is known for its security and transparency. This is because smart contracts cannot be tampered with.
Reduced costs. As mentioned above, the current model of doing international business is not ideal. Companies are facing a lot of costs to ship a container from one country to another. PrepayWay reduces these costs.
Global reach. PrepayWay will be available in all countries.
Which Stage is PrepayWay in?
PrepayWay is currently developing its ecosystem. In November 2019, the company launched its latest product, Elleeo, that aggregates loans that are available in peer-to-peer lending marketplaces.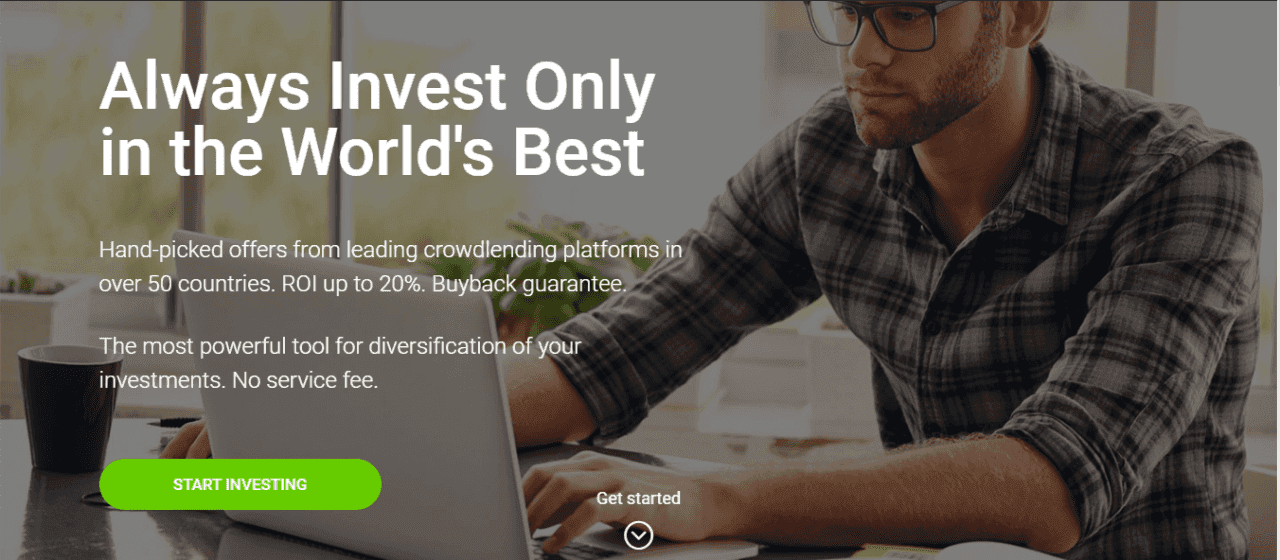 The company is also running a crowdfunding campaign to raise money for its current and future products. The company is raising more than €2.45 million for this project. Buyers will have a stake in the company. The company is simultaneously having its sixth token sale.
What Challenges Will Prepay Face?
International trade has always had a lot of friction and instability. Everyone involved in the business knows the logistical nightmare that happens in the industry. The challenge is how to convince these participants to use technology to reduce this friction.
The biggest challenge that PrepayWay will face is that of competition. This competition is coming from large companies like IBM that is developing a similar product as you can see below. Other companies that are developing such a product are Oracle, Microsoft, and SAP.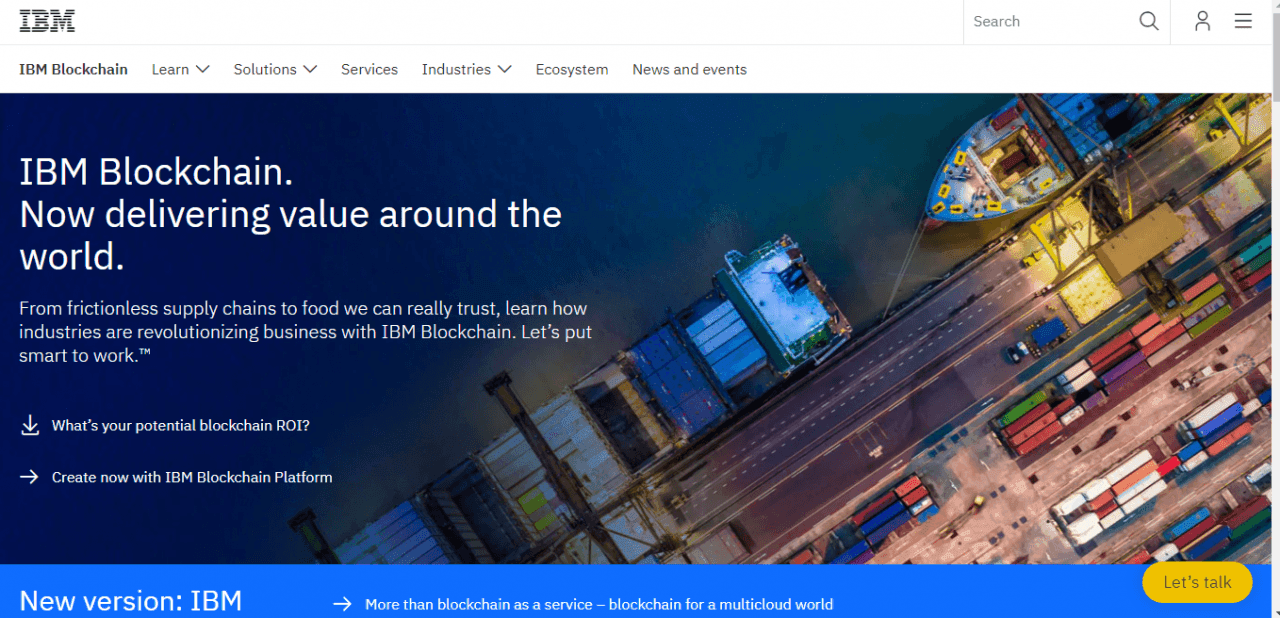 Therefore, PrepayWay will need to convince companies that its technology is better. It will also need more money to scale this technology.
Summary
PrepayWay is a company that aims to solve some of the biggest challenges in the market. It is a challenge that faces many companies every day. Therefore, a company that cracks it and convinces large companies to use it will be the next big thing. The challenge will be convincing these companies.