CrowdProperty is a peer-to-peer lending company in the UK that is focused on property developers. The company is one of the fastest-growing companies in the property crowdfunding industries. It has raised more than £2.4 million from investors. The company has attracted more than £57 million from its more than 9k customers. In this complete review, we will look at how to invest in CrowdProperty and the risks that are involved.
Quick CrowdProperty Review
CrowdProperty was started in 2014 by Mike Bristow, Andrew Hall, and Simon Zutschi.
CrowdProperty competes with other property P2P companies like The HouseCrowd, Reinvest24, and Property Partner.
CrowdProperty has raised more than £2.4 million from investors.
Average annual return is 8%.
What is Property Peer-to-Peer Lending?
In the past decade, the theme in the economic world was about low interest rates. The decade started at a time when the global economy had gone through the biggest recession in modern times. As a result, the central banks intervened by bringing interest rates to zero or below zero. They also flooded the market with money through what they called quantitative easing.
The idea behind low interest rates is simple. When banks charge low rates, it eases the cost of borrowing. In return, this leads to more money in the economy. This is true to some extent.
However, another implication is that banks tend to hold on to their capital. They fear lending to people and companies at low interest rates because of high risks that are involved. Instead of lending money, banks look for yields in other places. They invest most of the funds in stocks and in safe government bonds.
Therefore, companies and individuals don't have good access to money in a period of low interest rates. On the other hand, savers who rely partly on interest rates from their banks make minimal capital.
This is the problem that peer-to-peer lending companies like CrowdProperty look to solve. They create a safe marketplace where savers can lend money and where people and companies can access money as well. By doing this, they remove the barriers that existed in the past.
How CrowdProperty Works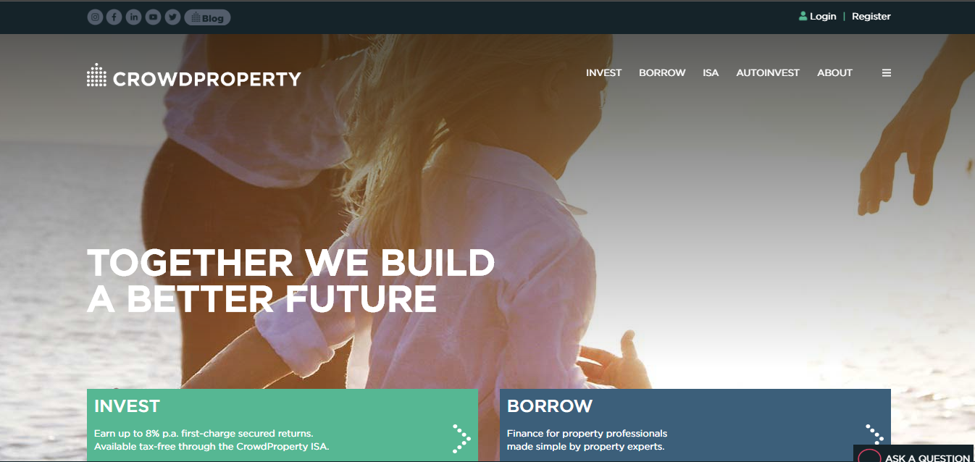 CrowdProperty works in a very simple way. It works in a similar way to what other P2P companies like Property Partner and Reinvest24 work.
The company works as a two-sided marketplace. On the platform, property developers who want money can go and apply for finance. This takes place in a number of steps. First, they go online, click apply for finance, speak to one of the company's experts, and wait for a response. If the company's experts believe in the viability of the project, they move to the next step. The project is listed on the company's website.
Investors on the other hand, need to register on the website. To do this, they go to the website, register as a lender, be verified, and then start to invest.
How to Invest in CrowdProperty
The process of investing in CrowdProperty is relatively easy. First, you need to register as a lender by following this link. To achieve this, you need to be over 18 years old, be a member of the European Union, and have a UK bank account.
After you register, you can invest in two ways. First, you can go to this page and see the projects that are underway. We recommend that you take time and read more about the projects so that you can understand the risks. If you believe in the project, you should invest part of your money in it.
The second option is to use the auto invest feature. Auto invest is a feature that allows you to set a few parameters such as the maximum you want invested in a project and the duration. After setting these parameters, the company's algorithm will select investments for you.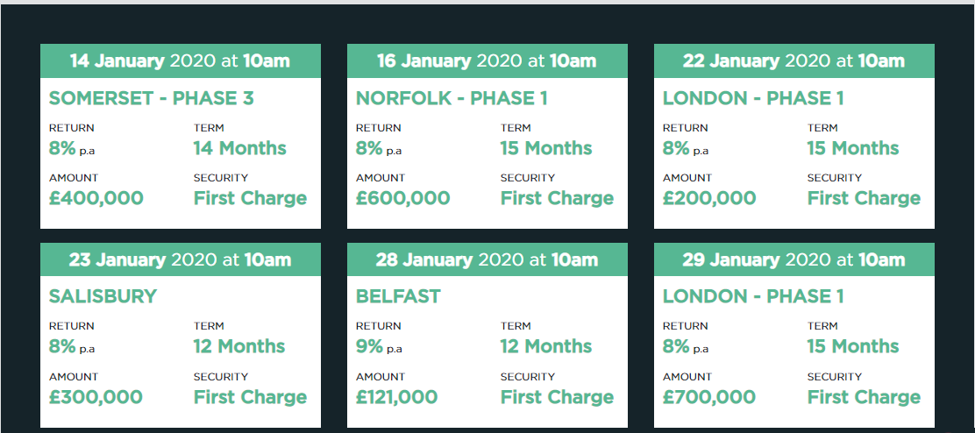 What is CrowdProperty ISA?
CrowdProperty has introduced new Individual Savings Accounts (ISA) products. This is a product that enable you to save money and achieve above-market returns. The product hopes to solve a common problem about ISAs. The problem is that most people who invest lose money because the returns are usually below inflation. The average return of a CrowdProperty ISA is usually 8%, which is below the average return of 13%. However, the return is better because it is tax-free.
What are the Advantages of Investing in CrowdProperty?
The almost ten thousand people who have invested in CrowdProperty experience a number of advantages. These are:
CrowdProperty offers a way to diversify your income.
It allows you to earn above-market and reliable returns.
The process of investing in CrowdProperty is very easy.
CrowdProperty has a 100% repayment rate.
It is an indirect way of investing in the real estate industry.
Low minimum investment amount of 500 pounds.
What are the Risks of Investing in CrowdProperty?
All investments have their own risks. In the past, we have seen so-called safe investments crumble. For example, in the past few years, Sears was one of the most invested companies in the United States. Today, the company is no more. The same is true with companies like Blackberry and Lehman Brothers.
The field of peer-to-peer lending is a particularly risky industry because of how young it is. Indeed, in the past, we have seen a number of UK-based P2P companies either shut or change their business models. Examples of these are LandBay and Lendy's. So, here are some of the most common risks you should know about investing in CrowdProperty.
Company shut down. As mentioned, there are risks that a company may shut down. In this case, you lose money because your investment is not insured.
Regulation. In wake of P2P company collapses, the UK regulator has put in place several regulations. These could affect your returns.
Inflation. There is a risk that inflation could rise a lot. This would lead to your investment being not worthwhile.
Housing market risks. CrowdProperty operates in the housing sector. There are risks that weakness in the sector.
Cyber risks. There is a risk that your information may be compromised.
Brexit. As a UK company that accepts customers from the EU, there are risks about how the company will operate after the UK moves from the EU.
Which Countries Does CrowdProperty Accepts Clients?
As mentioned above, CrowdProperty accepts clients from the United Kingdom and in the European Union.
Is CrowdProperty Regulated?
Yes. The company is regulated by the Financial Conduct Authority.
Does CrowdProperty have mobile apps?
No. The company does not have Android and iOS mobile applications.
CrowdProperty Information
Summary on How to Invest in CrowdProperty
CrowdProperty is a leading property P2P company in the UK. The company has a proven experience in the industry based on its success rate and TrustPilot reviews. Therefore, if you are looking for some uncorrelated returns, this company is one you should try. However, you should understand the risks of investing in the company such as those we have explained above.