CrowdProperty is a peer-to-peer lending platform based in the UK that offers property project loans. It offers loans to invest in bridging, auction, refurbishment, and development loans. The minimum investment amount in the platform is £500 for each project. CrowdProperty has an annual return rate of 7.3% per annum. CrowdProperty has Innovative Finance ISA, an auto-invest, and auto-reinvest features. However, it does not have a secondary market.
CrowdProperty Review: Quick Facts
CrowdProperty is a peer-to-peer lending platform that offers property project loans. It is based in the UK.
You can invest a minimum of £500 and start earning an annual average interest rate of 7.3%.
CrowdProperty has investment features like an auto-invest tool and Innovative Finance ISA.
As of 2022, CrowdProperty had invested over £506 million with over 17.5k investors with 0% capital loss.
Who Can Invest in CrowdProperty?
Companies and individual investors can invest in CrowdProperty. To invest in CrowdProperty, you need to meet the following requirements:
Have a UK bank account
Be at least 18 years old
Have proof of identity and address within the EU
How CrowdProperty Works
CrowdProperty works just like many other peer-to-peer lending platforms. Before listing a project on their website, the people behind it go through a rigorous due diligence process. This is to ensure it meets all the requirements.
Once the project has been approved, it is listed on the platform. Investors can then choose which project to invest in. They can then pledge towards it. Once the project is fully funded and is completed, funds are then transferred to the investor's wallet.
CrowdProperty then monitors the project. Investors are provided with regular updates. When the project is fully completed, investors are paid back their money and interest of up to 8%. The investor is not charged any fees.
How to Invest in CrowdProperty
To invest in CrowdProperty, follow these simple steps:
Create a CrowdProperty account. The first step to start investing in CrowdProperty is to sign up for an account on their website.
Fund your CrowdProperty account. You need to deposit funds into your CrowdProperty account. You can do so through a bank transfer.
Turn on the auto-invest tool. You need to turn on the auto-invest tool so that it can automatically select your loans to invest in.
Select the amount you would want to auto-invest. You need to pledge an amount that will go into auto investment. You can also indicate the maximum pledge size.
Wait for your investment to grow. Once you have invested your money into CrowdProperty and selected the auto-investment strategy, you can sit and wait to earn returns. CrowdProperty pays investors annual returns of up to 8%.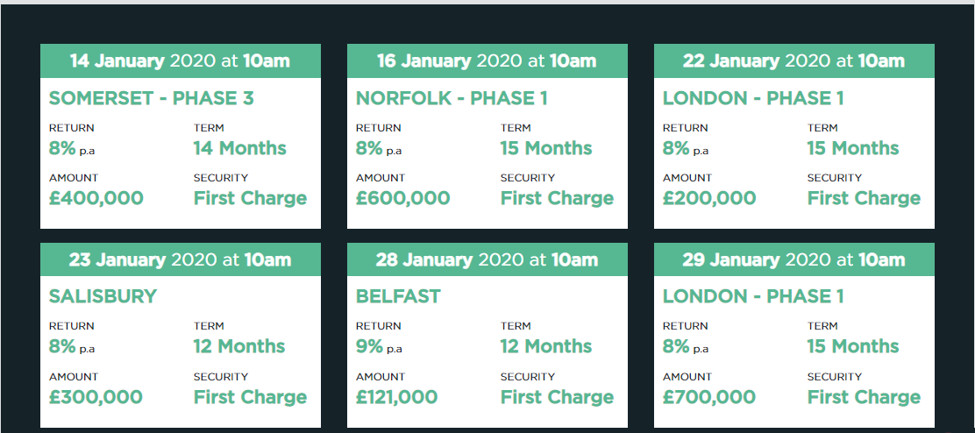 CrowdProperty Features
CrowdProperty has the following features that are accessible by investors:
Innovative Finance ISA
CrowdProperty has an Innovative Finance ISA. This is a kind of an account that shelters savings and investments from tax. The returns you make in this account are exempted from taxation. You don't even need to declare ISAs on your tax return. To open an IFISA account, you must be a resident of the UK.

Auto-Invest Tool
CrowdProperty has an auto-invest tool that can help you save time and diversify your investment. CrowdProperty has a unique algorithm that proportional allocates auto invest funds to a particular project. With the auto-invest strategy, you are able to make regular monthly investments and have them spread across projects.

Advantages of Investing in CrowdProperty
You will enjoy the following benefits by investing in CrowdProperty:
CrowdProperty offers a way to diversify your income.
Has an auto-invest tool
It allows you to earn above-market and reliable returns.
The process of investing in CrowdProperty is very easy.
CrowdProperty has a 100% repayment rate.
It is an indirect way of investing in the real estate industry.
Low minimum investment amount of 500 pounds.
Cons
No buyback guarantee
No secondary market
CrowdProperty Customer Support
You can reach CrowdProperty customer support by phone: 020 3012 0161 or email: hello@crowdproperty.com. You can also write them a message through their website. CrowdProperty will respond within 24 hours.
CrowdProperty Supported Countries
To invest in CrowdProperty, you need to be a resident of one of the EU countries. To open an account, you need to provide proof of identity and address within the EU.
Is CrowdProperty Regulated?
Yes. CrowdProperty is authorized and regulated by the Financial Conduct Authority (FCA). FCA reports to the UK government and can pursue criminal activities in case a party violates the set standards.
CrowdProperty Alternatives
You can invest in these investment platforms as an alternative to CrowdProperty:
Is It Safe to Invest in CrowdProperty?
Before investing, investors want to know if their money is safe. CrowdProperty is a safe and secure investment platform. Before listing a real estate project, CrowdProperty does due diligence on those behind it to ensure they meet the requirements.
Also, CrowdProperty issues secured loans. Therefore, in case the borrower defaults in repayment, CrowdProperty has the preferential right over the property. It is worth noting that funds invested in CrowdProperty are not protected by Financial Services Compensation Scheme (FSCS).
CrowdProperty has 4.1 ratings on Trustpilot. Investors like the platform due to its good user experience and auto-invest feature.
Summary of CrowdProperty Review
CrowdProperty is a peer-to-peer lending platform that offers property project loans. You can invest a minimum of 500 EUR and earn an annual return rate of 7.3%. The platform has an auto-invest feature and IFISA. You can diversify your portfolio through the auto-invest function. However, it does not have a buyback guarantee or a secondary market.
Discover More