Currensea is a travel debit card provider that offers low foreign exchange fees. It gives you a connection to your high street bank account and allows you to transact abroad directly. Currensea travel card allows you to reduce physical ATM withdrawals by 85% and above.
The platform's selling point is the fact that you can directly transact from your account. Also, this is a major factor considering most travel cards require manual top-ups. Furthermore, you do not have to experience the inconvenience of having to wait for days or hours before your transaction goes through before you finally have your money. Currensea is fast and efficient. Most importantly, the card's rates are more favourable as compared to using the standard debit card.
Currensea Benefits
Spend globally with 180 currencies as you would with your bank debit card. Your bank confirms you have the funds available, transactions go through at the real-time rate.
Essential plan saves you at least 85% on every transaction. Or save even more with Premium and Elite plans with 0% mark up and 100% saving against the banks.
Currensea is a Mastercard debit card, which is accepted in millions of locations worldwide.
There are no ATM withdrawal fees.
How do I sign up with Currensea?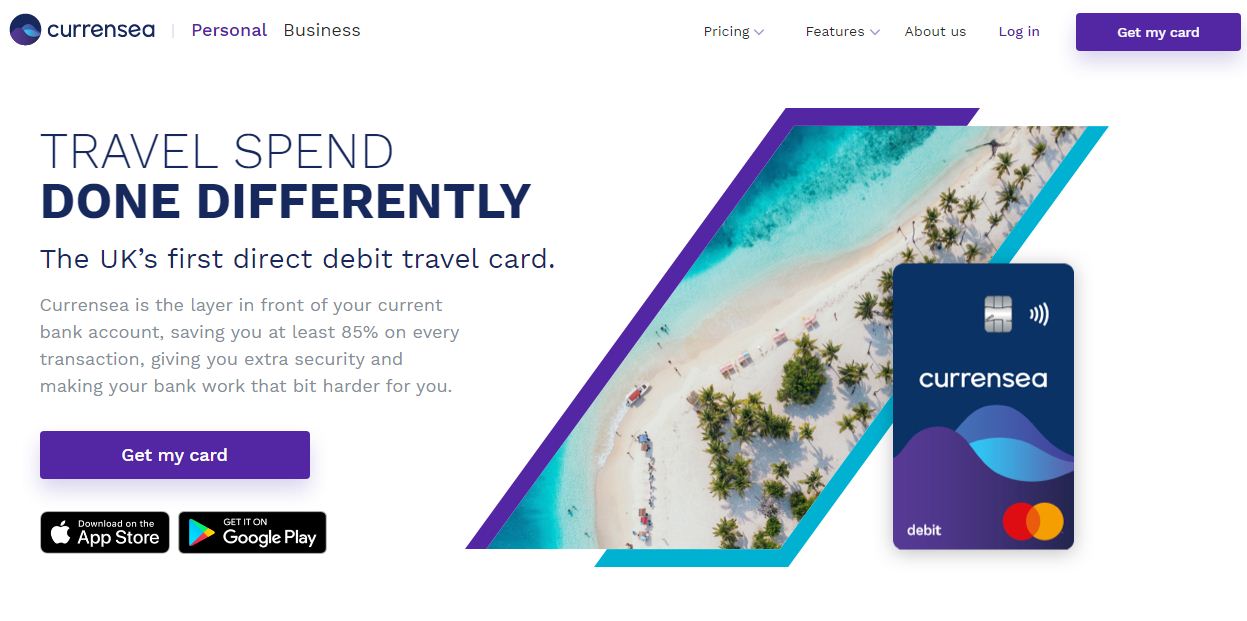 If you like the benefits that Currensea brings about, you will be able to access the service as long as your bank is supported by Currensea and you are based in the UK. Simply follow the below guidelines to have your Currensea account opened.
Apply online. You will need to get to the Currensea website and click on Get my card.
Enter your details. Afterwards, you will need to provide some personal information. You will need to input the information correctly as it might require some verification later. This information includes your first and last name, home address, date of birth, current bank provider, your mobile number and email address. Mostly, Currensea is able to verify your identity by electronic means. Therefore, you will not need to upload any ID documents at this juncture. However, you will need to upload the ID in case the platform is not able to verify your identity electronically from their end. This will mostly be the situation mostly if you are new in the UK and thus, you will provide a copy of your driver's license or passport.
Link your bank account. According to the financial institution you bank with, the linking process will vary. However, you will get the procedure with the help of your mobile banking app or online portal.
Activate card. You will receive your card then activate it. The card arrives in 1-3 working days, and afterwards, you will activate it.
How does Currensea work?
Currensea is a direct debit travel card. Through Currensea open banking, the card works as a layer in front of your current bank account to make spending and saving money simple. For convenience, Currensea app is available for both iOS and Android. You can use your card to pay for international costs and expenses just like your existing debit card. Currensea supports payments in all currencies.
Currensea card withdraws funds you already have in your linked bank account. Therefore, there's no need to pre-pay or top-up. The money you spend is automatically collected by Direct Debit from your bank after you've spent. There is no need to worry about adding balances or opening a new bank account to benefit from Currensea savings.
Currensea features
Currensea personal
If you have a bank account with Currensea supported banks, you can easily apply for Currensea personal card. You can connect more than one bank account to your Currensea personal card. However, if you want to share an account with your spouse or dependant, you need to have a joint bank account. Both of the joint account owners can set up a separate Currensea card that connects to the joint account. By adding both a personal account and a joint account in the Currensea app, you can choose which account your transactions will be debited from.
Currensea for business
In addition to Currensea personal cards, the company offers Currensea cards for businesses, self-employed, contractors, or freelancers. You must have a business bank account with Currensea supported banks. You can use your card to pay for international business costs and expenses the same way you would with your existing debit card. Currensea is integrated with the following UK business bank accounts: Barclays, Bank of Scotland, HSBC, Lloyds Bank, NatWest, RBS, Santander and TSB.
To be eligible for a business Currensea card you must:
Be aged 18 or over
Have a UK home address
Have a valid mobile phone number
Be registered for and have access to online or mobile banking
You and your business must:
Have a good credit history and no payment defaults
KrisFlyer
You can collect Singapore Airlines KrisFlyer miles from your Currensea card savings. You simply select the percentage of savings you want to convert into KrisFlyer miles, and you will automatically collect KrisFlyer miles after each transaction abroad. For instance, if you select to contribute 100% of savings this will result in you collecting on average 2 miles for every £1 spent. Fortunately, there is no cap on the amount of miles you can collect.
To start collecting KrisFlyer miles with Currensea, you need to ensure you have an active KrisFlyer account held under the same name as your Currensea account. You will need to add the membership number when allocating the percentage of your savings you wish to use. Sign up for a KrisFlyer membership account to start benefiting using your Currensea card.
Currensea money transfer
Currensea's money transfer removes the bank's foreign exchange (FX) fees when transferring to either EUR or USD bank accounts. Currensea card works as a layer in front of your existing bank account, reducing the fees you would normally incur when sending money abroad. With a small flat fee of 0.5% you can send between £100 and £10,000 per transfer from your UK bank to either a EUR or USD account.
Funds received before 9pm on weekdays will arrive the next working day, funds received over the weekend should arrive the following Tuesday.
Giving back
Currensea card allows you to automatically contribute a percentage of your savings to an environmental organisation every time you spend with your Currensea direct debit travel card. Whether you want to plant trees with Eden Projects help remove ocean bound plastic with Plastic Bank, Currensea makes giving as easy as possible. This features is available for personal accounts only.
We are immensely proud to be partnering with the Eden Reforestation Projects, a leading educational charity and social enterprise, allowing you to automatically contribute some of your savings towards planting trees. The Eden Reforestation Projects has already planted over 697million trees in Madagascar, Haitai, Nepal, Indonesia, Mozambique, Kenya, Honduras, and Nicaragua. You can choose to contribute a percentage of your savings towards planting trees.
What banks does Currensea work with?
Currently, Currensea is limited to working with a few UK banks. They are the following: HSBC, Santander, Coutts, NatWest, Bank of Scotland, first direct, TSB, Barclays, Nationwide, RBS, Lloyds Bank, Halifax, Ulster Bank
If your bank is not in the above list, you will not be able to use Currensea until further notice. However, you will be able to add yourself to the waiting list through the Currensea website. All you need to do is enter your email address and state your financial institution. Afterwards, you will be notified once the integration is complete and Currensea supports your bank.
Currensea fees
| Currensea Plan | Currensea Card Fee | Benefits |
| --- | --- | --- |
| Currensea Essential | £0/year | Saves 85% on bank charges, Fee free ATM withdrawals, Purchase Protection, Singapore Airlines KrisFlyer mile. Free Card Delivery |
| Currensea Premium | £25/year | All Essential Plan benefits plus: Saves 100% on bank charges, Preferred Hotels and Resorts access (Complimentary night stay when booking 4+ nights) |
| Currensea Elite | £120/year | All Premium Plan benefits plus: Elite concierge by "Ten" (Mastercard Travel and Lifestyle Services), LoungeKey (Discounted access to 1100+ lounges), Avis "President's Club" |
Currensea has no weekend charges, non-sterling transaction fees, foreign currency purchase fees, internet purchase fees or dormant card fees.
Is there any cap on low fees?
An additional advantage of using Currensea over most card suppliers is that you will not have any cap on low fees. Most often, other card providers give you a fee-free ATM for the first 200-pound transaction monthly. Afterwards, standard charges apply. Fortunately, Currensea provides free services even above those rates up to 500 pounds. In case you make transactions more than that amount, you will be unable to use your card. This feature only limits you to ATM transactions, but you can still make online or in-person transactions using the card. That said, there is hope that the premium account will come with better features where the ATM transaction limit will be increased.
How does Currensea make money?
Currensea makes money in one of three ways:
FX markup
The premium plans have no FX markup, but there's a nominal FX markup on Essential Plan of 0.5% per transaction. Currensea also charges an FX markup on ATM usage over the free amount on all our plans.
Subscription fees
Currensea charges an annual subscription fee of £25 for Premium Plan, and £120 for Elite Plan. The subscription fee also removes all FX markup on transactions.
Interchange
Every time you spend with your Currensea card, Currensea receives a small % of the transaction, known as interchange, this comes directly from the merchant and won't be charged to you.
Is Currensea safe?
Currensea is regulated and has authorization by the UK Financial Conduct Authority. In essence, the platform fully complies with a variety of consumer protection regulations to secure your money. For example, in case you lose your card, you can safely log in to your account through the website or Currensea app and freeze the card. In the event that you, later on, find the card, you simply log back into the online portal and unfreeze your card.
Most importantly, as much as you will link your Currensea card to your standard bank account, the platform does not have access to your account. Any transactions you make through the card are privately safe and secure.
Currensea Reviews
By January 31, 2022, Currensea had a positive rating of 4.8/5 from over 8,000 users (90%) on Trustpilot. However, about 4% of its users gave it a negative review. Currensea, however, has replied to 100% of the negative reviews posted on Trustpilot.
Currensea Alternatives
There are other options to explore for your travel card in the UK especially from challenger banks such as the following
Crypto Travel Card
If you hold cryptos such as Bitcoin, it is possible to use your cryptocurrency for travel with a crypto travel card.
Conclusion
In summary, Currensea provides you with the most profitable travel debit card when travelling abroad. Other standard rates that competitors offer are way higher (2-3%) than the Currensea rates. More so, accessing your account using the card is easier as compared to other transactions. Once you link your card to your current account, you get the convenience of carrying out fast transactions abroad at super-low rates.