RateSetter is an award-winning UK-based peer to peer marketplace. The company has grown to become one of the most popular fintech company from the United Kingdom. RateSetter has raised more than £43 million from investors, and is valued at more than $200 million. In this review, we will look at how to invest in RateSetter.
RateSetter shut down its peer to peer lending operations in April 2021. It now issues traditional bank loans backed by Metro Bank.
Quick RateSetter Review
RateSetter was started in 2010 by Peter Behrens.
RateSetter won the queens award for enterprise in 2019.
RateSetter has more than 83k investors. They have invested more than £3.5 billion.
RateSetter is regulated by the Financial Conduct Authority.
RateSetter Review
The peer-to-peer lending industry has seen impressive growth over the years. Studies done by credible organizations show that the industry is expected to reach more than $50 billion every year. This is an incredible growth for an industry that was nonexistent more than ten years ago.
As a P2P platform, RateSetter helps lenders and borrowers achieve financial freedom. Through its platform, lenders are able to lend money to individuals and companies and earn a return. This return is usually better than what the borrower would have gained if they saved money in a bank. Meanwhile, borrowers are able to get money easily. RateSetter uses technology to make all this happen.
How to Invest in RateSetter
RateSetter is different from other peer-to-peer lending marketplaces like Lending Club and Prosper. It is different because it does not have a marketplace where lenders can select investments. Instead, the company has created three accounts that guarantee returns to investors. The three accounts that are offered are Access, Plus, and Max. Access yields is 3.0% while Plus and Max have a yield of 3.5% and 4.0% respectively.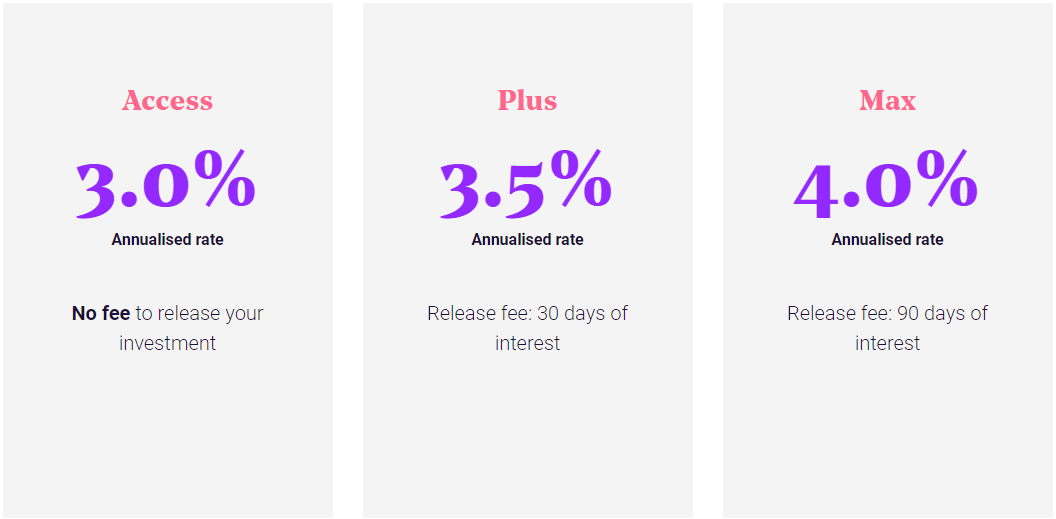 Therefore, the first step of investing in RateSetter is to go to the website and learn about how it works. You should then read the terms and conditions that are available here. The company will give you a free £20 when you register as an investor. After you register, you should deposit your funds, select auto invest, and then you will start earning interest.
Another way of investing in RateSetter is to open a Self-Invested Personal Pension (SIPP) and having an Individual Savings Account (ISA).
How to Borrow in RateSetter
As a peer-to-peer company, RateSetter has two sides. There is the borrower side and the lender side. One cannot work without another. UK citizens can borrow money in RateSetter. To do this, they need to visit the borrow page of the website and then start the process. The company allows one to borrow from £3,000 to £35,000. The term of these loans is between 1 to 5 years.
The process of borrowing money in RateSetter is relatively easy and it takes just a few minutes. You visit the website, send a quote, make the application, wait for the decision, and receive the money if you are accepted.

To borrow money in RateSetter, you need to be a UK citizen, who is 21 years and above. You also need to have an active bank account, have a regular source of income, have a good credit history, and have been a UK resident for more than three years.
How Safe is RateSetter?
RateSetter has a proven track record. It has existed in the past decade and helped both investors and borrowers. A good evidence of this is the 4.5-star rating at TrustPilot.
What are the Benefits of Investing in RateSetter?
Easy process. Investing in RateSetter is an easy process that is easy to complete within a few minutes.
Reasonable returns. RateSetter returns are not extraordinary. However, they are reasonable and above the market average.
Trustworthy. Based on the TrustPilot reviews, the company has a long track record of performance.
Multiple types of loans. RateSetter offers multiple types of loans like property finance, dealer finance, and family finance.
Good customer care. Reading the user comments in TrustPilot, one thing is clear. The customer care of the company is excellent.
Diversifying. RateSetter is a great company to diversify your income.
What are the Risks of Investing in RateSetter?
RateSetter is not a scam. However, the company, like other peer-to-peer lending companies has some risks. Here are the most important risks you should always remember:
Regulations. RateSetter is a company in an industry that is increasingly being regulated. This has led to some of them going out of business.
Security risks. All online companies have a risk of being targeted by malicious individuals.
Currency risks. There are risks that the sterling could become undervalued or overvalued or volatile.
Interest rates. Interest rates affect yields of loans. Loans offered by RateSetter are usually fixed loans. This means it is not possible to negotiate them if rates rise.
Inflation risks. There is a risk that inflation will increase. This will affect the risk of your invested capital.
Country. RateSetter offers its services to people just in the United Kingdom. This means that internationals cannot invest.
Countries RateSetter Operates
RateSetter operates in the United Kingdom. The company's CEO has said that the company will expand to other European countries.
RateSetter Contacts
Summary
RateSetter is a great UK company that has become a leading fintech pioneer in the country. The country has a good reputation with its users. As an investor seeking to diversify, we recommend that you set aside some of your money to a P2P platform like RateSetter. You should also diversify across other P2P companies like EstateGuru and Zopa. Other part of your funds should go to stocks, bonds, Bitcoin and in index funds.