Zopa is a UK-based peer-to-peer investing and banking company. Zopa is the oldest P2P company in the United Kingdom. Over the years, the company has managed to grow its investors and borrowers. This has seen it expand its services to the banking industry. In this review, we will look at how to invest in Zopa, the pros and cons of investing in Zopa, and tips for investing in the company.
Zopa Quick Review
Zopa is the oldest peer to peer lending company in the UK.
Zopa lenders have invested more than £4.5 billion to more than 470k borrowers.
Zopa has struggled in the past. This has seen its valuation slashed to about £354 million.
What is Zopa?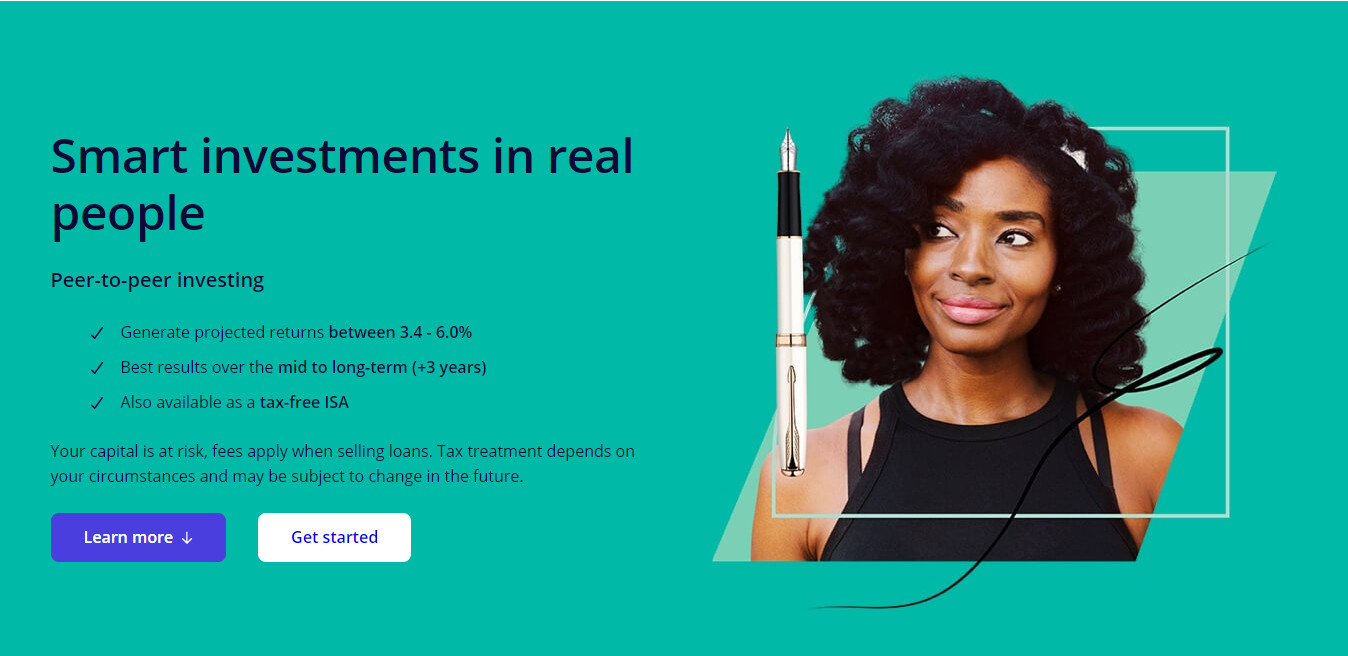 Zopa is the oldest peer-to-peer lending company. It was established in 2004 to help individuals lend money to other individuals and businesses. Like other P2P companies, Zopa uses technology to connect these two sides. As the company grew, it also introduced new Individual Savings Accounts (ISA). It is regulated by the Financial Conduct Authority (FCA).
Zopa's ISA accounts generate a return of between 3.0% and 6%. They are also tax free up to £20,000. Meanwhile, Zopa's peer-to-peer lending platform helps people lend to other people and other businesses. The annual returns are between 3% and 6% as well. The video below shows how Zopa works.

How to Invest in Zopa
As with other peer-to-peer lending companies, Zopa operates a website where individuals and companies can offer loans. As an investor, the process of investing in Zopa is relatively easy.
First, you need to check whether you qualify for the loans. Ideally, you should be over 18 years old and be a UK resident. You should also have an average annual income of at least £40k. If you meet these qualifications, you need to go to this sign up page and get started. We recommend that you read these terms and conditions before you create your account. You should then answer a few questions the company offers and complete your application. It is mandatory that you answer these questions correctly.
After you answer these questions, you need to answer about the type of investor you are. You can either be an inexperienced investor, experienced investor, or high net worth investor.
Second, you then deposit funds to your account. The amount must be in pounds. Next, the company will subdivide the funds and invest them in multiple loans. You will then receive interest every month. The following gives a summary of Zopa Core and Zopa Plus.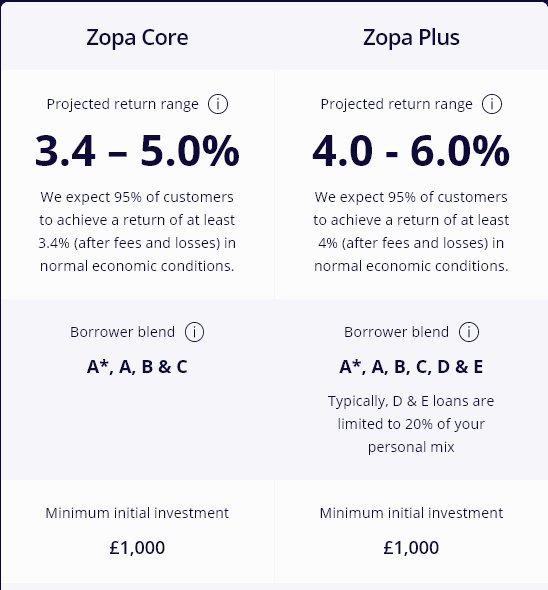 What are the Benefits of Investing in Zopa?
There are several benefits you get by investing in Zopa. These are:
Credibility. Zopa is the oldest P2P company in the world. It is backed by large companies. It is also an award-winning and FCA regulated company.
Higher returns. Zopa investments earn between 3% and 6% every year. This is above what European bonds earn.
Easy to use platform. Zopa has an easy to use platform that anyone can use.
Zopa is good for diversification. Having a diversified portfolio is an important thing for you. Zopa makes its easy for you to diversify your returns.
What are the Risks of Investing in Zopa?
In our other coverage of peer to peer companies, we have highlighted the risks involved in the industry. While Zopa has a long track record, it also has some risks. In fact, in recent years, we have seen some P2P companies go out of business. FundingSecure collapsed in 2019. The same was true with another UK P2P company, Landbay, which collapsed. Zopa also saw its valuation slashed by its backers. This means that you need to understand the risks involved in the industry.
Company risks. As mentioned above, there is always a risk that the company could run out of business. If it did, loan collection will be left to third parties.
Regulation risks. There are risks that the FCA and other could regulate the industry further. In fact, the FCA has recently added new regulations.
Defaults. These loans are not insured. This means that it is possible for you to lose money if borrowers defaulted.
Interest rate risks. There is a risk that interest rates will rise so fast and pass the returns you generate from Zopa.
Recession risk. There is a risk that the company will struggle if there is a recession.
Tips for Investing in Zola
Here are a few tips you need to remember when you are investing in Zola:
Invest a small portion of your portfolio in Zola.
Diversify across other peer-to-peer lenders like EstateGuru, Crowdestor and October..
Diversify across other asset classes.
Read the terms and conditions carefully
Countries You Can Invest in Zopa
Zopa is only available in the United Kingdom.
Summary
Zopa is an iconic name in the peer to peer industry. Zopa peer to peer loans to companies and individuals have a long history. As an investor, it is important that you diversify your income by investing in asset classes like stocks, bonds, Bitcoin and in index funds.