BlockFi is a crypto account which you can use to save money and earn interest and also borrow a loan using cryptocurrencies as collateral. The company was founded by Zac Prince and launched in August 2017. It is located in New York, but it still retains its address in New Jersey. BlockFi offers high interest rates and low cost on loans making it a suitable investment. To start investing, make sure that you have bought some digital assets. You then have a choice to let the assets earn an interest or give borrowers loans.
By October 2019, the annual interest rate for BlockFi Interest Account stood at 8.6% 2019. You can earn money whether your account balance is in Bitcoin, Ethereum or Gemini Dollar. BlockFi loans attract an annual interest rate of 4.5% and you can borrow for your business or any other need. Currently, it is the only account in the world that is providing crypto accounts with a compound interest.
Features of BlockFi
The following are the main features of BlockFi.
Interest for crypto assets. When you deposit crypto assets to your account, you start earning an annual interest of 8% compounded monthly. You can earn the interest whether you are using Bitcoin (BTC), Ethereum (ETH) or Gemini Dollars (GUSD).
Cheap loans. When you borrow money through BlockFi, you will repay the loan with an interest of 4.5%. When you lock your crypto assets into your account, you get a credit equivalent to 50% of the value of your crypto assets.
Fast loan application process. The process of applying for a loan with BlockFi is straightforward. BlockFi will then check if you meet their loan requirements and then respond in a few hours.
No taxation on crypto gains. The IRS defines cryptocurrency to be a property and for any gains, you have to pay a tax. When you sell your cryptocurrencies, then you have to pay capital gain tax. However, when you lock your cryptos with BlockFi, you do not have to pay the capital gain tax.
No credit checks. BlockFi does not consider credit scores to determine your loan eligibility. On the other hand, getting a loan from BlockFi will not have an impact on your credit score.
It can support different cryptocurrencies. BlockFi supports various crypto assets. Among them are Ethereum, Bitcoin and Gemini Dollar. You can deposit these cryptocurrencies or use them as collateral for the loan.
No minimum deposit. Initially, when BlockFi was launched, it had a minimum deposit of 0.5 BTC, 25 ETH, or 2,500 USD. However, since September 2019, the minimum deposit amount was scrapped.
No penalties for early withdrawals. With BlockFi Interest Account (BIA), you get one free withdrawal every month. Even when you withdraw cash early, you will not be charged.
Flexible repayment terms. The repayment terms of BlockFi are very flexible and are user-friendly. Once you receive US dollars into your account, you should pay the interest due to the loan every month. You can either use Bitcoin or Ethereum.
Loan calculator. BlockFi has a loan calculator that you can use to determine the value of the collateral that you need to obtain a loan.
Savings accounts are available worldwide. BlockFi savings accounts are available to people aged 18 years and above worldwide. However, the accounts are not available to people within the EU or states of New York, Connecticut, and Washington. Also, they are not available in countries sanctioned by the United States.
Pay interest first. When you borrow a BlockFi loan, the company requires you to pay the interest first and the make then pay the principal amount at the end.
You can borrow money for anything. As long as you have collateral, you can borrow money for whatever purpose. You can then get a loan of up to 50% of the value of your crypto assets.
How BlockFi Works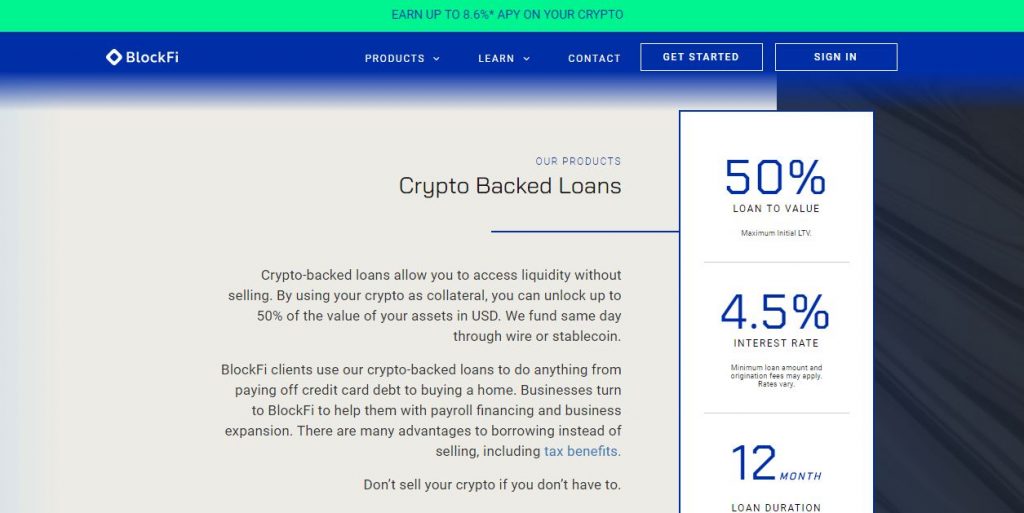 BlockFi offers two products, interest accounts and crypto-backed loans. BlockFi gives credit to people willing to lock their cryptos. One qualifies for a loan equivalent to 50% of the value of crypto assets they hold. For example, if you lock 1 Bitcoin at the market price of $8,000 for every Bitcoin, then the maximum loan you can get is $4000.
The interest rate of a loan is 4.5%, with a duration of up to 12 months. However, you can refinance the loan when it reaches its maturity date. Once you have borrowed the loan, you can do anything with the money. There are several benefits one can enjoy from borrowing cryptos instead of selling them.
BlockFi is among the secure non-bank lending platforms offering loans in the US. You only need to back up your loan using crypto assets. Its services are available in 35 US states. Gemini is a licensed cryptocurrency exchange located in New York that is used to hold funds.
Getting a GUSD Loan With BlockFi
The process of getting a loan is easy and straightforward if you meet these requirements.
Have at least $15,000 in cryptos
Don't be bankrupt
No liens on assets
If you meet these requirements, proceed to the next step. Here are the steps.
Create an account with BlockFi. Make sure to fill in all your details correctly.
Once you have an account, click on the Loan tab. Then click Apply and fill in the KYC/AML verification. Fill in your details correctly.
Review the information you just entered and then sign the agreement.
Lock your collateral to BlockFi's wallet.
Wait as BlockFi verifies your request .
Once you have passed the verification process, you will receive the loan in the form of the US dollar. The money will be deposited directly into your bank account through wire transfer.
Then start paying interest every month either in USD, ETH, LTC or BTC.
At the end of the repayment term, pay the principal amount. Alternatively, you can choose to refinance the loan.
What Happens if You Don't Repay the Loan?
If you default to repay the loan, BlockFi gets full possession of cryptos equivalent to the loan that you used as collateral. BlockFi requires the borrower to lock up two times the value of the loan you are borrowing as collateral.
What you Need to Be Careful About
Getting a loan with BlockFi is easy and it can be the only option you have in times of financial need. However, watch out for the following.
Low LTV ratio. You can only borrow a loan of up to 50% of the value of your cryptos.
It is risky. The value of cryptocurrencies is not always guaranteed and they can drop at any time. In this happens, if you can repay the loan immediately, it would be better. However, you can back up the loan using other assets.
Not available in all countries. In the US, it is not available in some states and the European Union countries.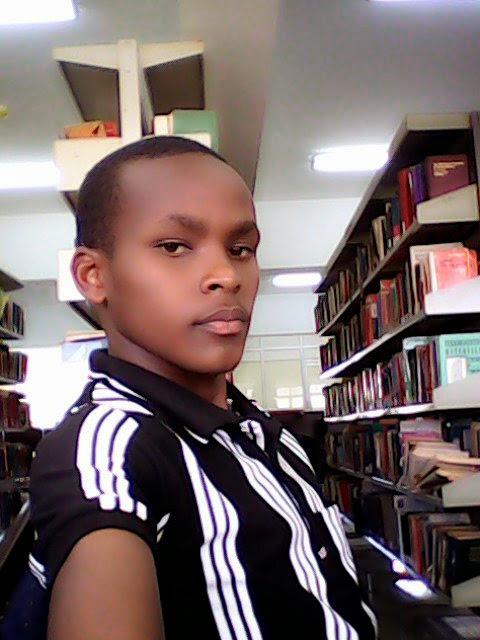 Vincent is a writer with an interest in finance, business, technology and health niche. He holds a Bachelors degree in Applied Statistics with computing. Read more about Vincent and see our complete editorial team at FiFi.