One of the fastest growing companies in the p2p lending industry is Mintos Marketplace. This is a so-called meta-marketplace that serves different countries and continents all together. Therefore with Mintos it is easy to diversify across geographies and over various different loan offers.
Mintos launched its Invest and Access tool, which makes it extremely easy to invest in a diversified set of loans with an expected yield of over 10%. The great part is that you can withdraw most of your funds at any moment.
Signup bonus
Use this link to sign up with Mintos and get a 1% bonus on all your investments of the first 3 months.
What is Mintos?
Mintos Marketplace AS is a Latvian company established in 2015. Since then, the company has seen exponential growth. It had more than 100,000 customers from around the world, more than 70 loan originators, and in 2018 alone, investments in the marketplace reached more than 1 billion euro. This was up from 332 million euro the year before. Since inception, the company has given out loans worth more than EUR 1.5 billion. In 2018, the company had revenues of 4.6 billion euro, which was more than double from the previous year's 2.1 billion euro. As a lean company, it is already profitable and in 2018, it had even made a small profit, which is extraordinary given its focus on growth.
Mintos How It Works
How does mintos work? As the other popular peer to peer lending marketplaces, Mintos works in a very simple way. The company has summarized it using the chart below.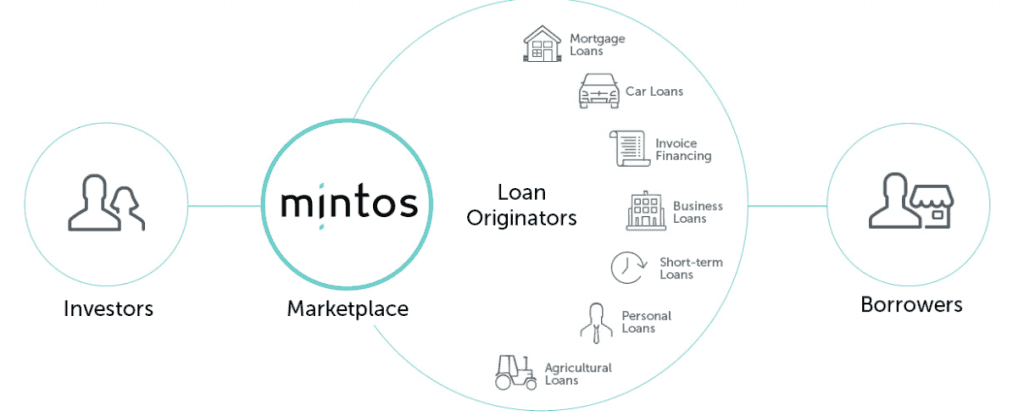 In short, an investor deposits money in the Mintos marketplace. A borrower then borrows the funds and the loan originator evaluates the application, sets the interest rates, and then lends the money from its own funds. Then, the loans are listed in the Mintos marketplace where the investors can invest in them. In this, there are two markets in which you can invest in. There is the primary market and the secondary market, where you can get all the loans to invest in.
For Investors
To become an investor in Mintos, all you need to do is to sign up, read the terms and conditions, and select the loans you want to invest in. To invest, you need to have a bank account in the European Union. If you have no such account, you need to be from a third country that has AML/CFT systems equivalent, you can for example sign up for free with Transferwise Borderless and deposit money (also for free from most countries). The minimum amount you can invest in the loans is EUR 10, DKK 80, GEL 25, PLN 50, GBP 10, SEK 100, RON 50, RUB 700 or CZK 300.
As an investor, there are no fees to deposit and withdraw the funds. Instead, the company makes money by taking a small cut from the payments made by the investors. The Auto Invest feature is an automated tool in which the company's algorithms will do the investments for you.
Mintos Invest and Access
The Invest & Access approach allows you to invest in a diversified number of loans similar to that of Lending Club. You set a goal amount and all the money that you send to Mintos is automatically spreaded of over a wide range of loans, from over 30 loan originators in over 20 countries, with various loan periods.
When you want to liquidate your investments you can take out all the current loans at any moment, without a fee. This means that they are sold on the second market for the current principal. This generally takes less than a minute because of the liquidity on the second market loans at Mintos.
You can expect at least 50% of your loans to be current, but more likely over 70%. The remaining loans will either become liquid after 60 days at the latest, thanks to the buy back guarantee.
The table below shows some of the features of these investment types.

How Safe is Mintos?
As with all types of investments, there are risks involved. When you invest in a loan, there is a possibility that the borrower will not pay. Even in the case of a highly-rated borrower, there is always a possibility that they might die. Therefore, you should always understand these risks before you invest. However, Mintos has done a good job to reduce the risks of major losses.
First, all the loans are issued according to the rules set out by the originators. These originators are thoroughly vetted before coming to the company. They also have skin in the game: Mintos requires that a small part of each loan that is given out is on the books of the originating company.
Second, for some types of loans, the borrower must give some collateral. Some of these loans are mortgage and auto loans. The collateral is usually taken if the borrower defaults.
Third, for other loans such as business loans, there are guarantees that are obtained.
Mintos buy back guarantee
Finally, the loan originator provides a buyback guarantee. This guarantee means that if the loan is delayed by more than 60 days, the loan originator will repurchase the investment of the principal. The chart below shows the Trustpilot page for Mintos.
We actually recommend to only invest in buyback loans. With Mintos this means that the loan originator buys back the loan if the loan is delayed for more than 60 days. By only getting into buyback loans you have a fairly good guarantee that you get your money back.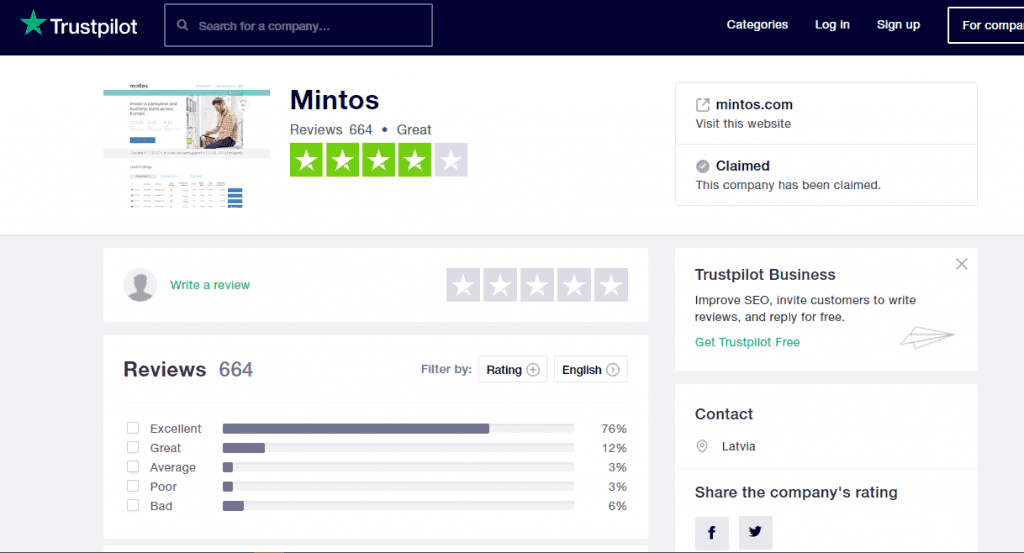 Mintos default rate
We're actually not sure what the default rate of Mintos loans is. By only getting into buyback loans you don't need to worry that much about default rates.
Should You Invest in Mintos?
If you're up for the (platform) risk Mintos can be a great way to diversify your portfolio or to create a fixed income asset. Thanks to Invest and Access your funds remain relatively liquid. Note that we generally advice not to put more than 10% into peer to peer investing.
Mintos Cons
A loan originator can go bust. In this case you remain the owner of your part of the loans that go through this originator, but it's much harder to collect the loan payments. And you can forget about the buyback guarantee.
Mintos platform risk, if Mintos goes bust you're still the owner of your shares of the loans but it's gonna be very hard to get your money back.
The risk of a global meltdown. Difficulties around the global financial system can increase the risk of loans defaulting and loan originators going bust. For this we advice a hedging 1% to 5% in Bitcoin.
Mintos Pros
Unlike many other P2P platforms Mintos has proper two-factor authentication (i.e. not through a mobile phone number).
High yield.
Invest and Access makes investing a snap.
Highly diverified loan offering.
Mintos will provide IBANs and debit cards
Late 2018 Mintos raised 5 million in a Series A round to provide users with personal IBAN accounts and debit cards. No launch date has been provided, but we expect this can't be long. With this offering Mintos will become much more like a bank. How cool would it be to get 10% interest on your current account!
Signup bonus
Use this link to sign up with Mintos and get a 1% bonus on all your investments of the first 3 months.
High growth
The financial industry is evolving at an excellent pace. Think about this:
Ten years ago, there was nothing like Bitcoin. Today, the cryptocurrencies industry is worth more than $300 billion.
Ten years ago, the peer-to-peer lending industry was at its infancy. Today, millions of people are active in the industry as investors or borrowers. One of the fastest growing company in the p2p lending industry is Mintos Marketplace
More about p2p investing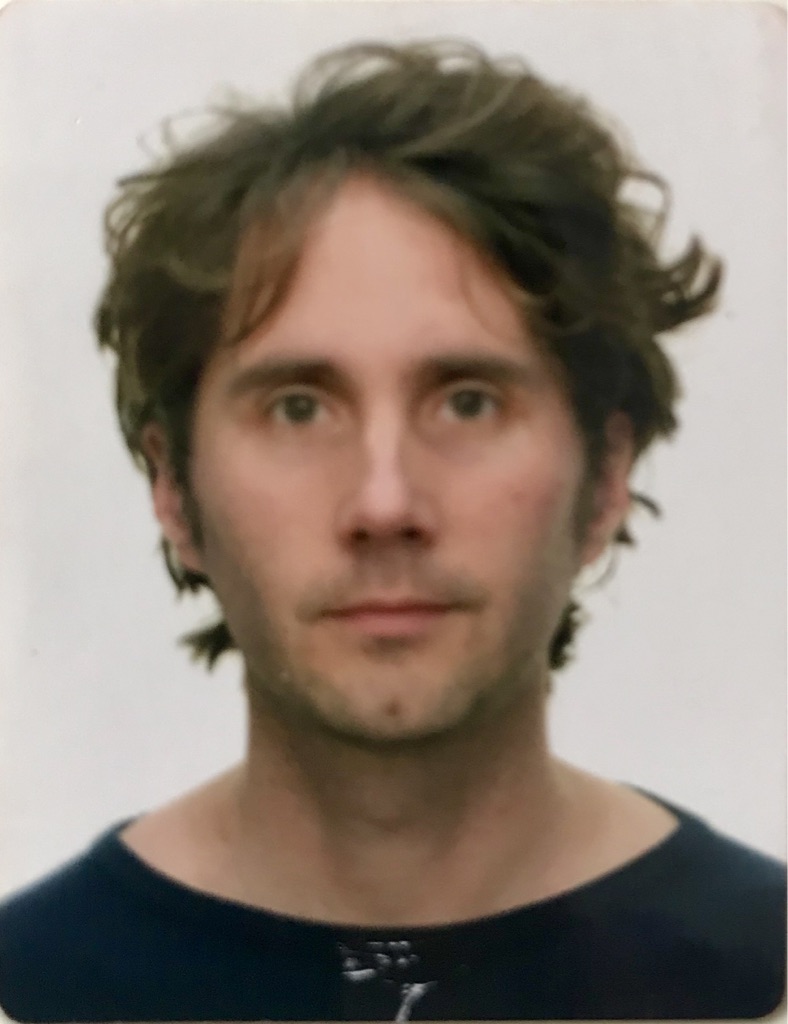 Kasper is our expert for saving, investing and bank accounts. Kasper holds an MSc in Mathematics and worked with Mercedes-Benz and the Dutch tax authorities. Read more about Kasper and the whole editorial team at FiFi and our editorial guidelines.