Real estate is one of the most vibrant industries in the world because of the increasing need for residential, industrial, and commercial housing. In the major cities in the US, real estate values have been growing since the 2008/9 financial crisis. This growth has been mostly felt in large cities like New York, Boston, and Massachusetts. In fact, this year, billionaire Ken Griffin broke records when he paid $240 million for a New York apartment. Another appealing thing about real estate is that not many people can join in because of the high cost of building. This article explains how peer to peer lending for real estate can help you become a real estate investor.
How Real Estate Investing Works
Real estate is a wide industry. To participate in it, there are many options available to you. Generally, the process starts where you buy a piece of land, take the necessary papers, and then build. In the US, you have to build in line with the zoning guidelines. As such, you can build residential buildings, which include apartments, townhouses, condominiums, single family homes, and multi-family homes. You can also build commercial real estate such as offices, retail, and other industrial buildings. Finally, you can build mixed-use projects. To invest in real estate, you can also buy already built projects, improve, and then sell them. Instead of selling, you can lease them too.
Advantages of Investing in Real Estate
There are a number of reasons why you might want to invest in real estate. Some of the main benefits of investing in the real estate sector are:
Guaranteed returns as the demand continues to increase.
Steady passive income, especially when you lease them out.
It is a hedge against inflation.
It provides essential cash flow for retirement.
A good way to diversify your income.
Tax benefits by using depreciation.
How to Invest in Real Estate
You can invest in real estate in a number of ways. First, you can use your savings to build and lease out projects. You can also use these savings to flip your houses. Second, you can take a loan to build or buy the real estate. Third, you can invest in real estate companies such as Real Estate Investment Trusts (REITs). Finally, you can invest use the peer to peer lending platforms to invest in real estate.
Peer to Peer Lending For Real Estate
This is a relatively new process which can help you invest in the real estate industry. To do this, you first need to be an accredited investor and then create an account at one of the popular platforms in the market. After this, you will deposit your funds and then select the projects that meet your liking. You will then invest in them and receive annual returns. You can also invest in real estate backed loans. The benefit of this is that you won't need a lot of money to get started. Some of the most popular method of online peer to peer lending for real estate are:

Sharestates is an online company that was started in 2014. Since then, the company has raised more than $30 million from venture capitalists. The company provides a marketplace in which accredited investors can find a large pool of institutional quality mortgage loans. As a result, individual investors can easily participate in the financing of these deals in collaboration with other large institutional investors. Alternatively, investors can use the automated strategy, where the company's algorithms will select the investments. The chart below compares the returns in multiple asset classes.

For borrowers, the company offers loans for them to complete their projects. In this, the company offers loans like bridge loans, mid term loans, rental loans, and jumbo loans with interest rates starting at 4.99% to 8.5%. The company provides loans of between $100k and $10 million.
Benefits of Sharestates
The company enables people to start investing in real estate.
Better returns compared to the overall market.
It is a simple process of investing in real estate.
It is a safe investment method.
PeerStreet

PeerStreet is a platform similar to Sharestates. The company was formed in 2013 and has so far raised more than $50 million from the likes of Andreseen Horowitz. The company enables people to invest to invest in real estate backed loans. To do this, all you need to do is to get accredited, deposit your funds to PeerStreet, and then select the loans you want to invest in. Alternatively, you can use the automated method of investing. To ensure that the loans you are investing in are safe, the company uses complex data science tools to underwrite each loan offered on its platform. In addition, the company vets the originators and the private lenders who participate in the marketplace. With the company, you can expect returns of between 6-9%.
Benefits of PeerStreet
A quality company with credible backers.
A simple method of investing in real estate.
High annual yields.
A safe method to invest in real estate.
You can start with as little as $1000.
RealtyMogul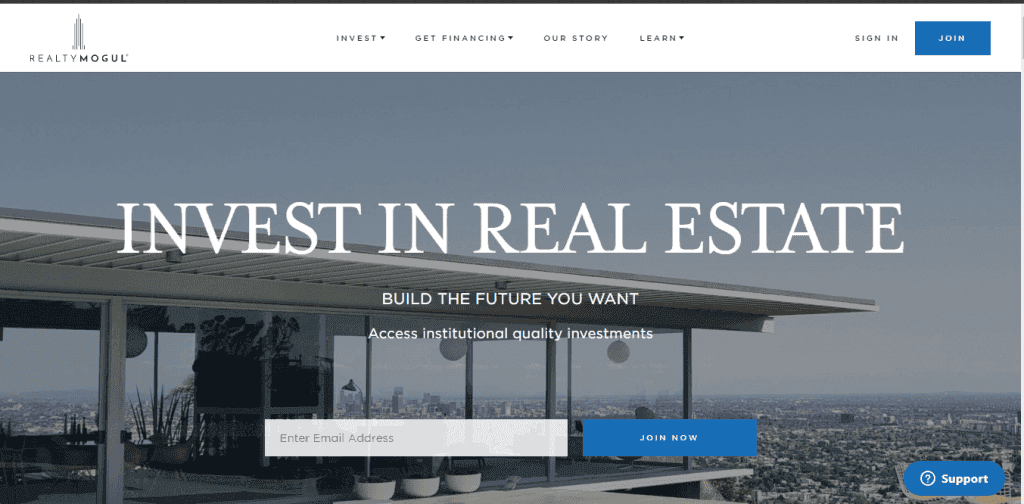 Unlike PeerStreet and Sharestates, RealtyMogul is not necessarily a peer to peer lending marketplace. Instead, it is a crowdsourcing platform that allows people to pool resources together and invest in real estate projects. The company works in a very simple process. You sign up and submit all the needed documents, select your investments, invest in the projects you like, and then track your investments. In the past few years, the company has invested in properties worth more than $2 billion and paid its investors more than $120 million. It has more than 180k members.
Fundrise


Fundrise is another real estate crowdfunding platform like RealtyMogul. It was established in 2010 and has so far raised more than $55.5 million. The company allows US investors to invest in the real estate sector through a platform called an eREIT. eREIT is a short form for electronic Real Estate Investment Trust. In short, an eREIT is a professionally managed, diversified portfolio of commercial real estate assets like apartments and hotels. They are similar to Exchange Traded Funds but they only focus on real estate assets. It also offers a product known as eFund, which is a professionally managed, diversified portfolio of residential real estate like single-family homes and condominiums. By investing with Fundrise, you will earn money through the interest payments, appreciation, and the property income. With the company, you can invest with the three goals below.


Final Thoughts
Real estate is one of the most exciting industries you can invest today. With technology, you don't need to do the building of the real estate projects. As described in this article, you can participate in the industry by lending the builders or by participating in the construction using the crowdfunding approach. While it is a relatively safe industry, you should only use it to diversify your income. We recommend that your primary investments be in the stock market.