Founded by Sven Hecker and Christian Hemmrich, Clevver is a German company that offers virtual offices worldwide that are ideal for freelancers and digital nomads, startups, small enterprises and private individuals. The service is very useful for people who don't have a fixed address or need an address in another country (e.g. if you want a .de domain name you need to have an address in Germany).
From Toronto to Tokyo, from Paris to Perth, with the virtual office solutions from Clevver, the world is at your fingertips.
Clevver Sign Up
You first need to register for Clevver account. You can use sign up via your browser or using Clevver app, Android and iOS. To sign up, no Clevver set up fees are needed. The company uses it own tool to verify your identity according to your local laws. You can sign up on Clevver website or using your Facebook or Google account.
Benefits of Clevver Virtual Office
Some of the benefits from registering with Clevver include:
Clevver gives you the ability to easily start your business in different parts of the world.
The service is completely digital.
Option to internationalise your business operations, acquire new markets and customers at an affordable cost.
Additional privacy for receiving letters at an address which is not at your home.
Useful for domain name restrictions, for some countries, like Germany, you need to have a business address in the country to register and maintain domains with the accompanying country top level domain (.de in Germany's case).
Clevver Solutions
ClevverMail
ClevverMail is a digital mailboxes in 80 locations worldwide. This is a virtual postbox for all your real postal mail. When mail arrives, it is accepted and registered by the ClevverMail team. Users immediately receive a notification and then by logging into their accounts via browser or app, can digitally decide whether to scan their mail into a searchable PDF, upload it to their private Dropbox, have it forwarded to any address in the world or have it securely shredded.
ClevverNumber
With ClevverNumber, you are able to have local and toll-free numbers nternational phone numbers in 80 countries. After you sign up, you can have as many phone numbers as you wish in your account, anywhere in the world. Calls to your international phone numbers can be forwarded to any destination worldwide at the cost of a local call.
ClevverAddress
ClevverAddress service gives you official addresses to register your company to and meet local legal requirements as well as receiving official correspondence. If you get an address for your company, it is registered in your own name as well and you can thus use the address for receiving personal letters as well.
If you are not planning on receiving a lot of letters it's best to go for the cheapest option and pay additional fees for letters that you want Clevver to scan for you or forward to you physically.
Clevver can also forward parcels but this service has been getting mixed reviews. Best to first try it out with some unimportant stuff if you are planning to use it for important packages.
ClevverCompany
ClevverCompany allows you to register a company in 20 countries. Experienced lawyers will help you set up your company in just a few days.
It's good to do your research before going over to setting up a company in a jurisdiction you are not familiar with. The cost of setting up a company can be minor compared to the recurring bookkeeping costs, even if you are not actually using the company. Additionally you have to be aware of CFC (Companies under Foreign Control) regulations in your country or countries of residence.
Comparison of Clevver Solutions
Solution
Features
Cost
Clevver Mail
» New business real street address in 60 locations.» You tell them to scan, forward or securely shred your mail
From €5,45 per month
Clevver Number
» Toll-free and local telephone numbers for calls and txts in 80 countries, with intelligent call routing
It depends on the country and phone number type
Digital Company Incorporation
» Company incorporation process according to local legal requirements.
» Own an international operating digital company
From €129,00
Business and Registered Address
» Portray professional image with address at a prestigious location, meet local legal requirements.
» Your first step to business incorporation abroad
From €19,95
Clevver Accepted Payments
To pay for Clevver services, you can use credit cards (Visa, MasterCard, American Express), PayPal or a bank transfer.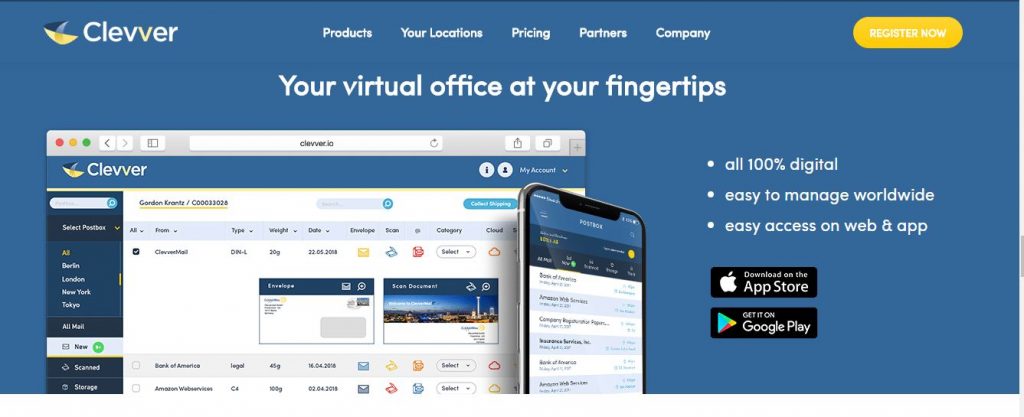 Clevver Supported Countries
Clevver Virtual Offices are available in North America, Western Europe, Middle East, Eastern Europe, South East Asia, South Asia, Central America, South Ameerica and Africa. You can see the specific locations in these regions here.
Clevver Suported Languages
Currently, Clevver only offers support in English, Spanish, French and German from Monday to Friday, 9am – 6pm, Central European Time.
Conclusion
Having a virtual office allows you to focus on your core business while Clevver takes care of the rest. Ultimately, you will able to cut overhead costs and increase productivity. In a situation like the one the world is facing today with coronavirus, even when a city or country has a lockdown, you will still be able to operate normally with Clevver.
More Information