Investment is not only for the wealthy. It is possible to invest as a low income earner in South Africa. In fact, investment has never been limited to high income earners as we will show you in this article about low cost investments in South Africa.
Investment for low income earners
You can choose investments that pay monthly income in South Africa such as Absa Flexible Income Fund.
You can invest in ommon investment options such as Old Mutual investment with as low as R250.
It is advisable not to choose an investment option you know very little about. If possible, seek advice from a fund manager. However, there are consulting costs involved.
Low Cost Investments in South Africa
Unit Trust in South Africa
Unit Trust is a form of collective investment under a trust deed. A unit trust pools money from many investors into a single fund, which is managed by a fund manager. Unit trusts does the hard work for you by investing your money in a various assets such as bonds, shares and property.
There are around over 1,500 locally managed Unit Trust in South Africa such as Old Mutual, Allan Gray and those managed by South African commercial banks.
Stokvel
Stokvels are invitation-only clubs of twelve or more people serving as rotating credit unions or saving schemes in South Africa where members contribute fixed sums of money to a central fund on a weekly, fortnightly or monthly basis. In the past, they were informal savings agreements, but South African banks are now offering Stokvels account and stokvel products such as property stokvels. Stokvel investment usually gives good returns on savings and interest rates.
The Nedbank Stokvel Account comes with many perks for the members of the stokvel such as discount on groceries and paying zero monthly maintenance fees on a Pay-as-you-use Account.
Property
In most cases, property investment is lessy risky. As a low income earner, you can try to invest ina real estate investment trust (REIT). For instance, Equity REITs allow investors to pool their money to fund the purchase, develop and manage real estate properties. With as little as €50, you may invest in international peer to peer property investment platforms such as Bulkestate and Crowdestate.
Bitcoin in South Africa / Cryptocurrency in South Africa
The value of Bitcoin has gone up by more than 2000% in the past five years. This is a much better performance than what stocks and gold have returned. These are our top 7 reasons to invest in Bitcoin.
While we believe that Bitcoin is an excellent asset, you should be warned that it is also a highly volatile product. Therefore, we recommend that you have a long-term view when you are investing in it.
Buy Shares in South Africa
A share is an indivisible unit of capital, expressing the ownership relationship between the company and the shareholder. It entitles the shareholder to an equal claim to the company's profits. According to the type of share you have opted for, you may have a right to vote at the company's annual general meetings and other official meeting.
You don't need to be an high income earner to invest in shares in South Africa since you are not buying the company but a share in the company. If you have access to the internet, you can invest in some of these online trading platforms in South Africa.
Fixed Deposit in South Africa
A fixed deposit is a financial instrument provided by banks, which provides investors a higher rate of interest than a regular savings account at the maturity date.
You can put your money in a fixed deposit account for a specified period of time and gain interest on it. For example, Capitec offers 4.85 % for deposits starting from as little as R1, Standard Bank offers 5.90% for a minimum deposit of R250 while African Bank offers interest of 8.67% for a 12-month fixed deposit with a minimum deposit of R500. There is usually a penalty for withdrawing your funds before the specified period. You may also be required to give 24 hours' notice or 7 days' notice before early withdrawal depending on the bank's policy.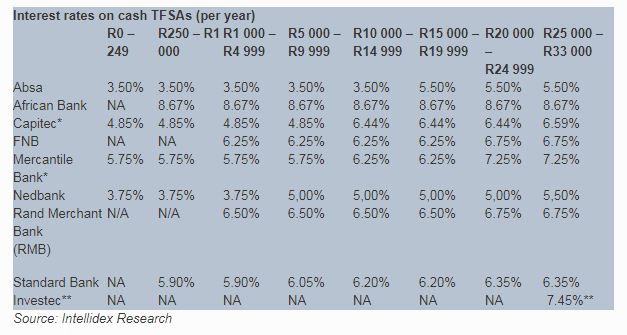 Old Mutual is one of the leading investment and savings group in South Africa. With Old Mutual, you can invest as low as R250. You can see some of options in the Old Mutual Investment plan table below:
Retail Savings Bonds in South Africa
An RSA Retail Savings Bond is an investment with the Government of South Africa which earns fixed or inflation linked interest for the term of the investment. The minimum amount that can be invested is SA retail savings bonds is R1 000.00 and the investment may not exceed R5 million. You have two options:
Fixed Rate Retail Savings Bond. Consists of bonds with 2-year, 3-year and 5-year terms. Fixed Rate Retail Savings Bonds earn a market-related fixed interest rate payable on the interest payment dates until maturity. Different interest rates apply to each of the maturities in the series.
Inflation Linked Retail Savings Bond. Consists of bonds with either a 3-year, 5-year or 10-year maturity. Capital amounts invested in Inflation Linked Retail Savings Bonds are inflation adjusted over the term, and a floating interest rate is payable every 6 months on the interest payment dates.
Final Thoughts on Low Cost Investments in South Africa
With a clear financial goal in mind, you can invest in any of these options as a low income earner in South Africa and improve your standard of living.