Rent-to-Own Campers or RV are a practical option for people looking to buy a RV or camper but who can't get the financing. For example, because of bad credit. Rent-to-Own is an agreement that allows you to rent a camper or recreational vehicle (RV) with the option to purchase it at the end of the rental period. We have a selection of Rent to Own RV Dealers that we'll discuss in more detail below. You can also refer to a map to explore additional Rent to Own RV options near your location.
There may be different reasons why you want to rent an RV instead of buying one outright. Renting an RV before purchasing one can be a great idea for a novice. It gives you some experience of RVing and helps you decide whether buying one is a good idea. Rent-to-own is especially a viable option if you have a bad credit score and are looking into getting an RV. So, even if you have poor credit scores, you can still rent to own an RV ranging from a fifth wheel, motor home, camper, toy hauler to travel trailer.
What to Look for in a Rent-to-Own RV Lease?
Rent-to-Own offers several benefits to renters, including the ability to try before buying, build equity, and avoid a large down payment. If you decide to go the rent to own RV way, then there are some things you need to look out for in the lease agreement. Rent-to-Own is a flexible option for those who are not yet ready or able to purchase a camper or RV outright, but it also comes with certain risks, such as higher costs and no guarantee of ownership. It is important to carefully consider the terms of the agreement and weigh the benefits and risks before entering into a Rent-to-Own agreement.
The main points to take into consideration include:
The length of the leasing period
Sale price of the RV
The monthly payments and how much down payment
The percentage that goes towards the rent and into buying the RV. Are flexible payments options available?
Who is responsible for maintenance and repairs?
Who will insure the RV?
What will happen if you default on a rental payment?
Rent to Own RV Dealers
If you are looking to rent to own an RV, there are some RV dealers that are tailored to help you get an RV even with bad credit. They include:
Camparama
Camparama is an RV dealer that can help you rent to own an RV with bad credit. So, even if you have bad credit, they will provide you with monthly payments for your camper until when you can own one. You can make your payments by phone, mail, or online, or they can bill you through your financial institution.
They have easy payoff options and they do not do credit checks. You just need to make a 20% down payment, first-month rent, and then pay for document and registration fees. It will take you about 3 or 4 years to own the RV while there is no interest charged.
Campers & More
Campers & More is a rent to own dealer that offers tow-behind and 5th-wheel campers. They don't have any credit check requirements. The money you put over and above your monthly payment goes towards the rental or purchase of a camper. However, you must meet the minimum income requirements to qualify for rent to own. You can reduce your rental payments if you can pay off your RV earlier.
Cruise America
Cruise America is a company that specializes in rent to own campers. They offer Class C motorhomes with a maximum capacity of 7. However, their motorhomes are available in different capacities like 3, 4, 5, and 5. They come with features such as air conditioning, shower, microwave, freshwater, toilet, gas cooktop, pet friendly, generator, and towing is allowed.
El Monte RV
El Monte RV is America's premier RV rental and sales company. They are located nationwide within the US. Some of the RVs they rent include Class C RVs and Class A RVs. They offer multi-point inspection after every rental, regular servicing, professional cleaning, one-way rental options, and short-term and long-term temporary housing solutions.
Road Bear RV
Road Bear RV is a motorhome renting company that deals with Class A, Class B, and Class C RVs. They are available in Dallas, Denver, Los Angeles, Las Vegas, New York, Orlando, San Francisco, and Seattle. They also have newer models of motorhomes to ensure that you get a good ride on your next trip. Their RVs offer amenities like panoramic views, plenty of storage space, and luxuries for a fully self-contained holiday.
It is important to carefully review the terms of the rent-to-own agreement before signing to understand the conditions under which the purchase option may be exercised. For example, in some contracts, there is no guarantee of ownership in a rent-to-own RV agreement. In such a contract, it is up to the owner of the RV to decide whether to sell the RV to the renter at the end of the rental period. This decision may be influenced by factors such as the renter's payment history, changes in the market value of the RV, or the owner's personal circumstances. If the owner decides not to sell the RV, the renter will not have the option to purchase it and may have to find another RV to rent or purchase.
Rent to Own RV near me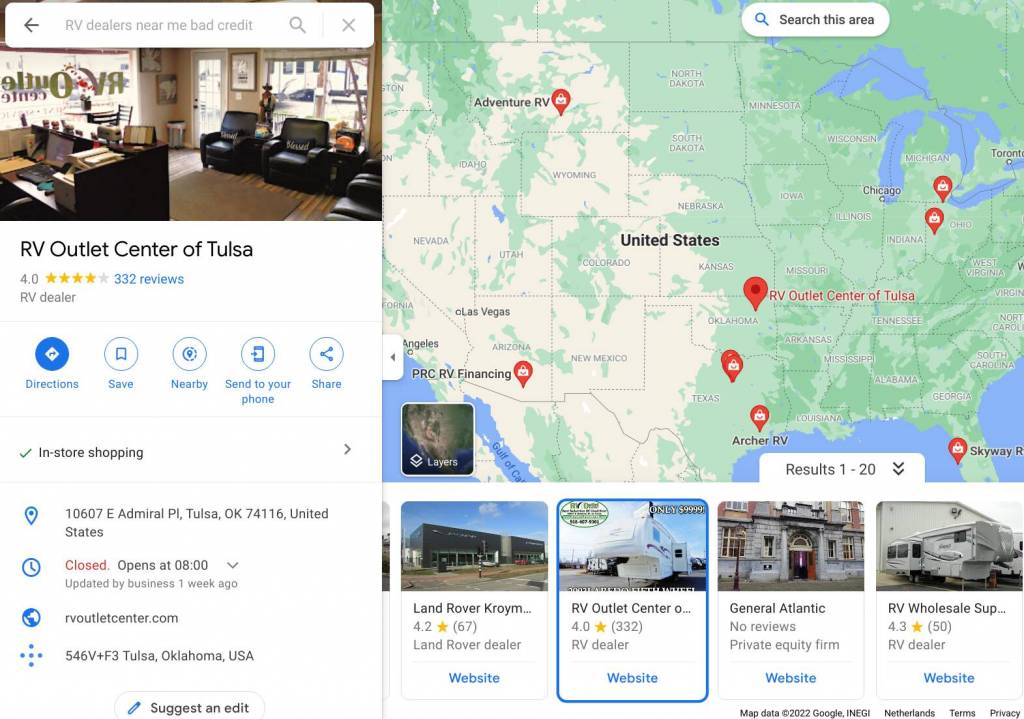 Cost of Owing a Camper
If you are thinking of owning a camper, there are several things you need to put into consideration. Think about whether you want a new or an old camper, how you are going to finance it, how much down payment you need to make and the kind of insurance to purchase. Besides, if you are planning to live in the camper, you also have to consider storage requirements.
On average, these are the travel expenses you can expect for your motor home. It is worth noting that these are just estimates.
| Expense | Cost |
| --- | --- |
| Gas | $1,300 per year |
| Maintenance | $100 per month |
| Utilities | $100 – $300 per month |
| Campsite fees | $20 – $100 per night |
| Storage | $30 – $400 per month |
Benefits of Renting to Own an RV
There are benefits of renting to own an RV compared to buying one outright. They include:
You don't need to put down as much of a down payment. In some cases, you don't need to put down any.
Renting to own is a practical option, especially if you have poor credit scores. It is because many banks treat RVs as luxuries and as such, you need to have good credit scores.
They are financed by the dealership and owner directly, and this can help you avoid financing through a bank.
It can be a viable option since you can negotiate terms with the owner or dealer.
Should You Own or Rent a Camper?
You might be wondering whether to own or rent a camper. The decision will depend on how you are planning to use it and your amount of personal finances. If you want an RV for short trips and weekends, then it would be best to rent one. If you are looking to live in a camper, the cost of renting one can be very high. As such, you should consider buying one.
When you would like to buy an RV and you have a good credit score, it's often cheaper to get financing for it. See our list of Top RV Lenders for more information.
RV rent to own FAQs
Can you rent to own an rv?
Yes, it is possible to rent to own an RV. Rent-to-own programs allow you to rent an RV for a specified period with the option to eventually own it. These programs typically involve making monthly rental payments, some of which may go towards the purchase price of the RV.
Can you lease an RV?
Yes, you can lease an RV. It involves entering into a contract with a lessor and making monthly lease payments for a specified period of time. Leasing offers temporary or flexible ownership without the commitment of purchasing.
Can you rent to own RVs with bad credit?
Renting to own an RV with bad credit can be difficult, as most programs require a credit check. However, you can explore specialized options or consider renting from RV dealerships that offer no credit check options, such as Camparama, Campers & More, and Cruise America. Improving your credit score over time can also increase your chances of qualifying for such arrangements.
Can I find rent to own RV with no credit check and no down payment?
It's possible to find a rent-to-own program with no credit check and no down payment. You may explore alternative options such as negotiating with private sellers or individuals who are open to flexible payment arrangements.