Starling Bank is a digital mobile-only challenger bank. It is based in the United Kingdom. It was founded by former Allied Irish Banks COO, Anne Boden, in January 2014. Starling bank operates current accounts and business banking. It aims to simplify how people manage their finances using modern technology to bring banking into the present.

Where is Starling Bank Based? Where is Starling Bank Head Office?
The bank has its head offices in London, United Kingdom, but the team also works across offices in Cardiff, Dublin, and Southampton. Starling doesn't have bank branches. However, you can use the Post Office to deposit and withdraw cash.
Does Starling Bank Serve Specific Customers?
Bank accounts are only available to people whose current address is in the UK. Your nationality doesn't matter as long as you live in the UK. You should also be 16 years old and older.
Customer Support
Starling bank functions as a regular current account, the only difference being that you won't have to visit a branch physically or rely on internet banking. Customer support is very efficient. If you need any help, the support team is available 24/7 for a live chat. You can access the team via the app on Google Play or App Store or through the official Starling Bank website. You can also contact the bank by emailing them at help@starlingbank.com or call them directly on 0800 0234617. If you are calling from abroad, call through +44(0) 207 930 4450
Does The Bank Have its own Banking License?
Yes. Starling Bank received its banking license from the Prudential Regulation Authority and the Financial Conduct Authority in July 2016.
Does The Bank Have An App?
Starling bank has built and released mobile apps for both Android and iOS phones. When you visit the website, it directs you to download the mobile app. Starling was the first UK bank to have in-app provisioning for Apple Pay. The mobile apps have the following features:
They send instant notifications of transactions
Freezing and unfreezing customer's cards to prevent unauthorized transactions
They feature an in-app chat with customer service representatives
The mobile app categorizes transactions for later analysis
Starling Bank Supported Languages
Starling is full of people from different continents, countries, and counties. There are over 50 spoken languages among employees. However, being based in the UK, the bank supports English as the official language of communication.
Does Starling Bank Offer Business Bank Account?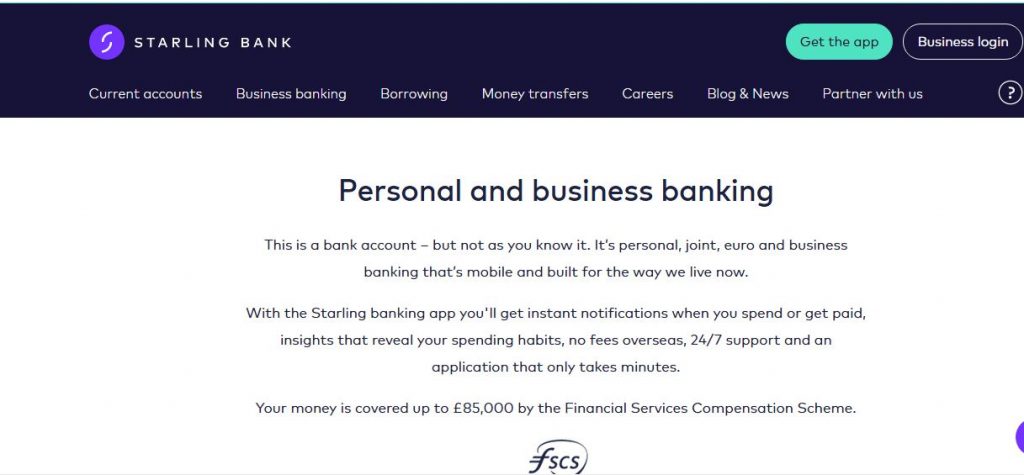 It does. Starling bank accounts are great for small businesses, freelancers and sole traders. To open a business bank account, you will need to be self-employed or own a limited company. No fees are charged for a business account. For a joint bank account, both of you need to have Starling personal current accounts and be physically near the person you want to open the account with.
Apart from business bank accounts, Starling bank also offers personal accounts and euro accounts for holidays. A Starling personal account provides you with a contactless MasterCard debit card. It offers an interest rate of 0.5% AER on balances up to £2,000. Euro accounts function as holding accounts that allow you to use your existing debit card as a travel card.
How Does Starling Bank Work?
The Starling mobile app mainly focuses on the necessities. You can access features such as;
Add money. There is no limit to how much you can pay in for customers who joined after August 2018. You can use "Faster Payments" and online banking to add as much as you like.
Payments. Just like with any payment system, the app has a feature where you transfer your current standing orders from your old bank.
Goals. This bank helps you set your financial goals then save cash either manually or automatically.
Card. When you sign up, the bank sends you a physical card. You can activate the card from the app. If the card gets lost or stolen, you can manually deactivate it from the app.
Overdraft or loan facility. If you are an eligible account holder, you can be given an overdraft facility or a fixed-rate Starling loan.
Starling Bank is constantly expanding its range of features, a bonus for people who like to do all banking stuff with a challenger bank. It will soon be everybody's choice.
Starling Bank Online Reviews
Starling is one of the best challenger banks. Its mobile app is elegant and efficient. Being a fully licensed bank, your money is always safe. Starling bank has been voted best British bank and also the best current account provider at the British Bank Awards in 2018 and 2019. Starling customers like the budgeting tools and the free international transfers and withdrawals.
Starling bank uses Trustpilot to collect customer reviews. It has 4.5 out of 5.0 stars based on more than 7, 000 reviews. Most customers (77%) have rated it as "Excellent." However, a small number of customers (8%) have described its services as bad. The main issue behind the negative reviews was concerns about accounts not being closed when requested and around payments being taken without permission.