Online banks or virtual banks are becoming popular worldwide. In the past, most banks in Ireland were brick and mortar banks. You were required to physically visit a bank branch to enjoy their services. However, things have changed in the recent past due to advances in the internet and mobile apps that allow people to transact from anywhere without having to visit a bank in Ireland. In this article, I will show you how to open a virtual bank account in Ireland.
Can I use a foreign IBAN in Ireland? Some of the banks listed here accept Irish customers but do not have Irish IBAN. ou should be able to use a foreign IBAN in Ireland because the country is a member of the European Economic Area. It is against the law to be discriminated against because of having a foreign IBAN. Learn about IBAN discrimination and what to do about it.
Opening a Bank Account in Ireland Online
You can open different types of accounts while in Ireland. Many banks offer a wide range of bank accounts like student accounts, current accounts, savings accounts, joint accounts, virtual bank accounts and business accounts. Some banks allow customers to open a bank account online while others require one to visit a branch.
To open a bank account in Ireland, you need to present the following documents:
A valid photo ID like a passport or driving license
Proof of address using a utility bill
A bank statement or correspondence from a government department
If you are thinking of opening a bank account online in Ireland, you need to decide which account to open. The following are some of the online bank accounts you can open in Ireland.
How to Open Bank Account Online in Ireland
You can open a bank account in Ireland online using the following virtual banks:
N26 Ireland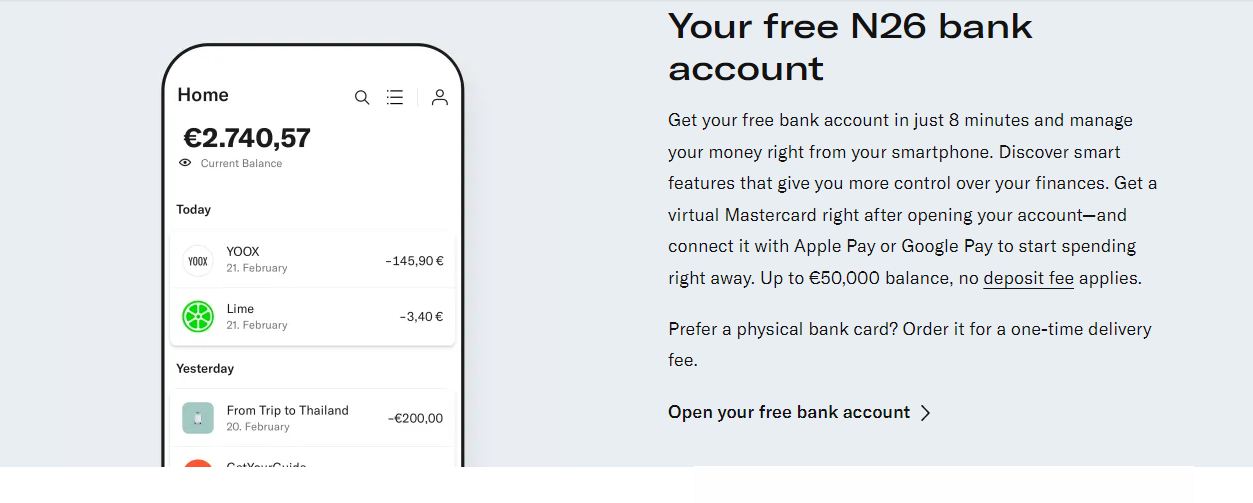 N26 is a German virtual bank that you can use to open a bank account online in Ireland. N26 account comes with an IBAN and BIC number. You can access N26 bank through N26 app available on Google play ad App Store. You need to sign up for an account by filling in your details in the app. Once you have signed up for an account, you will be issued with a MasterCard debit card. You can use the debit card to shop in stores, withdraw spend money all over the world where MasterCard is accepted.
When you open N26 bank account, you get 5 free ATM withdrawals in any currency. N26 does not charge service fees, overdraft fees or maintenance fees. However, you will be paying €2.50 debit card fee annually. You also get your paycheck 2 days earlier with N26 bank account. You can fund N26 account using Venmo or Cash App.
Notable Features
You will get N26 MasterCard, which you can connect it with Apple Pay or Google Pay. You can use N26 virtual card immediately after setting up your account.
You can use SEPA Instant Credit Transfers to receive incoming payments into your.
Ability to create 10 sub-accounts, including Shared Spaces (similar to joint accounts) to save together with others
You can get travel insurance, electronic insurance and mobile insurance using N26 app.
N26 Ireland Fees
N26 Standard: Free
N26 Smart: €4.90/month
N26 Metal: €16.90/month
Depositee: Up to €50,000 balance for free, after which a deposit fee of 0.5% p.a. may apply.
Wise Ireland (Transferwise Ireland)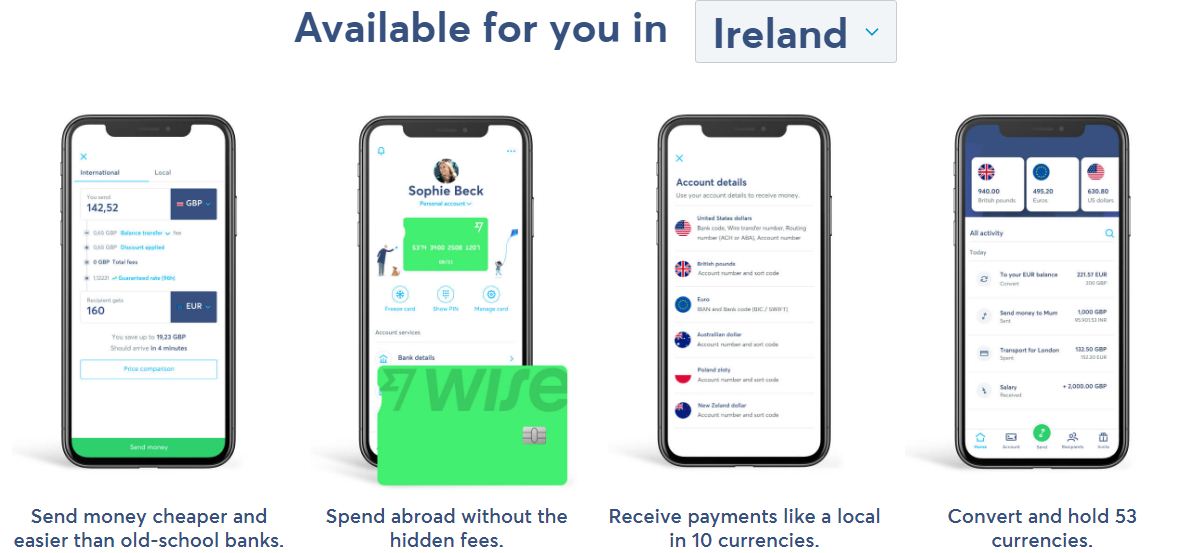 Wise , formerly Transferwise, is an online bank that was started in 2010 and is best known for its multicurrency account, mid-market rates and low rates. Wise comes with a MasterCard debit card you can use for online shopping and international travel. You get free ATM withdrawals of up to £200 GBP every month.
You can use Wise for personal and business transactions. For instance, if you are a small business, you can open Wise business account and use it to pay your employees or suppliers. Wise business account is also one ideal banks for ecommerce businesses in Ireland. Wise is regulated by FCA in the UK and FinCen in the U.S, hence it is a safe online bank.
Notable Features
Receive payments like a local in 10 currencies. Get your own UK account number, Euro IBAN, US routing number, etc.
Convert and hold 53 currencies. You can hold multiple currencies in a single account for free, and we use the real exchange rate to convert.
Spend abroad without the hidden fees. Use a Wise card in 200 countries, spend with Apple and Google Pay.
Wise Fees
Opening an account with Wise Ireland is free. This means you will be paying only for the services you use, which include:
Wise debit card: 7 EUR
Receiving USD wire payment: USD
ATM fees over 200 EUR per month: 1.75%
Hold more than 3,000 EUR: 0.07%
Sending money (fees vary by currency): From 0.41%
Revolut Ireland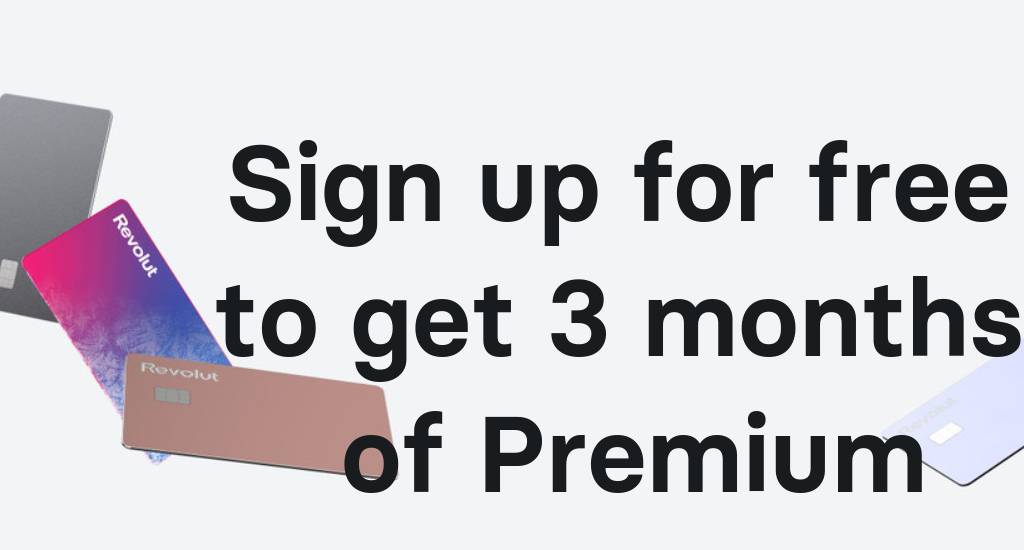 Revolut is an online bank operating as a fully licenced bank in Ireland since March 2022. With Revolut, you can open a free bank account in Ireland. You can choose to open a multicurrency personal account or Revolut business account in Ireland with Revolut.
To open Revolut account, you need to download Revolut app available on Play Store and App Store. Fill in details and then sign up for an account. When you open an account, you get IBAN and BIC numbers.
Revolut Ireland has launched "Buy Now, Pay Later" (BNPL) service in Ireland. BNPL allows you to buy for goods and pay later in instalments. There are usually interest and later fees involved with BNPL. Revolut will charge a fee of 1.65% per purchase, which needs to be repaid as part of the final two instalments.
Notable Features
Being a multicurrency account, you can receive, hold and exchange money in 30+ currencies including USD, GBP, CAD and set up as many sub-accounts in each currency.
Revolut is a crypto friendly bank. You can use Revolut account to hold, buy and exchange cryptocurrencies such as bitcoin.
Revolut Open Banking allows you to connect to external Irish bank accounts to see balances and transactions within Revolut app.
You can invest in stocks and cryptocurrencies from as low as 1 EUR.
Organise your bills with Pocket feature. Bills are automatically paid from your Pocket, so you will never miss a payment or overspend bills money.
Revolut Fees
Revolut Standard: Free
Revolut Plus: €2.99/month
Revolut Premium: €7.99/month
Revolut Metal: €13.99/month
Monese Ireland

Monese is an online bank in Ireland you can use to open a multicurrency personal account and Monese business account. You can open accounts without proof of address in Ireland with Monese. Apart This makes it an excellent banking app for travelers and digital nomads. You can convert money into other currencies at relatively low exchange rates.
Notable Features
You can integrate Monese MasterCard with Apple Pay, Google Pay and PayPal for contactless payments.
You can easily and instantly send and receive SEPA and IBAN payments.
Round up each payment or set up recurring payments and automatically send the difference to Pots, Monese savings feature.
You can protect your bills, purchases and electronic devices that you pay for through your Monese account.
Monese Fees
Monese Simple Plan: Free
Monese Classic Plan: €5.95/month
Monese Premium Plan: €14.95/month
Bunq Ireland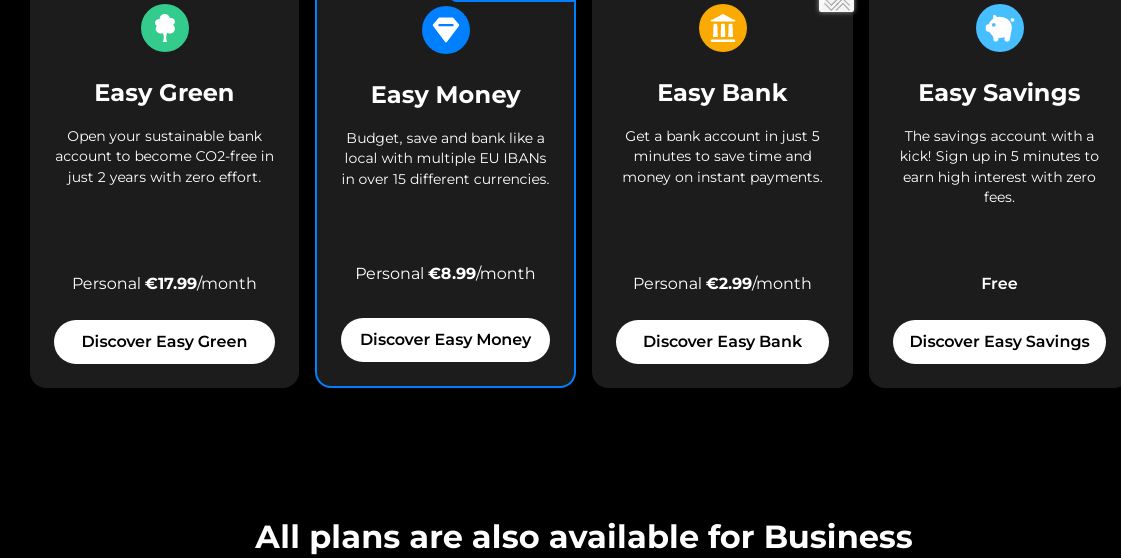 Bunq is a Dutch fintech that used to operate in Ireland as a payment card. It now offers bank accounts with Irish IBAN since May 2022. Bunq is an excellent virtual Bunq for frequent travelers. It has an excellent traveling card that you can use for car bookings and hotel bookings without foreign exchange fees. In addition, it offers low cost foreign currency transfers via Wise. It is a safe and secure bank and clients' funds are protected by the Dutch Deposit Guarantee of up to €100,000.
Notable Features
You get an Irish IBAN.
You can open a personal account, joint account, or business account with Bunq.
Bunq offers direct debits and split receipts (split a bill with friends with a tap).
1 free card (Mastercard or Maestro Debit) that can be linked with Apple/Google Pay.
Receive and send 15 currencies including GBP, USD, Rand, Australian Dollar, etc.
Bunq Fees
Bunq Easy Savings: Free
Bunq Easy Bank: €2.99/month
Bunq Easy Money: €8.99/month
Bunq Easy Green: €17.99 a month
Summary of How to Open Irish Bank Account Online in Ireland
You can easily open a virtual bank account in Ireland with the above banks. With a virtual bank account, you can transact virtually. If you are a digital nomad or traveler, consider opening a virtual bank account. It will help you hold, spend, send and receive money in different currencies. You can also exchange currencies at low conversion rates.