What is Zopa? Zopa is one of the oldest peer-to-peer lending platforms in the UK. It offers loans to credit-worthy individuals for a maximum period of five years with an interest rate of 3.2% and 3.7%. It has so far lent out loans worth over £5 billion. Zopa was started in 2005, making it one of the oldest peer-to-peer lending platforms.
What's Special About Zopa Loans
It offers competitive UK car loans, debt consolidation loans, home improvement loans, wedding loans, etc.
You can get a loan of between 1,000 and 25,000 and repay it within a period of 1 and 5 years. Zopa offers fixed interest rates in the market.
No Early Repayment fees.
It is authorised and regulated by the Financial Conduct Authority (FCA).
How to Apply for Zopa Personal Loan?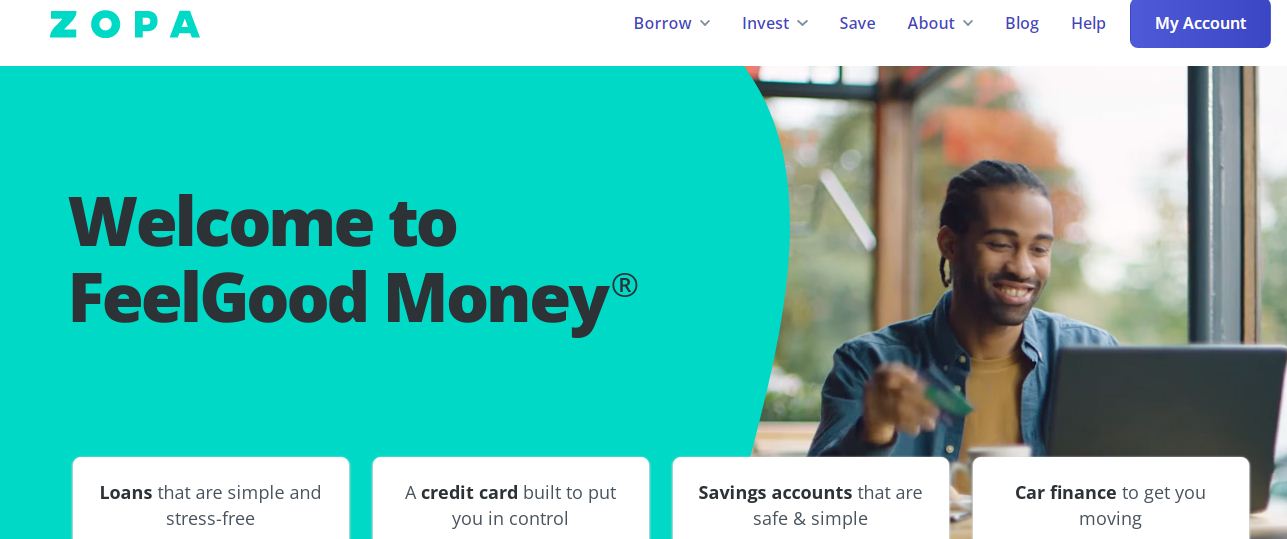 You can apply for Zopa personal loan through the Zopa website. When applying for Zopa loan, you will need to provide information like the amount of loan you need what you want to borrow for, and the repayment period. You will also need to do a credit check since your credit score will determine if you qualify for Zopa personal loan. Other details you will need to provide include your employment status, annual income and your address history.
Zopa Features
You can borrow between £1,000 and £25,000
Loan repayment terms of between 1 and 5 years
Zopa offers a fixed rate of interest
A decision is made within 24 hours
You can conduct a credit search that does not affect your credit score
Eligibility for Zopa Personal Loan
You can borrow a loan from Zopa if you are an individual with excellent credit rating. To qualify for Zopa loan, you need to meet the following requirements:
Be at least 20 years old
Have excellent credit history
2 years of history in the UK
Earn enough income to repay your loan
Not have increased your borrowing in the recent past
How Zopa Works for Borrowers
Unlike many lenders whose rates are always changing, Zopa does its best to match an individual to the right lender with the best rates. This helps its lenders to be competitive, when applying for a loan, you will need to conduct a quotation search. This one does not have an impact on your credit file. The best scores will be placed into A* market while below that they will be placed in B market. The rate you will get for a loan will depend on the score you will be placed in. Those in market A* will get a rate of 5% and those in market B will get rates of between 7% and 8%.
Once you have applied for a loan, Zopa team will look at your credentials and will give you feedback within 24 hours. If the loan is approved, it will be deposited into your bank account within 3 business days. You can opt to have it transferred faster by paying a fee of £57.50.
How Zopa Works for Lenders
Zopa allows lenders to lend money to individuals through an online interface. The platform charges a small fee for completed loan transactions. The minimum amount you can invest in Zopa is £1,000 and the money is spread across at least 100 borrowers. Zopa lenders can reinvest their repayments or lend new money to the platform. If you are a lender, you can expect to lend for at least 3 years. Zopa lenders get returns of between 4% and 7% after bad debts.
Zopa Car Loan
Zopa also offers car finance in the UK and their rates depend on individual circumstances. When applying for Zopa car loan, you can choose from an unsecured personal loan or hire purchase. If you choose Zopa Hire Purchase, your car dealer of choice must pass Zopa's checks before getting approved. You will need to repay towards the hire purchase of your car on monthly basis. When you are through with repaying, you can fully own the car. Zopa car loan rates differ from one individual to the other depending on individual circumstances like credit history.
Zopa car loan is available to UK residents aged 20 years and above. The individual can be either employed or self-employed or retired. However, one must have an income above the minimum requirement by Zopa. You can apply for Zopa car loan online and it does not involve a lot of paperwork. Zopa approves more than 300 loans every day. Zopa does not charge prepayment fees, hence you can pay extra towards your loan.
Zopa decides whether you qualify for an unsecured car loan or a Hire purchase depending on your credit rating, your history of paying off debts and bills. They will also look at your personal information and current situation before advancing you with a car loan.
Does Zopa Charge Fees?
Unlike many other lenders like banks, Zopa charges a single fee, non-refundable origination fee. The fee is meant to help Zopa cover its costs. However, charges on a loan vary on an individual case like loan amount and the repayment period. Zopa includes the APR rates in the origination fees. Zopa does not charge early repayment fees.
Alternatives to Zopa Personal Loans
You can also use the following peer to peer lending platforms as an alternative to Zopa personal loans.
Pros and Cons of Zopa Personal Loans
Pros
You can get a loan of between £1,000 and £25,000
The rates of interest are fixed over the repayment period
There are no early repayment fees
Cons
Loans are unsecured
Does not support joint applications
It can take up to 5 days to have funds processed
There are no Zopa top up loans. The only way to borrow more with Zopa is by applying for a new loan
Summary on Zopa Personal Loans
If you are looking for an unsecured personal loan, car loan in the UK, you need to consider Zopa. Also, if you are an investor, you can help individuals easily access funds by investing in Zopa. Zopa lenders earn returns of between 4% and 7% after bad debts. On the other hand, borrowers repay the loan with an interest rate of between 5.12% and 8.14%.