Car Loan 365 is a lender that is specialized in offering bad credit loans in the UK without a deposit vehicle finance. They also match you with the best car and rates available to you. Therefore, if you are thinking of having a car and you don't have the cash or you have bad credit, Car Loans 365 can help you get car finance with bad credit in UK. In this article, we will provide you with Car Loans 365 review, their products, and requirements to get car finance.
Eligibility for a Car Loan from Car Loan 365
To qualify for a car loan from Car Loan 365, you need:
Full UK driving license
£1,000 monthly income
How Car Loans 365 Works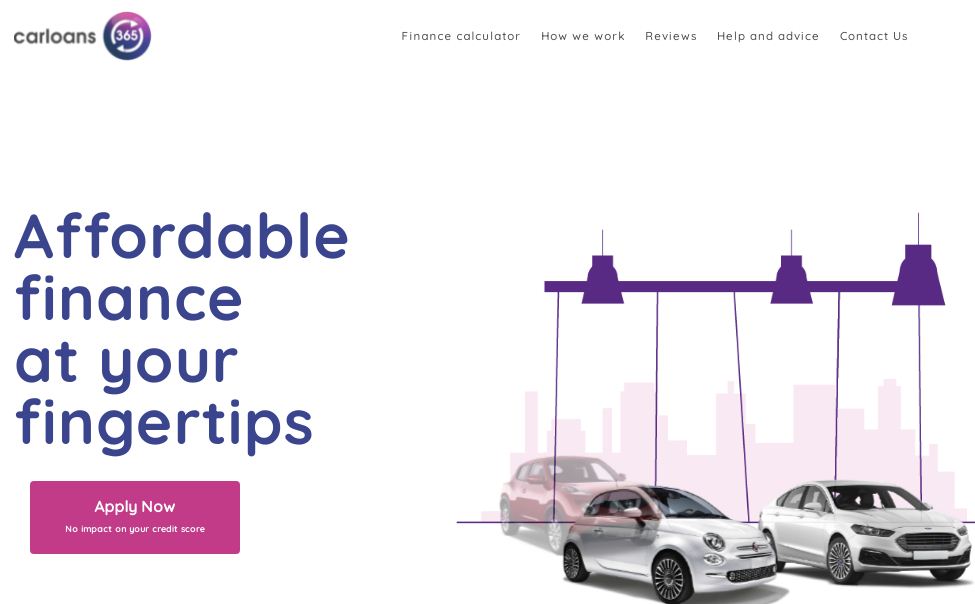 Car Loans 365 is a reputable car finance lender. They offer deals that are tailored to a customer's needs and requirements. Car Loans 365 works with a panel of car loans providers in the UK allowing you to easily get approved for a loan regardless of your financial situation.
You can apply for car finance and once you are approved, you can go ahead and find the right car. The lender works with various car dealers from whom you can purchase a car. The lender checks the car's history whether it has been written off or there is prior theft registered against the vehicle.
You then need to sign the paperwork to get ready to get on the ready. After signing the agreement, the lender pays your finance and you can collect your car from the car dealer. You are now ready to get on the road.
Can I Get a Car Loan if Credit is Bad?
Car Loans 365 works with a panel of lenders to help you get car finance even with poor credit ratings. As such, if you have a poor credit score, they can help you get financing from their panel lenders. When you apply for financing and you are pre-approved, you are assigned a dedicated account manager that will provide you with the best quote. He will help you know how much you can borrow and stay within your budget.
Why You Should Consider Car Loans 365
You will enjoy the following benefits when you get financing from Car Loans 365.
No deposit is required
You can choose your car from any reputable dealer of your choice
You get a cheap quote the first time
What Kind of Vehicle Finance Does Car Loans 365 Offer?
Car Loans 365 offers a hire purchase kind of loan that is attached to the vehicle. The car loan is designed in a way that when you finish making the payments, you can own 100% of your vehicle. Car Loans 365 offers finance for motorbikes, motorhomes, caravans, vans and classic cars.
Car Loans 365 Rates and Terms
Car Loans 365 rates start from 6.9% with a repayment fixed term of between 1 and 5 years. The exact rate you will be offered depends on your circumstances and is subject to status. Applying for car finance on Car Loans 365 will not affect your score.
Can I Get Car Finance from Car Loans 365 with Bad Credit?
Yes. You can get car finance from Car Loans 365 even if you have bad credit. The company works with a panel of lenders that can offer you finance regardless of your credit rating. Their car loans can help you greatly to improve your credit rating, especially the next time you will be applying for finance. You can get a quote from Car Loans 365 and help you get the finance offer for you.
Does Car Loans 365 Accept Trade-ins?
Yes. Car Loans 365 can help you negotiate part of your exchange so that can trade in your old car with a new car. You just need to drop your old car off then and then go away with your new car.
How Fast is Car Loans 365 Financing?
If your application is straightforward and you get approved, and you have already seen the car you want to purchase, you can get financing the same day. This means that you can get your new car on the same day. If you want to get your car faster, it is good to notify the account manager so that the company can FastTrack your application.
Car Loans 365 Customer Support
If you have any queries or there is something you want to get clarity about, you can login to the client area, My Car Loans 365. Alternatively, you can reach Car Loans 365 customer support through phone, or email.
Email: customercare@carloans365.com
Phone: 0161 4103 365
Car Loans 365 Opening Hours
Car Loans 365 is usually open from Monday to Saturday. On weekdays, they open at 9:30 AM and close at 6:00 PM, while on Saturdays they open at 10:00 AM and close at 16:00 PM.
Car Loans 363 Reviews
At the time of writing this review, Car Loans 365 had a user rating of 4.9 stars out of 5 stars from over 800 reviews on Trustpilot showing most customers are satisfied with the service.
Car Loans 365 Alternatives
You can also get car financing from the following lenders
Summary of Car Loans 365 Review
If you looking for car finance, Car Loans 365 can help you get behind the wheel. They specialize in bad credit, new and old car finance and you don't require to make a deposit. You can call them to discuss car finance. You will be assigned a dedicated account manager that will give you a quote and will guide you know how much you can borrow and stay within your budget.